Number Cruncher: Jeff Emig
Welcome to the Shift Number Cruncher. Okay, we're going to switch things up a little, based on a certain reader's suggestion. Instead of going with a single number, we are going to go with a rider and cover the numbers he's carried in his career. This is one of those riders that appreciates racing numbers and still holds his true number very dear. This particular racer and his older brother began racing dirtbikes with the numbers 47 and 45; while the elder sibling turns wrenches now days, #47 can still get around a track as fast as anybody. In addition, Cam Jeffrey Emig was my childhood idol and is still one of the coolest people I've ever met. He also reads the Shift Number Cruncher! These are his numbers.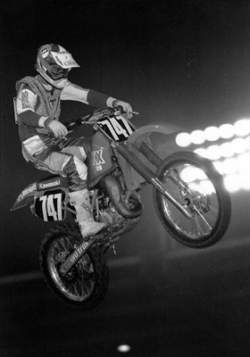 photo: Racer X Archives
Jeff grew up racing with #47 so when the time came to jump to the pro division he simply requested a "7" to place in front of his familiar digit. Here he's riding a machine his father, Gary (Gary Emig Racing), hand built in 1989. Check out the GER pipe and silencer.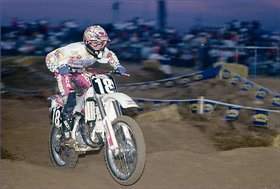 1991
photo: Courtesy of Moto Verte
Jeff Emig stayed with Kawasaki for 1990 and wore #36, winning his first race at the Houston Atsrodome that year. He then managed to cut that in half to #18 for 1991. By this point, Yamaha was interested, so he switched to what were white bikes back then. He won four West Region rounds, and lost the title to another guy on a white bike: Team Peak/Pro Circuit Honda's Jeremy McGrath.
photo: DC
Here we have Jeff in 1992 dejectedly walking off the track at
High Point
. While he looks pretty bummed out in this picture, he would storm back to win his first professional title over
Mike LaRocco
when "The Rock's" bike broke in both motos at
Steel City
, allowing Fro to erase a 47-point lead in one afternoon!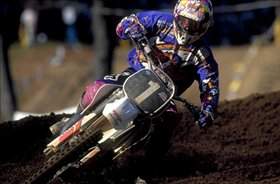 photo: Fran Kuhn
Check out this shot of Jeff shredding a silky berm in 1993. Emig might have successfully defended his title had it not been for a faulty carburetor at the last round in
Glen Helen
. That race was one for the dramatic as he and McGrath almost came to fisticuffs after the race. Historians will recall that it was also a one-moto format, and that it was held on Saturday afternoon! Doug Henry would win that race and the title.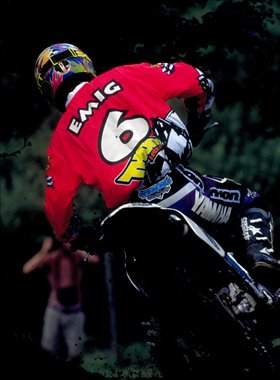 1996
photo: Paul Buckley
And here we have Fro in 1995 riding the outdoor nationals. 1995 would be a pretty good year for him as he would knock down his first two victories in 250cc competition with wins at the
Southwick
National and Las Vegas Supercross. His Vegas win came with a ton of controversy as he was one of the few factory riders who decided to race after "the lights went out."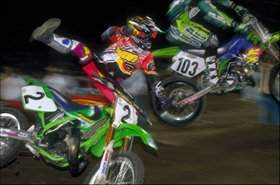 1996
photo: Fran Kuhn
Jeff moved back to Kawasaki in 1996, a major turning point in his career. He would end McGrath's win streak at St. Louis at round 14 and go on to win the AMA 250cc National Championship later that summer. Remember how cool this helmet was?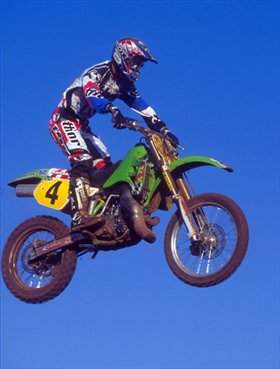 1996 MXdN
photo: DC
1996 was simply a magical year for, Fro. A few weeks after beating Jeremy McGrath in a toe-to-toe slugfest for the title at
Steel City
, Emig climbed aboard a down right nasty KX500 and helped Team USA bring home the Peter Chamberlain trophy. Remember that huge, downhill quadruple he was jumping on this thing? Fro also rode for Team USA in '92 in Australia, '93 in Austria, '94 in Switzerland, '95 in the Czech Republic and '97 in Belgium. He was always the first to step up and ride for his country; a trait that must have influenced his young teammate
Ricky Carmichael
.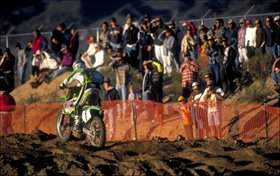 1997
photo: DC
1997 was the best year of Jeff Emig's career as he handedly won the AMA Supercross (wearing #3) and the AMA Motocross Championships. Then something happened in 1998…. He fell apart in supercross and just couldn't get it together. The only things that could bring him out of his funk were the outdoor nationals and a Shift Cowboy hat. The Fro came back with a vengeance and won four outdoor nationals in a row until he broke his knuckle. They would be the last national wins of his career.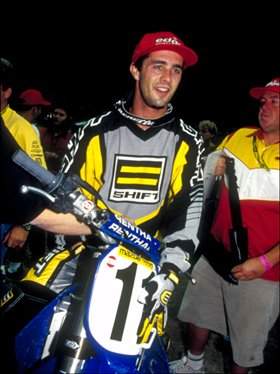 1999
photo: Simon Cudby
This is the first time Jeff Emig smiled in about two years. Some painful mistakes away from the track had relieved him of his factory Kawasaki ride and many had written him off. Then came his big win at the 1999 U.S. Open of Supercross. Vegas was always good to Emig. It was the sight of his first win in 1995, first supercross title in 1997, and the coveted U.S. Open title in 1999. He usually fared pretty in the nightlife activities there too, and then he retired from professional racing for good there in October of 2000.
Today Jeff can still get around a track astonishingly well. When he hangs up his microphone for SPEED and CBS channels, he climbs aboard a KX450F and begins training for the Vet classes at Loretta Lynn's.
I just want to add from a personal standpoint that Jeff Emig is one of the coolest people I have ever met. I never saw a man race with more style, class and personality and he always asks how my family is when I see him. He is doing an excellent job in his TV commentary and his presence at Loretta Lynn's brings smiles to hundreds of kids every year.
Toyota Flash Trivia:
This was the first cover
Racer X
ever ran of a rider with his helmet off. Can you name the second? Email your answer
here
for a chance to win a Toyota Prize Pack.
If you have any pics of Emig running a number that's not shown here, or if anyone has that amazing bermshot from Manjimup in '92, please send them to me at andy@mxsports.com and we'll try to conjure up a redux.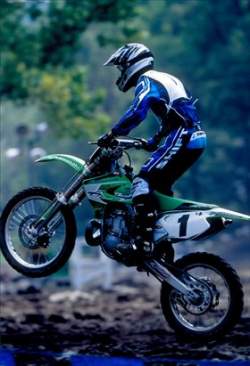 Loretta Lynn's 2003
photo: Simon Cudby