Between the Motos: Tim Clark
The Maxxis Mini Moto SX has steadily grown to be a regular part of the Supercross weekend in Las Vegas whether the guys down the street at Sam Boyd Stadium like it or not. When you have some of the biggest names in Supercross, like the king himself: Jeremy McGrath, as a regular competitor, you know you've got something good going. Promoter Tim Clark has been at the forefront of the pit bike racing movement from the beginning and his vision of a once-a-year event to bring the best riders in the world together has truly been realized. This year there is a new youth class for kids and more entries than ever from more places around the globe than ever. With just over a week until the start of his 2007 event we got Tim to slow down long enough to check in and see how the biggest little Supercross in the world was coming together.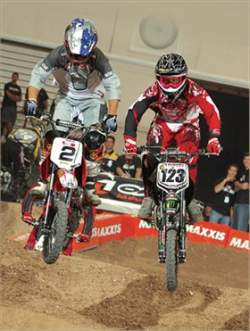 Jeremy McGrath and Derek Costella put on one of the best races of the night with the fans on their feet - Costella took the title.

Racer X: So Clark, clue us in on what's up for this year's Maxxis MiniMoto SX?
Tim Clark: Well hopefully you're gonna win your title back. I keep hearing that you're tearing up the tracks in SoCal practicing for the race. It's always fun to see you on the top of the podium. I hope you make it!
None of that practice stuff is true... as far as you know. I rely on sheer talent. So, tell me about entries this year. I hear you are dealing with an avalanche of entry forms.
Right now we have over 740 riders signed up. In fact, we will close all classes as of this Thursday. The cool part is that we have riders coming from 31 different states and 11 countries. That's amazing when you think about it. All for a Mini Bike race!
That's a lot of riders to process. Did you adjust the schedule for practice and qualifying?
This year we have extended the practice and qualifying one day. We will have the Youth and Stock classes practice and qualify on Thursday and the Amateur and Expert classes on Friday. We use a transponders for tracking lap times and scoring. It's a lot of riders but we have a great staff to make it all come together.
So, who are some of the faster youth riders that are signed up?
Well, you already know about Blake Baggett. He definitely should put one of the Red Baron bikes on the podium. Drew Gosselaar should be fast on his Monster/BBR. Wil Hahn and Jake Canada are no slouches and of course Tyler Villopoto will be a threat for the overall in both youth classes. The top 20 qualified riders from each youth class will race in front of the Orleans Arena crowd on Friday night along with the adults. I think we are going to be treated to some great races.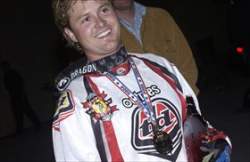 Nothing like being a winner. Is it Ping's turn again?

What do the kids get for winning their classes?
Basically it's the same as adults. The top three guys in each class will receive one of the trick MiniMotoSX Medallions. You know which ones. You have a few of them. Plus the top rider in each class will receive a #1 plate. No money though.
So, McGrath, Costella and Browning are all registered to race?
That's right. Should be some pretty gnarly race action, plus we just confirmed that Timmy Weigand will be racing. He was on fire at the 4-Stroke Nationals last weekend. Timmy will definitely be in the mix for a podium spot. Trust me on this one, the best racing in Vegas next weekend will be inside the Orleans Arena.
I've heard so many people say that the mini race was more exciting than the big bike race the following night. The fact is, there hasn't been a double winner in the 10" and 12" pro classes yet! That is a testament to how close the racing is every year.
Absolutely! There are just so many things that can happen when that gate drops. This event has been a lot of fun to put on because I am such of fan of mini racing and simply because I know the race action is going to be great. Every year it seems to get better and better as riders raise the bar.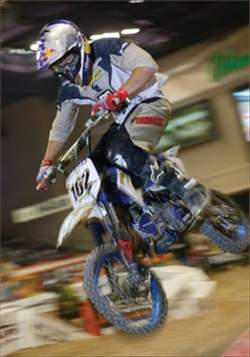 Victor Sheldon will return this year to defend his MM35+ title

I know that Jeremy is taking it more seriously this year. He didn't win anything last year and I don't think he liked that too much.
McGrath doesn't like to lose. And when a guy with his credentials on a motorcycle gets shut out of a win in two different classes it just shows how tight the racing is.
I heard through the grapevine you've got something interesting lined up for halftime entertainment?
Yeah, I think it's a done deal. I can't say just yet but it will be pretty cool.
What's the status on tickets? Are they still available?
Yes, there still are seats available from the Orleans Arena. Best bet is to get them on line at www.orleansarena.com or call 888-234-2334. Word is that the hotel is already sold out, so tickets are expected to go fast.
Thanks for the info, we'll see you there next week.
Thanks Ping, and the entire Racer X crew. You guys have always been big supporters of our events! We'll see you in Vegas.