Monday Conversation: James Stewart
James Stewart is just one weekend away from a lifelong goal, an AMA Supercross championship. He left Detroit with a 38-point cushion which means he gets to celebrate in Seattle, unless he misses his plane or something. Detroit was his fifth consecutive win, his best run since he moved up to the 250/450 class in supercross.
Stewart had a non-eventful main after putting together a perfect start. With the Progressive Direct Holeshot and a clear track, he just had to think about not making mistakes on a track that was hard to just hang it out on, and stay out of trouble with lappers. He may have made it look easy, but it wasn't. Even after his TV interviews, he and his dad and his close friend Rabo went for a track walk and took another look, even as the dozers were warming up and the SupercrossLive webcast had to go looking for him!

Racer X: James, that looked too easy. How did your race start?
James Stewart: It started off good with the holeshot. That was the key part. I knew if I got that and stayed up, it would be my race. I just had to ride consistent and not make too many mistakes. In the beginning of the race I was over riding the track a little bit. I just had to calm down a little bit, and get a gap on Timmy, then I rode my own race.

What did you do different on that start? You had a couple bad ones lately.
I just had to focus. I knew I had to get it. It had to be clutch. There was a lot of stuff (in the dirt). It was slippery and rocky. It was rutted more than normal for here, more than last year. It was still a good race and I am happy. I had a couple of moments with lappers. It was tough. Those guys are trying their best to move out of the way. They are batting for privateer money so I don't blame them. There were a couple of scary ones, but when they realized it was me, they moved out of the way, so no hard feelings at all.

How are you picking your gates right now?
[Laughs] Away from SOME-body, so I just have to be smart about it and not get in any first corner pileups or anything.

So once you get around a turn or two and things settle down, you have a clear track. Did you just pin it?
Nah, the way I rode the heat race I felt good (doing that), but the track dried out so much, it was really hard to push it like that. In the first couple laps I was making some mistakes and I wasn't too happy with myself. I had to calm down a little bit. Once I did that I was able to gap Timmy. I could see him trying to hang with me back there. I'm sure he was a little nervous being up so close.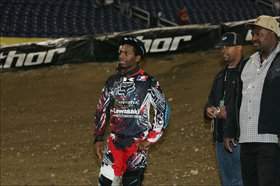 Still students of SX

Did you just make it a time trial?
Not a time trial, but just to be consistent with lap my times. I knew all day my lap times were enough to win the race. If I keep them in a certain area, things will stay the same, so it's almost like a time trials race. It's hard to do that when you have so many lappers and so many obstacles that can come up bite you.

You talked before about a track where you can't be on it the whole time, because it was muddy. Was this a track like that, where you have to pick the parts where you can pin it? Or was it somewhere in between? What makes a track one you can just hang it out?
A track like Atlanta is a good track to pin it on. At Daytona you have to be careful and pick your lines. This track was another one. A track that has a lot of traction is one where you can pin it because you know the front tire will stick. This one was so different, so many obstacles and such different terrain, it was hard to know what was going on.

It looks like this one is over next weekend.
There are two more races in the series, so I will leave it at that. I will keep my head down and I will be good. Maybe it will sink in when there are five laps left and I am doing good to wrap it up.

What are you doing to prepare for next week? Florida or California?
I am going home. Being at home seems to be working for me this year. I have my training facility and my gym, everything. There is no reason to go anywhere else but home.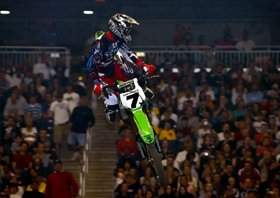 Just one more weekend....James is about to be an AMA supercross champion.

I saw you and your dad and Rado do a post-race track walk. What were you looking for?
We were just looking at different lines. I made a few mistakes and he was just wondering why. I showed him the way the track was, really slippery, and he gave me some tips, like maybe next time move over a little. It was all good. Every time I race Chad I learn something. To have someone that has always been with me my whole career, my dad, he knows all my tendencies and how I ride a motorcycle. It's always good to have him teach me a little bit.

Did you pay attention to the 350/450 news from last week and do you have an option on it yet?
If anything, if you drop a motorcycle down to a 350, the racing will be faster. The motorcycle will be lighter and not too much slower than a 450, and not too much different. Everyone is trying to make the racing better and I totally agree. But you have other steps to do first before changing the motorcycle and trying to force it on people. If we had a 350, it would probably suit me better because you would ride the motorcycle a little harder, kind of like my 125 days (against 250Fs). It would be dropping down for me, but either way, I think we would all adjust to it and things would be the same. There are a lot of guys coming up and I just have to keep my game tight.