Racerhead is coming to you from somewhere along the Ohio Turnpike. A truckload of friends and fellow workers are headed to Detroit for the first (and only) real title of the 2007 Amp'd Mobile SX season. It's Ryan Morais vs. Ben Townley vs. Darcy Lange (and truckloads of Racer X Canada friends and readers are coming to root for the #105). It should be a great race, after a very dark week for all of us.
You can listen to tomorrow night's race on the Supercross Live! webcast, featuring "Hollywood" Holley and "Waynesburg" Weege beginning tomorrow night at 7 p.m. on www.supercrossonline.com. The laps and results will be posted live all afternoon long on www.amamotocross.com. It should be a great listen and read.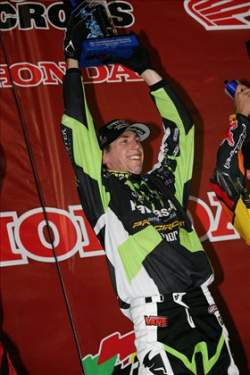 59 percent are you think BT101 will win the East coast Lites title
photo: Simon Cudby
Sadly, the Detroit SX just isn't what the Pontiac SX used to be. Ford Field might be the nicest stadium in America, but the city itself does not have the supercross fan base like suburban Pontiac did. Detroit is kind of like downtown Los Angeles—not a lot of people actually live there. And parking can be expensive. Here's hoping the numbers start to rise, because Michigan is a huge motocross state and it deserves a huge supercross race.
If you are not going to Detroit, you can catch the Supercross-class action on CBS at 12:00 p.m EST. But the epic Lites battle doesn't air till 6:00 p.m. EST on Saturday, April 28, on SPEED.
Okay, back to the title fight between #116, #101 and #105.… (Hey, when was the last time the top three guys in a series were all three-digits? Right now in Europe it's #222 Tony Cairoli, #377 Christophe Pourcel and #101 Tommy Searle, by the way.) Earlier this week in our Racer X Online Poll, we asked you who you thought would win the East coast championship, and 59% of you chose Townley; 27% chose Morais, and 14% went with Lange. If Morais does hold on to his three-point lead and come away with the championship, it'll be Yamaha of Troy's first championship since 2002, when some Australian kid won it wearing #103. Chad Reed had an undefeated season that year, but his streak ended in Pontiac that year thanks to Suzuki's Branden Jesseman.
If a Yamaha of Troy streak ends this time, it's going to be a good thing for the team: they haven't won a race yet this year—that's the streak they need Morais to beat.
Anyway, Bill Ursic, Jason Weigandt and David Pingree all put their thinking helmets on and came up with this preview:
As the Amp'd Mobile AMA Supercross Series resumes this weekend in Detroit, there's something very big on the line—an AMA Supercross Lites championship. Mathematically, there are three riders who can win the championship, so we've decided to give you a quick summary of those riders, along with a couple others who can affect the outcome of the series.
Current standings
1. Ryan Morais - 114
2. Ben Townley - 111
3. Darcy Lange - 106
Ryan Morais came into this season way under the radar. In fact, he wasn't on anyone's radar. The friendly kid from northern California has been full of potential since his foray into the pro ranks in 2002. But since that first night in Anaheim injuries have plagued Ryan and his potential has never been realized. This year, finally, we are getting to see what Ryan can do. While he may still be a little, ahem, light in the win column, he has led the series since the second round. Consistency wins championships, and Ryan has certainly been consistent.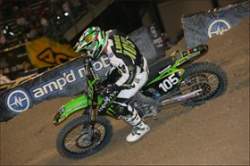 Can Lange become the first Canadian to win an American SX championship?
photo: Simon Cudby
Things are pretty clear for Morais heading into this weekend's race in Detroit: If Townley is out front, Ryan has to pass him. However, if Lange or Dungey are out front and Ben doesn't win, then Ryan only has to finish one spot behind him. If Ryan doesn't win a race but still gets the championship, there will be some people saying there is an asterisk next to his name in the record books. I that the bonus check cashes at the bank on Monday whether he has a win or not. Ryan is definitely the underdog in this fight, but he still might surprise everyone this weekend. Good luck, Mo! (Ryan's finishes: 4-2-5-2-4-4)
Darcy Lange has been a very pleasant surprise for the Monster Energy/Pro Circuit boys. When they realized that their newly signed team rider Brett Metcalfe would not be ready to race, Mitch made a phone call to the rider who was just about to clinch the BooKoo Arenacross title—the Canadian Lange, who has several AX titles to his name. Lange did try his hand racing supercross full-time last season, but crashes and bad luck kept the Canuck off the podium.
But this year, armed with the potent Mitch Payton-tuned KX250F, Lange has been a frontrunner from the get go. Although he did have a few bad races that resulted in finishes outside the top five, Detroit is a venue in which Lange should feel comfortable. After all, it's less than a mile from his home country, so he'll surely have some family and friends cheering him on. Lange is currently third in points, with a second being his best finish. Detroit will be a good place for Lange to take his first supercross victory. As far as the championship goes, he's eight points down, so he'll have to win and have Morais finish fifth or worse, and Townley finish fourth or worse. (Darcy's finishes: 2-6-6-3-9-2)
Ben Townley: First of all, Ben should have been in this situation a year ago, but he tore his ACL before he even had a chance to race supercross in '06. Second of all, he shouldn't be in this position at all, since his engine let go while he was running second at the series opener in Atlanta. That DNF left him with a giant hole to dig out of and a short series to do it in. But BT101 has come back strong, winning three events and only throwing up one bad result—a seventh in O-Town—but that was due to a tangle with Billy Laninovich while heading to the front again. Townley has been consistently fast and strong at every race this year, plus he and his team has much more championship experience than Morias, and, he has a teammate in Lange who has also been up front all season and could help him if needed. Plus, the fact that BT was considered out of it after Atlanta makes this title more of a bonus than a must, which should keep the pressure off.
The only problem? He's still three points behind. He needs to help his own cause by winning the race (which could be tough depending on which Ryan Dungey shows up), or coming close and hoping one of these other guys gets between he and Morais. Regardless of this weekend's outcome, though, this has been a stellar season for Ben considering how 2006 went. (Townley's finishes: DNF-1-1-7-2-1)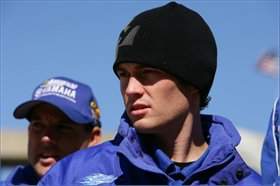 It's get-nervous time for Ryan Morais

photo: Simon Cudby

Matt Goerke: Goerke was supposed to be the Boost Mobile Yamaha of Troy rider up here when the series began. After taking third at the opener in Atlanta, Goerke proudly proclaimed he would "freakin' win that one" the next weekend in St. Louis. He finished third again, but that was fine since he left the race tied with his teammate Morais for the series points lead. It's been downhill since, though, with all sorts of crashes and bad luck dropping "Beef" off the pace. Now he may have one more chance to be a player, in case Morais needs help from a teammate out there on Saturday night. (Goerke's finishes: 3-3-12-16-7-6)
Ryan Dungey might just play a big part in Saturday night's drama. No, he doesn't have a mathematical chance of winning the championship, but he could certainly affect the outcome. The Team Makita Suzuki youngster has scored two wins this season already and has often been the fastest rider on the track. He has also had some terrible luck and made some rookie mistakes. Still, Dungey's ride on Saturday could change the outcome of the championship chase. Of course, he could work for or against any of them, but Townley has the most to lose if Dungey is on his game. At the rounds Dungey won, Townley could not ride his pace. If that happens in Detroit, it definitely makes it easier for Morais to win the title by just finishing behind Townley. Being the guy in the middle is never fun. How hard does he race with the guys in the title hunt? Does he like or dislike one rider more than another? Who knows? (Dungey's finishes: 1-18-DNQ-DNF-1-3)
Oh, and here's a shout-out to Owen Warner and Jennifer Ritchie, who stepped up to sponsor the Racer X Gas Card for Detroit. Thanks, guys.
There hasn't been much talk about the 450 class because James Stewart has a 35-point lead and the two best-known supercross riders on the planet—Ricky Carmichael and Jeremy McGrath—are each going stock car racing this weekend. Chad Reed surely wants to get some wins before his 2007 season ends, but it will take three wins and three eighth-place finishes by Stewart for him to get the title.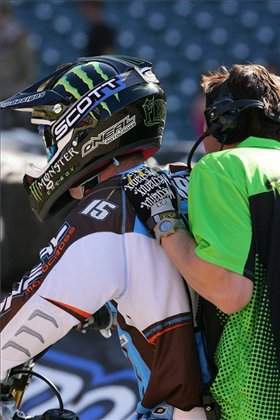 This is the photo that set Matthes off
photo: Simon Cudby
From
Steve Matthes
, regarding this week's Bench Racing Ammo on his one-time rider
Tim Ferry
:
Dear Racer X:
Nice, Billy. I enjoyed your article on Tim Ferry and all of his achievements since he turned 30. I didn't appreciate the picture included in the article. It was way off-base and irresponsible journalism. I would never just use one hand like Mike is in the photo. I would grip his shoulders with both hands, thereby giving myself maximum grip. I do not want him "getting away," if you know what I mean. I know that he and I won Summercross (beating the King) and I know that we podiumed Indy 99 on a P.O.S. Noleen Yamaha, and I also know that I took him to top privateer in 1999, as well I am aware that when I carried him to 7 podiums out of 11 outdoor races that he was under 30….but still, no mention?

Again, Billy, very poor follow-up on Tim Ferry. I will report this to your supervisor, a Mr. J, Weigandt, ASAP.

Love, Steve
Okay.… Let me turn this over to Ping, who can be seen doing some MiniMoto SX practicing with Blake Baggett in Simon's latest offering on www.racerxfilms.com.
Last weekend was the unofficial start of the Supermoto season. The Stateline Supermoto event is a warm-up race for anyone looking to get some track time. The usual suspects were there, including Jeff Ward, Mark Burkhart, Troy Herfoss, Kurt Nicoll and Cassidy Anderson. There were also some new faces from the motocross world giving the sport a try: Josh Hansen and Tyler Evans are both considering racing the entire AMA series in 2007. Neither rider planned on racing the nationals, so Supermoto is a perfect fit into their schedules.
Hansen was actually slated to race the series finale last year at the Queen Mary but an infection in his arm kept him off the bike. Still, the experience he got testing last fall paid off for Josh at Stateline. In the moments before the 250F final, he decided to stay with a slick rear tire instead of a rain tire as it started to sprinkle. The rest of his competition (me included) went with wet-weather tires, and two laps into the main, the rain stopped and Hanny was looking pretty smart. That isn't something that happens often, and Josh took advantage, winning the main event. Hansen has already told KTM that he wants to race the entire series this summer. (Ping caught up with him earlier this week for this Between the Motos conversation.)
You will see a pic of Josh posing with Philipp Danh, the sales representative for Beringer, the French brakes manufacturer. Josh told me after the race that the brakes were awesome and helped him a lot. Just some inside info for you. The KTM team is equipped with Beringer brakes this year. That's it!
Evans didn't fare quite as well, though he did make the main event riding for Carey Hart's Rockstar team. Speaking of Hart, the entrepreneur added another chapter to his book of ugly crashes last weekend. On a tabletop in the dirt section, Hart went down and compound-fractured his wrist and dislocated his hip. His hip was reset right there, but he was taken to the hospital for surgery on his wrist. According to witnesses there, a metal plate from a previous surgery was sticking out through his skin. Yikes.
Jeff Ward won everything he entered until Sunday, when he missed the main event. His kids had their finals at the World Mini just down the road, and Wardy decided to hang with his kids instead. Add "good father" to Jeff's ever-growing list of accomplishments. Jeff did win the 450 main on Saturday while Mark Burkhart won the open pro race on Sunday.
I caught up with Factory Connection riders Billy Laninovich and Jake Weimer this week at Cahuilla Creek MX Park. Both were putting in some outdoor laps getting ready for Sacramento, which is only four weeks away. Both riders' contracts end this year, yet neither of them were sure about what they would do in 2008 and beyond. While Jake is having a pretty decent year (he is currently sitting in third just behind Ryan Villopoto and Jason Lawrence), Billy has struggled to find his form. In fact, his best ride came in Orlando where he started up front and then had a run-in with Ben Townley, who ended up going down. It created a lot of drama, especially in the Pro Circuit pits, because it cost Ben quite a few points. I asked Billy about it and he had this to say:

"I can't believe they were making a big deal about it. Ben came into that turn and block-passed me. The corner had two or three parts to it, and when he went by I squared it up and made a block-pass on him at the turns exit. If he would have just shut off, he wouldn't have gone down. If you watch the video of it, you'll see what I mean. He just left the gas on, even though I was in the line."

Billy is hoping to turn his season around this summer and get back to the front of the pack where he belongs.
Rupert X Pellett might have to round up that money that he's offered for the first two-stroke to make a main event. KTM's Michael Willard has a 125 all dialed in and ready to make a run at the Seattle SX next weekend. Rumor has it that the dollar figure is upwards of $3,500, and for Michael it was too good to pass up. Willard loves riding in the mud, loves the 125, and KTM has one of the quickest two-strokes out there. With the ever-present threat of rain in Washington, Rupert might finally get to let go of that cash.
Moto Brew is introducing several new styles to add to their classic pale ale. The Roger DeCoster Belgian Wit, Supermoto Black Lager and Freestyle IPO are all available at www.beeronthewall.com to be shipped anywhere, or in Beverages and More locations in California, Nevada and Texas. Moto Brew's Baja Gold, a light beer, will also be available by next week.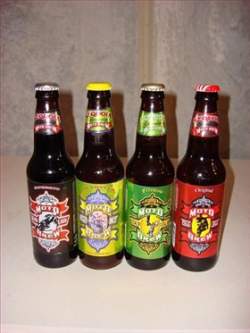 Thirsty?
photo: David Pingree
AllegianceMX.com's
Ben Bixby
dropped us this note about Team Green standout
Austin Stroupe
, who had to retire early from last week's World Mini Grand Prix after sustaining what many thought was a broke shoulder.
"We just got word that Austin Stroupe got X-Rays done, and his shoulder is NOT broken. They said his shoulder was broken when we were at the track, but when he got home and had another set of X-Rays, it was found that he didn't break anything and he is good to go as far as riding/racing."
Over in Europe, our man in the 450 class Josh Coppins is 2-for-2 in Grand Prix racing, while Tony Cairoli is warring with Chris Pourcel in what is shaping up as a magnificent 250F battle. But the big news last week may have been the surprise appearance of the AMA's Steve Whitelock, who was in Spain for a roundtable discussion with Youthstream's Giuseppe Luongo and the FIM's Wolgang Srb on some common issues, like the 450s, noise and more.
TFS was also there, and he interviewed Whitelock about the talks. If you missed it, there's a lot of food for thought here on 350s, sound-testing, and our future in general.
We also noticed that Chris Pourcel has been running a U.S. flag's stars & stripes on one side of his helmet, and then the French tricolors on the other. We asked his U.S. manager Russ Stratton about the mixed message, but he told us that it's Chris' way of letting his fans back home know where he's from, and also where he's going. Kind of like JMB running USA flag stickers in '89, before embarking on his U.S. conquest.
If that's not enough, Christophe also has a really cool boot design that shows our Statue of Liberty on one side, and his own nation's Eiffel Tower on the other. What do those two world-renowned pieces of industrial art have in common? If you said they were both designed by Monsieur Eiffel, slip yourself a grade in homeschool and go riding!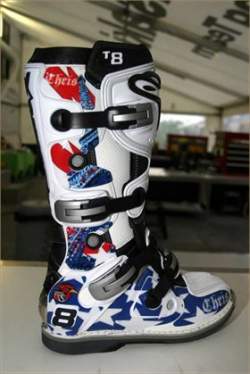 Check out the boot
photo: Russ Stratton
Note from
Hooper
: DC, you sure about the Eiffel Tower and Statue of Liberty both being designed by
Alexander Gustave Eiffel
? According to Wikipedia,
Frédéric Auguste Bartholdi
designed the Statue of Liberty…
Curse you, Frédéric-Auguste Bartholdi! Back to homeschool for me.
Moto Verte launched its new website, www.motoverte.com. You may need to learn how to read French, but the videos look the same either way.
So Jeremy is headed to a Late Models race in North Carolina (and Andy Bowyer and Roddy McLeod will be there to see Showtime's debut) and RC is on his way to New Smyrna Speedway (the same track where Doug Henry suffered his crash back in early March). Travis Pastrana is the Rally America Champion, and Damon Bradshaw drives the Air Force Monster Truck. Who's next? ESPN is reporting on this.
If you're wondering who maybe the best-ever motorcycle racer-turned-auto racer was, no one was more accomplished than this man.
But why is it the dirt bike racers who are so prime for the leap? If they're great candidates because of their hand-eye coordination, their determination, and their racer IQ, wouldn't a road racer be a better candidate? At least they've been brought up on pavement, sometimes even on the same tracks the cars are racing on. Is it simply because they don't have the built-in fan base that these MX stars have, or is it just because there's been no interest on the part of road racers?
Road Racer X's Chris Jonnum replies: "It's true that MX guys seem to be the latest trend when it comes to potential NASCAR talent, but I think RR guys get the nod when it comes to F1, which is probably because those two sports are more similar. They even race on the same tracks quite often. Scott posted a link to a John Surtees thing, and he's the only guy to win world championships in motorcycle racing and F1. Also, remember that Valentino Rossi came pretty close to racing F1 for Ferrari this year."
Ping says it's just a trend—hiring motocross guys—and that trends like this happen even in MX circles. One team hires a fast French rider and then every team has to have one. It's happened with Australia, New Zealand, and South Africa. What happened to Darryl Hurley and Craig Anderson? They were supposed to be the next big things from down there. Now Tyla Rattray is following Albee and Langston's lead.
One thing's for sure: NASCAR's numbers are down this year, and it's been trending that way for two years. Maybe they are all looking for younger, hipper athletes to broaden their fan base?
Want to see more highlights from RC's first car race? They are over on MavTV.com. Click on "Watch it Now" and the player will come up, then click on VOD and there it is. The site is still a work in progress, but they're getting there!

For those of you who don't think loud pipes on dirt bikes cause problems, have you heard about the $100,000 bill Lassen County has hit Honey Lake Motocross Park owner Larry Wosick on for noise monitoring? The County will shut down the track if he and his wife don't pay the bill for the court-ordered noise monitoring that resulted from a neighbor's lawsuit over noise from weekend motocross races. Moral of the story: Never underestimate every citizen's right to peace and quiet.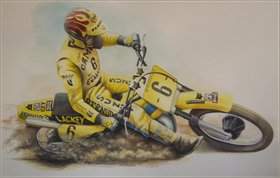 Brad Lackey painting by Harry Miller
For you classic Motocross Art Collectors, here is a fine addition that will be available soon. For more info, contact:
Harry Miller
at harrymillerart@gmail.com.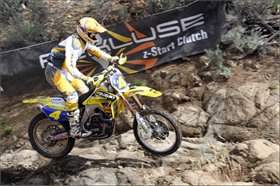 Ryno before the mishap

photo: Joe Colombero

Joe Colombero sent this in: "You might have heard about Ryan Hughes' problems at the WORCS event at Honey Lake last weekend. There was a rumor going around that he crashed on the parade lap and then threw his bike into the rocks in a fit of rage, holing his tank. Well, it's true that he crashed on the parade lap and holed his tank, but he never threw his bike on the ground. Like a pro, he picked it up and kept going. I was there and took the following photos. I'll admit his language wasn't exactly a Shakespeare recital, but he was mad at himself for crashing. Check out these photos I have of him."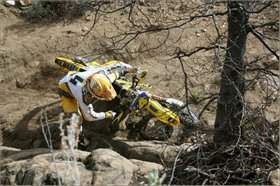 The crash
photo: Joe Colombero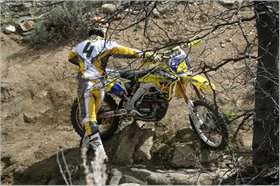 And after.
photo: Joe Colombero
From Weege:
In other off-road news, David Knight finally figured this whole GNCC thing out last weekend, and that might be bad news for the rest of the boys. After a nagging injury and some bike troubles slowed him through the first three rounds of the series, Knighter was bound and determined to win round four of the tour, the Pirelli Big Buck GNCC in Union, South Carolina. "I'm not just going out for the win today, I'm trying to go and dominate it," said the big man from the Isle of Man before the race. Then he screwed up the dead-engine start and crashed in the first turn. From there on out he was almost perfect, though, railing through three hours of slick, muddy terrain to move all the way to the front of the pack, and then holding off Am-Pro Yamaha's Charlie Mullins and Barry Hawk for his first GNCC win. "It does take your confidence down a bit as you wonder if you maybe have something wrong with you," said Knighter, who is not afraid to speak his mind. "But at the last race, I ran the pace, so I felt good about it. You have people beating you down, and it's good to find out it's just a bunch of bull shit. Hopefully this will be the first of many."
You can catch GNCC racing on Versus tomorrow at 3:00 p.m. EST. They're showing round one of the Pro Bike class from Florida.
The Asterisk Superpass Weekend in Las Vegas is on eBay now. It includes the usual great prizes and also a Factory Connection 450 presented to the winner on the stadium floor, a set of Kevin Windham No Fear gear, tickets to the Maxxis MiniMoto SX and 2 nights hotel. The direct link to the auction is here.
Congrats to our friend Stephan LeGrand and his wife, Karen: on April 19th, at 9:07 p.m., little Ben finally came out: 8.3 lbs and 19 inches. Congrats to the LeBigs!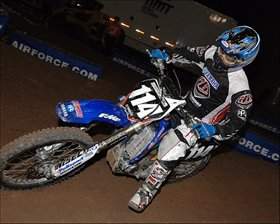 Brayton will have different color backgrounds outdoors

photo: Carl Stone

Jim Kimball did a piece for Racer X on PPG/MotoworldRacing.com's Justin Brayton and found this out: Brayton is racing the 450 class in the AMA Toyota Motocross Nationals this summer: "Paul [Lindsey] and I talked about it and Yamaha liked the idea because Langston is the only one on 450s outdoors, so we'll get some more bikes in there. I feel comfortable on a 450, and right now I'm pumped to start outdoor testing."
Looks like Brayton will for sure have company in that class, as both Alessi brothers—"Thunderbolt and Lightning"—are also moving up. They confirmed that once and for all on DMXS this week.
David Izer of DMXS fame (and of course that Spring Break fiasco with the whole "pride" thing in Key West a few springs back) has been visiting Doug Henry regularly at Shepard Hospital in Atlanta. He dropped us this note this morning:
"I visited Doug yesterday as he was preparing to leave the Shepard Center in Atlanta and return home. His wife and kids were down with him this week over Spring Break, and they were going to take in a Braves game before heading north. The house is ready for him and he is looking forward to starting his rehab program as soon as he returns. His spirits remain high, and his signature smile is always there.
"One thing that I wanted to pass on is that Doug said he has been printing out all the emails he has been receiving and will hang them on the wall as inspiration. He will read one a day, and sometimes a few on hard days, so your support really meant something to him. He wanted to sincerely thank those who sent them."
Oh, as we post this, Matt Ware is whipping up a very cool Tim Ferry video for www.racerxfilms.com. Check it out in a bit.
Finally, a private message: PDub, where are you? Paul Willis, please pick up the white courtesy phone. It's finally time for the story—the OG MXers!
That's it. Thanks for reading Racerhead. See you in Detroit!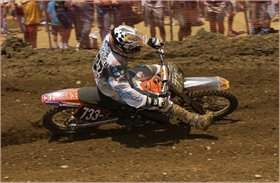 Toyota Trivia: Name this rider, year, and location!
photo: Steve Bruhn
Oh, here's some Toyota Trivia for you. Name the rider, location and year of the photo above. Email your answer here and you have a chance to win a Toyota Prize Pack.