5 Minutes With ... Christophe Pourcel
One Saturday evening back in 1993, a virtually unknown French rider won the San Diego 125 SX on a privateer Honda. He then returned to Europe to contest the 125cc World Championship Series, then came back to join the Pro Circuit Kawasaki team and win two consecutive East Region SX Championships. In a certain way, on January 13, 2007, history repeated itself.
After placing second at the season-opening Anaheim SX, young French rider Christophe Pourcel won his first AMA Supercross in Phoenix. The 2006 MX2 World Champion, on loan from the GPKR factory Kawasaki team, was racing for Mitch Payton's Monster Energy/Kawasaki team and using the race to prepare for a return here in 2008.
Unfortunately, a week later, Pourcel broke his shin at Anaheim II and had to return home to France. From that point, he began a strenuous rehabilitation program to get ready for the opening Grand Prix of the season in Holland. He made it to the gate for "Grand Prix of Benelux" and rode to strong 7-3 moto scores for fourth overall. Then last weekend, he traded moto wins with Italian Antonio Cairoli in what's already being called a battle of the ages, and now stands third in the point standings.
A few days before the third round of the MX title fight in Portugal we caught up with Christophe and fired off a list of quick questions. He was in a hurry, but he took time to answer as best he could.

Racer X: Christophe, what are you up to?
Christophe Pourcel: I'm just training and preparing for the next Grand Prix in Portugal this weekend.

As far as your health and conditioning, how did you feel before the season-opening Grand Prix of Benelux?
I felt really good, but I only had a couple of weeks to ride before the first Grand Prix due to the injury to my leg I received at Anaheim II.
How did you feel about your first Grand Prix of 2007? You appeared to have a lot of speed in the sand at Valkenswaard.
Yeah, my speed was good, especially in the second moto. Also, my conditioning is not yet arrived at its peak yet due to my injury so I know I will be able to go faster for a longer time as the season goes on. Already, I know I am fast enough to race at the front.

For you, how helpful was racing American supercross in preparing for the 2007 MX2 World Championship?
For sure it was very helpful. I learned a lot during my time there and got to race with some very fast riders.
.
Can you describe the race team you ride for on the World Championship circuit?
The GPKR Team is organized by my father Roger Pourcel and his partner Patrick Gelade. After we won the MX2 World Championship in 2006, the team became Kawasaki's official factory supported team in MX2.
Pourcel has a SX Lites win so far, but no GP victories.

Where do you currently live and train in Europe?
During the season we live and train in Belgium. It's the best place to be for the GPs.

What will be you approach to the rest of the 2007 MX 2 World Championship season?
This year I feel I need to win more races, but to still be as consistent as I was last year. I want my momentum to build throughout the season. Already, I'm racing for the win and my condition is not yet at the peak. At the same time, my competition may have already arrived at their top level of conditioning, so we know where they are at and where I need to be.

What are your goals for this season?
To win the world championship again.
What riders will you have to be the most concerned with?
Obviously, Antonio Cairoli will be there and Tyla Rattray will be fast as well.

What riders do you get along with the best?
My brother, Sebastien.
Do you miss racing in America?
Yes, I really enjoyed my time there and working with the Pro Circuit team.
Do you hope to do more races here in the U.S. over the summer?
It's not possible as I'm focused on winning the world championship and need to be here in Europe at all times.
Overall, what do you think of the American motocross and supercross scene?
It's very professional and it's very big. I like the stadium full of people. It's exciting to race for them.
How well did you get along with the American riders while you were here?
Really well. We laugh and joke around together when we do the autograph signing and we talk in the truck while we watch the film from practice.
What did you think of Mitch Payton and the Pro Circuit team?
They are very good and they work very hard to give you everything you need to win. You can tell they want you to succeed.
In your opinion, how is the sport of motocross doing in Europe?
I think it's very healthy.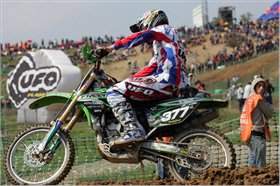 Pourcel traded moto wins with Antonio Cairoli last weekend in Spain

In your home country of France, has there been a lot of interest regarding your travels on both the AMA Supercross and Grand Prix Motocross tours?
I think so, but maybe you should ask the magazine writers from France because I think they know better than me!

What do you like to do for fun?
Race go-karts with my brother. I also like to do other sports.
Who are your heroes in motocross?
Nobody. It may sound arrogant, but I just want to be myself and not try to be like somebody else.
What is your plan for 2008?
I want to go back to America and win a championship.
What are your long-term plans?
My results will determine my plan.