5 Minutes With ... Ben Townley
"Can you call me back in about half an hour?" asked Ben Townley, who having just strapped his helmet on, was talking from beneath it. "I'm just ready to do some riding."
Thirty minutes later, BT101 was on his cell phone, talking about what has turned into a highly dramatic championship showdown set to take place this Saturday night at Ford Field in Detroit, Michigan. Townley, a mere three points down on East Region points leader Ryan Morais, is closing in on the Boost Mobile Yamaha of Troy rider that many have down as their sentimental favorite. Having won the last round of the series at Texas (his third win of the series), Townley, the 2004 MX2 World Champion, has pulled back all but three of the 22 points he lost to Morais at the first round in Atlanta when his motor let go in Atlanta. Townley, who hails from Taupo, New Zealand, refused to throw in the towel, and fought his way back into the title fight, point by point.
Can he do it? Can he lay claim to the 2007 AMA East Region Supercross Championship, a championship that has been one of the wildest, fiercely fought series in memory? Here's what BT101 has to say about the matter.
Racer X: Ben, what do you have going today?
Ben Townley: Just did some riding. The sun is out, so I guess nothing is bad at all.
Are you currently in California or Florida?
Actually, I'm in hillbilly land!
Hillbilly land?
Yeah, I'm Georgia. I call it hillbilly land.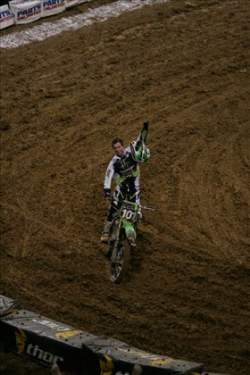 Ben hopes to be celebrating another win Saturday night

Are you just getting your bike dialed-in for Saturday night?
No, my bike has been good all year. I'm just getting in a little riding today to be ready. You know, I've actually been riding a lot of supercross. After Dallas the plan was to switch over and begin riding outdoors to get ready for the nationals. I rode one day of outdoors and started feeling guilty about not riding supercross, so I switched back and I've only been riding supercross to get ready for Detroit. I've been riding and trying to keep improving supercross so I can gain any inch that I can. I want to leave it all on the table at Detroit.
You're three points down on Ryan Morais. How is your mindset?
To be totally honest, it's no different than any other race to me. I worked very hard to get back in the championship after what happened in Atlanta. The way I feel about Saturday night is that I have nothing to lose and everything to gain. I don't want to sound like a broken record, but like I said, I have worked as hard as I could. If I ride on Saturday night like I ride during the week, I'll be fine. I feel like I get better each week. I mean supercross is still pretty new to me and I'm learning each track as I go. I don't feel like I've reached my peak yet because supercross is still new.
What's the Ben Townley game plan for Saturday night?
Obviously, my biggest goal is to give myself a chance to win the championship. I want to get out of the gate and go from there. I know I can't control the circumstances, but I'd like to get the holeshot at the start and finish first. That's what I'll try first. If I can't pull that off, I'll get after it during the race and go hard the whole distance.
In 2004, you won the MX2 World Championship. How would winning an AMA Lites Supercross Championship compare?
I can't answer that. I won't be able to answer that until I see how I feel after the race on Saturday night.
A number of fans may not know that in the past few years, you've suffered a few serious injuries while learning supercross. Would winning a supercross title be a dream fulfilled for you?
Yeah, it would. It would be major. It would be the biggest achievement of my life, for sure.
Hey, your buddy and compatriot Josh Coppins has been killing it in the MX1 World Championship. Have you been keeping an eye on him?
Oh yeah! Big time! Josh is like my big brother. Man, I give him grief and keep him on the straight and narrow. I know him very well and keep in touch so I know what he is doing. It's great he's done so well at the first two GPs. I know what that feels like — to win two motos convincingly (as Coppins did last weekend at the Spanish Grand Prix). It's awesome. I hope that he, as we say in New Zealand, brings the back home. And you know I've been watching the MX2 class, too, and it's damn exciting. [Antonio] Cairoli was third in the championship the year I won the title (2004) and I knew he was fast. From racing him in his rookie season, I also know Pourcel is fast. I raced against both of those guys at the Motocross des Nations last year. It was the first time I had raced against them in almost two years and I could tell they had really picked it up. Once Tyla [Rattray] gets in there, it'll be a great three-way battle.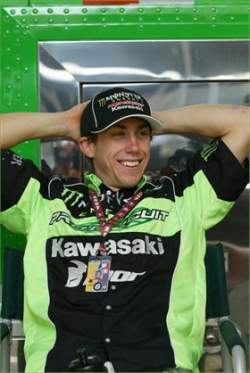 BT101 is relaxed and ready

How do you feel about the approaching 250F AMA Nationals?
I want to get out there, get up there and be competitive and try and win the title. Ryan [Villopoto] will be very strong. He's real fast and will go out there swinging. The West Coast guys have been able to a lot of outdoors and they'll be ready. Due to supercross, I still have some work to do for the outdoors. I want to get in a groove and do well in all 12 rounds. There are 12 rounds and I want to be smart because it'll be a long summer. I'm really up for the title.
Will the East/West Shootout in Las Vegas be an important race for you?
No. I'm not worried about it at all. After this Saturday, all my focus will be on the outdoors. I don't get paid for points in Vegas.
Going into the final round of the East Region on Saturday night, Ryan Morais has 114 points; you have 111 points; and your teammate, Darcy Lange, has 106 points. How do you feel about not only having to race Morais on Saturday, but Lange, as well?
We get along good. I didn't know Darcy until he got on our team. I guess it all comes down to Saturday. I can't really tell you anything but that. My plan is to get the holeshot and go from there. I don't really know what else there is to do but go race.
Okay, Ben. Best of luck on Saturday night…
Thanks, Eric. Have a good day.