Hello, everyone, and welcome to the Rev Up. It's time to circle the wagons again and prepare for a barnburner. That's right, the greatest show on dirt will be back on the attack after a much deserved two-week break. As the 2007 Amp'd Mobile AMA Supercross series makes its way to Detroit Motor City, all of the focus is on Monster Energy Pro Circuit's Ben Townley and Darcy Lange and, of course, Yamaha of Troy's Ryan Morais. Three very different riders that are at different points in their careers and all three of them want this title very, very badly.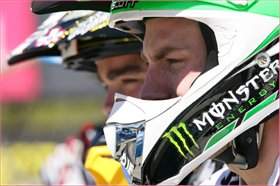 Ben Townley is focused on a championship
photo: Simon Cudby
For the first two, it would be another mile covered down the long highway to the city of motocross success. For the other, the underdog, it is a little more special. More on this in a minute, because there is a whole lot more going on other than that to get Revved Up to the moon for. We got a big race weekend ahead of us folks! It's Thursday and it is all right around the corner so let's start getting it up in here! If you can't tell I am pretty fired up. I'm talking Nature Boy Rick Flair fired up, people! We got Detroit and it's
Ryan Morais
vs. BT101 vs. the Arenacross God.
We've also got McGrath making his stock car racing debut, and deep down in the heart of it all, way down in the epicenter of what makes everything I just mentioned so special, there will be seven AMA Loretta Lynn's Area qualifying events taking place within the confines of 48 hours. Let's do it.
Area Qualifiers
Gates will be filling across the country this weekend as seven states of this great union will be playing host to seven area qualifiers for the 2007 Air Nautiques AMA Amateur Motocross finals. This weekend thousands of youth and amateur racers will click it up a gear in their quest to make it behind the starting gate at the ranch. It all begins with that first step towards the big dance. The area qualifier is kind of like getting the courage to ask that pretty girl to be your date. The regional is akin to picking out and bringing home that perfect suit or outfit. Then, of course that immaculate collaboration of competition in the sweltering heat of Hurricane Mills, Tennessee is the big freakin' dance, baby!

They'll all be doing what I did since I was 9 years old and now I get to answer all of their phone calls and feel the nervous energy in their voices. It's pretty cool to imagine all those dads putting on new tires and all the kids putting their stickers on their helmets just right. There just isn't anything like motocross, especially on the amateur level.
Jeremy McGrath
As many of you have heard, Showtime will be making his Late Model auto racing debut down in North Carolina this Saturday night. Now, just how big of a deal is this? It's just a little Saturday night short track action not much unlike my boy RC's venture of a couple weeks ago. But make no mistake; this is a very big deal for our sport! Ricky and Jeremy's car deals have spread motocross all over the mainstream map. MC's gig will be similar to RC's, although, this little race will be a bit more of a contest as they have around 30 cars racing together at the same time, whereas RC's had only 12. I've been versed fairly well on McGrath's stock car prowess so far and, just like Ricky, he is pretty damn good. To put it in perspective, the mock qualifying run McGrath did during his test last week would have placed him around 10th out of the 30 cars that qualified at the previous round. How will he do? If he keeps the fenders on it, I think he'll run top 15 or top 10 at the best. Make sure and click on
www.racerxill.com
for a full report Sunday morning.
The Big Race
This weekend's supercross in Detroit is going be really special. Why? Because it has to be. If you have cable TV and have been watching Speed TV and ESPN, they have been talking about supercross a lot. Major media wants to know more about these wonders of athleticism their adoring fans call, "Supermac" and "The GOAT." Who are these men, where did they come from, and what makes them so special? I'll tell you what made them special; nights just like this coming Saturday evening. Grabbing three gears out of a corner and shooting across a set of whoops that are chest high is what made them legends of their trade. Going toe-to-toe for championships is what drove them into the hearts of motocross fans from all over the world. They are supercross and supercross is them.

Folks, this Saturday night we are going to see another perfect example why supercross truly is the greatest sport on the planet. When the gate drops Saturday night for New Zealand's Ben Townley, Canada's Darcy Lange and Turlock, California's Ryan Morais and those fire balls shoot towards the roof of the dome, man that just gives me the shivers imagining it. May the best man win!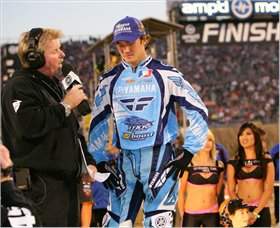 Although he's the points leader, Ryan Morais is the underdog.
photo: Simon Cudby
But, man, I kinda hope it's Morais. He's been through so, so much. Townley is a great guy and deserves the title just as much, and Lange has been a revelation, but a title for Ryan and his Yamaha of Troy would be as Cinderella story as they come. 15-laps to glory. Two men enter, one man leaves (but if they don't watch it, Darcy Lange will nab them both).
Then bring me
Bubba
and Reed. Last time out
Bubba
won by a bike length. Can Reed stem the tide?
Dude, it's been a while since I have been more pumped for a weekend of racing. I pay attention to almost everything in motorsports and as I sit here and try to convince myself that I am going to have it all in my head by Monday morning, heck, all I can do it reach over and turn up the volume on the iPod. Maynard tells me it will be no problem. Rumble in Detroit, seven area qualifiers, McGrath in North Carolina, the 07 bringing the heat in Phoenix – Rick Flair always said it best when he screamed with wide eyes, white hair, and a spray on tan, "Whew!"
Thanks for reading, see you next week.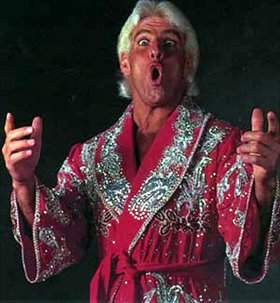 Whew!