Privateer Profile: Antonio Balbi
Entering his first AMA Motocross National at Glen Helen in late 2005, Brazil's Antonio Jorge Balbi Jr. was hooked. Forgoing the perks of his many Brazilian National Motocross Championships back home, Balbi packed his bags and headed north to compete in the 2006 AMA Toyota Motocross Championship presented by FMF series. Balbi immediately turned heads as he often had his number 965 Honda near the front runners. Ultimately finishing 21st overall in points, his highlights included finishing eleventh overall at both Unadilla and Lakewood. Now trying out supercross courtesy of the Wonder Warthog Team, the 24-year-old is using the 2007 series to hone his indoor skills, and prepare for the upcoming motocross season. With his best finish in supercross being a 17th at Phoenix, I had a chance to catch up with Brazil's most accomplished motocross rider.
Racer X: Antonio, 2007 is the first time that you've raced Supercross; let's hear about it.
Antonio Balbi: I think it's kind of funny because in November I would go to some of the supercross tracks and struggle just to get over the jumps; I mostly rode around the whoop sections. I knew other people at the track thought I had no business being there but I did a lot of watching and learning - and by the end of December I could actually get around the tracks okay. Since then I feel I have improved a lot and I'm really starting to enjoy supercross. Some bad luck and silly mistakes have kept me from being in the main events, but I certainly have the speed. Nearly every week I have had a qualifying spot out of the heat races, but then something always happens. Someone crashes into me, I fly off the track, or stall my bike; I've even had tuff blocks fly out of nowhere to take me out! At Anaheim 2 Ramsey and I were battling for one of the transfer spots when we came together and his front wheel knocked my bike into neutral – it's just one of those things that can happen. At Daytona I had a transfer spot when Langston tried to put an aggressive pass on me, and unfortunately I went down. [Laughs] After all this I feel I have learned a lot and gotten much stronger indoors. I knew this year would just be a learning year indoors, but I expect to do pretty well next year. I did manage to make the main at Phoenix; I rode really well there and was able to battle with some of the top guys for a while.
You're more familiar with motocross, aren't you?
Well, motocross comes easier to me than supercross because I have ridden motocross my whole career. I did pretty good last year outdoors and I feel that I proved I could run toward the front of the pack - and finish ahead of some of the riders that have good support. I did it all on my own with a basically stock bike and minimal support. I'm very thankful for guys like Ian Martel and my cousin Max who both worked on my bike, but I still had to pay for most of the travel, parts, gas and other stuff myself. It was difficult to find out that after what I thought was a great first year, nobody was interested in supporting me because of my lack of experience in supercross - motocross just seems to be less important to the industry than supercross does right now.
So in spite of the good press you received in last summer's motocross series, you'll again be doing the nationals as a total privateer?
You know, I thought I did really well last year and kind of expected to get some help for this season. So far I have spoken with some teams, but right now it looks like I am doing it as a full privateer again. I am certainly still looking for a ride, and hopefully press like this interview will help me get something together for the outdoors. I have been working hard for the motocross season and am really prepared so I cannot wait for the first round.
The Wonder Warthog team has been helping you in supercross, right?
Yes, and it has been great; the guys there are super! Last year for the outdoors I had to find my own way around to look for the tracks, and find hotels and that kind of stuff. This year it's been a lot easier knowing that I can get to the stadium and those guys have set the tent up, and my bike is there safe - it just takes a huge load off my mind. We get to park in a good spot in the pits; not just as an afterthought out in the back. It really gives me a good feeling to know that the Wonder Warthog guys have worked so hard to make it easier at the races for us riders. Scott, Darrel, and the truck driver Jeff made me feel like part of a team from the start and they really put a lot of work into the whole series.
Do you feel that racing Supercross will have helped you prepare better for the AMA Motocross series when it begins in May?
For sure! After riding supercross this season I just feel as though I am more confident with my bike and more in control. The technical part of supercross has made me work harder to understand my bike and really feel how it will react to certain obstacles. Every time that I ride motocross now, it feels like I can start to go faster and faster. It has been a great feeling riding outdoors using some of the skills I learned in supercross.
What are your goals or expectations for this summer in the motocross series?
My goal is to be inside the top ten as much as I can. It's tough to go practice here in California with my practice bike all worn out. I feel bad for my mechanic now who is doing his best to keep it together during the week, but it's just something that we have to do right now. When I pull into the track and see many of the riders testing suspension, and engine parts, it motivates me even more to do well. I see what they have, and try to work extra hard so that maybe one day I can get a piece of that as well.
That brings up this question: likely back in Brazil you could be winning everything and making some decent money - why do you choose to come here to race as a privateer?
That's a good question Jim, I get asked that all the time. I know that back home in Brazil I could make more money and have more fame, but for me motocross is a lot more than just a job – it's my life. I love the competition here, and I like to be part of that - I am getting to live a dream! It has been good for me here, and my coverage here has opened a lot of eyes in Brazil. The mentality back there has changed and I hope that by me coming here and doing it the hard way that it will open some doors for more riders from Brazil to come here.
How's the relationship between the privateers - is there a special bond or friendship?
I think there is respect there, but we are all trying to get a leg up and get a better ride - just like any sport around, there is a lot of competition. I have many friends out there, but not so many in the pits. I don't know if it's because I am coming from another country, or if it's that I am relatively new to American motocross.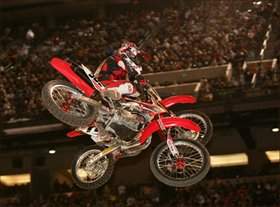 Balbi has shown a lot of improvement over the SX season. Here he battles with Travis Preston.

Tell us some personal stuff. What do you do when you're not racing?
I live in Murrieta with my coach Justin Maley, who helps me during the week and at the races, and he is also my mechanic. I'm hoping something good rubs off on me because I actually live in the house where Jeremy McGrath grew up [Laughs]. I do have a girlfriend that I met when I raced the Motocross GPs; she lives in France so I don't get to see her as much as I would like. Still she manages to come over often, so it's not too bad right now. Unfortunately right now I am the only one organizing my racing so when I'm not at the track or training, I'm trying to organize a ride, write articles for magazines in Brazil, or I'm doing something else involved with motocross. It's good that I love motocross because it seems I never get a break. [Laughs]
Sponsors are very important to any rider, especially a privateer - who all do you want to thank?
First I really need to thank my Brazilian sponsors Riffel and FOX Brazil; they have been great, and I couldn't make it without them! Also, big thanks to Ian Martel and his family, who have helped me so much. Sponsors helping me include Fox USA, John Burr Motorcycles, One Industries, DR.D, All Service Cleaning, Tag Metals, Smith Goggles, Wonder Warthog, DeCal Works and Justin Maley from Maley Motorsports.

Antonio Balbi's sponsors: