5 Minutes With ... Davi Millsaps
In 2006, Team Honda rider Davi Millsaps had a breakout year. He handily won the AMA East Region Supercross Lites Championship, and backed that up with an impressive third overall in the final AMA Toyota Motocross point standings. Tapped to be Honda's ace factory rider for the 2007 AMA Amp'd Mobile Supercross Series, all was well with Millsaps until it all went south during the off-season when he broke his femur in a slow-speed fall. It took the Georgia-based rider a solid four months to rehabilitate the leg and make it back into action. And when he did — at the Atlanta SX on February 24, 2007 — Millsaps quickly realized he had some ground to cover as far as his speed and conditioning were concerned. But he hung tough and is beginning to look for a spot on the podium. After a long break, and now only few days out from this Saturday's Detroit round, we hooked-up with the now 19-year-old to see how he feels about the home stretch of the supercross series as well as the rapidly approaching AMA Toyota Motocross Championship.
Racer X: The last race you did, the Dallas Supercross, was all the way back on March 31. Has the long break bothered you at all?
Davi Millsaps: Not really. No. I've kept myself busy. A week after Dallas, I was in California testing. Then, after that, I came back home and started to ride outdoors. In fact, this week I rode a lot of outdoors. Then, I'll be back out in California in two weeks to do more outdoor testing.
Are things progressing well with your 2007 Honda CRF450R National bike?
Yeah, I'll have something good.
Okay, after all the time off after breaking you femur, you came back to Supercross in the Georgia Dome and placed 16th. A week later, at St. Louis, you also placed 16th. Did you come back to racing too soon?
Everything was wrong…. I was definitely not ready. I got arm pump really bad. I was nowhere near ready. It was like everything I had to go through on the little bikes, I was going through again on the bigger bike. It was hard to come back and deal with all that. But I'm not worried. Every week should be better and better. I just came back too soon. Yeah, it's been five or six months since I broke my femur, but the femur is the biggest bone in your body. For some people, it can take over a year to come back from breaking a femur. I came back in four months. It was definitely hard to come back and not think about the injury I had.
You finished ninth at Daytona. Is that where you started to feel better?
I didn't feel comfortable at all at Daytona. I think it was just because I've always ridden well there. Yeah, I got in the top 10, but didn't do well at all. I don't know what happened there.
A week later, in Orlando, it appeared that the wheels really came loose when you placed 19th.
I felt better and more comfortable on the bike at Orlando. I was going pretty good. In my qualifier, and I was behind James Stewart and saw him do this jump. I decided to do it and I also made it. In the main, I tried it again but came up short and faced it in. It jammed my back and locked it up. It really bothered me every time I sat down or stood up over a jump. It was horrible. I'm not making excuses, but it hurt badly. The next week at Indy was pretty good. I got sixth there.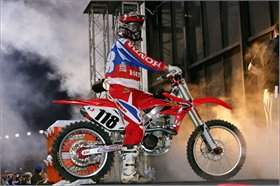 Millsaps is coming off of a fourth-place finish in Dallas

Then you finished fourth at the Dallas Supercross. Was that encouraging?
Dallas was good. I got a good start, but then got arm pump. But, yeah, the fourth-place was encouraging.
Are you looking forward to the Detroit this Saturday?
I am looking forward to it, but I'm more looking forward to the outdoor nationals. I love the outdoors. It's fun and enjoyable to me. I'm really looking forward to it.
What are your goals for the last three supercrosses at Detroit, Seattle and Las Vegas?
I would like to get a podium. I'd like to get a podium at the first race, the second race and third race (laughter). I'm just looking to get on the podium or in the top five.
If you would have started the season with you health at 100 percent, how do you feel you would have done?
I think that if I had not broken my leg, I would have been up there with those guys — Carmichael, Stewart and Reed — for sure. Before I broke my leg I was amazed with myself with how fast I was going. I was pumped. I was on my game. But then I had a little bit of bad luck and something happened and it put me back. It took me a while to get back. It sucks, but it's part of life. It's reality. Before I broke my femur I was really on top of my game. I'm still working on getting back to where I was. I guess we'll see what happens when I get there.
How do you feel about the approaching outdoors series?
I'm just going to look to the top guys. I definitely want to win. I look forward to running good the whole season. You know, I think I can be right there. I've got a good bike and good people behind me. I'm going to push myself and work my way up.
Can you run with James Stewart?
James is phenomenal. He's so fast, it's hard to say. At some tracks he's just amazing. At some tracks he's just really fast. At some tracks I think I might be faster… I'm just looking to run up front with him. I want to see him at the finish line. If it's not him that I see, I want him to see me!
Do you see anyone else running up at the front in the 450F Nationals?
It's hard to count anyone out in our class. All the guys can go fast. Some can kick up their game at some tracks, and some don't. It's hard to say. I guess we'll just have to see how it goes.
How would you feel about riding for Team USA in the Motocross des Nations?
I would love to go. It would be a total honor to ride for America in the Motocross des Nations.
Okay, buddy. Thanks for your time and good luck on Saturday night.
Thanks a lot, Eric. Any time.