Between the Motos: Josh Hansen
Red Bull KTM's Josh Hansen certainly isn't following the traditional path of a professional motocross racer. Josh is very open about his lack of enthusiasm for the national motocross series. In fact, Josh didn't race the nationals last year and doesn't plan on doing them this year. After coming close to a Lites championship in 2005, Hansen hasn't had much success. Injuries plagued his 2006 campaign, and 2007 just hasn't been Josh's year. But last weekend Hansen might have found his niche for the summertime when he won the Supermoto season warm-up race at Stateline. I talked to Josh as he was getting ready to ride some supercross for this week's Between the Motos.
Racer X: Congrats, Hanny, this is the first win you've had in a while.
Josh Hansen: Yeah, it was good to break the ice; it's been a long time. I was starting to forget what a trophy or champagne bottle looked like. It was good to get them back in my hands.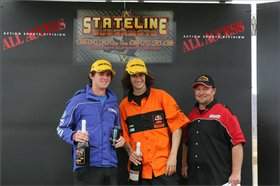 Hanny gets reacquainted with the champagne bottle

You were supposed to race at the Queen Mary last fall but had some problems.
Yeah, I was supposed to but I got staph infection in my arm and it took me out for a while. By the time it was better, I only had three weeks to get ready for the first round of the supercross series. It really messed up my season. So I would have loved to do the Queen Mary race. I tested and got all ready but if I couldn't do it at least you won it, right [laughs].
That's right, punk. So, you've shown interest in Supermoto last year. Is it something you want to pursue?
I've always been interested in it. I think it's a really cool sport and something that guys can get into when they're done racing supercross. I think Supermoto is going to grow and get pretty big too. Before, the only option you had when you were done racing was to go get a job. Now, guys like Wardy are still competing into their forties. So I think it's awesome, and it's a sport for the new generation.
There are more and more guys, like yourself, that aren't doing nationals anymore, just supercross. Do you think Supermoto is something that they would consider instead of nationals?
That would be my goal; to do supercross and then Supermoto. That would fit me perfect. I love the vibe at the Supermoto races. Everyone is super nice and it's very laid-back. And it's a blast out there on the track. The racing is really tight, and it seems like more and more guys are getting into it. Tyler Evans is getting into it and I know Reed likes it, and Windham and Carmichael. So I think it is going to continue to draw more and more big names from motocross.
Have you finalized anything with KTM to do the whole series this year?
I have not yet. I want to but nothing has happened yet. We've been trying to figure that out this week. I don't know how I would get to the races and all that stuff. I'm for sure going to do selected ones and the X Games. I want to do the whole thing.
Take us through your win this weekend. Actually, start with the 250 main where you chopped me off on the start and took me out.
Did I? Did you fall?
Yes, I fell. You dove to the inside and came to a stop. I hit your back tire and high-sided, you jerk.
I had no idea, I swear. I did not know that. The first start, I was just really trying to get the start because I knew you were going to be fast, and that was the only plan I had. Then we go the red flag when it started raining, and on the restart I just kind of did my own deal and it worked out for me. I think the tires choice thing worked out for me.
Who made the decision for you to go with slicks instead of rain tires? I think you were the only guy on the grid that didn't switch to rains.
Troy Herfoss and I were looking at the pavement, and I decided to take a chance. It could have gone either way.
The first two laps, I was right behind you, and the pavement was still a little wet and you were pretty sketchy. Then, at about lap two, it totally dried out and your tires came in. I knew I was screwed at that point.
My back end was all over the place at first. But it worked awesome when it dried out. I didn't really have a plan because I hadn't ridden Supermoto that much, and this was my first race. I was just kind of winging it. Next time I'll know what to expect a little more.
So you're on your way to ride some supercross right now? It hasn't been the season you hoped for, has it?
Not at all. My last two seasons have sucked, and it bums me out pretty bad. The plan is to try and turn it around at Seattle and Vegas, but we'll see. I just need to get some starts and pin it. I think people know that I can go fast but the last two years have been bad for me.
I know you stopped working with Jimmy Button, your longtime agent, but what have you got in the works for next year?
I've got some good stuff going. I haven't signed anything and there's a lot up in the air. I think there's a lot of stuff those other guys would like to see me do. KTM has been behind me so much. As everyone can see, I've had some bad years, and it's been really cool that KTM has my back so much. They let me go race Supermoto, and they just always support me. I really like everyone on the team, and there's a possibility that I might stay there. Things are still really up in the air.
Is it going to be muddy in Seattle?
I don't know. I've never been there. I don't care, though. I'll ride in the mud.
It's not like you're racing for a title.
I know, right? Actually, it might be cool because Vegas will be hard and slick for sure, so it would be totally different.