5 Minutes With ... Ryan Mills
American racer Ryan Mills is not having the best of starts to his European experience. Having been signed by the Martin Honda team, it was unsure how Mills would do once he arrived in Europe. An accident at the season-opening Mantova International in Italy saw him miss that race. From there it's been a rocky road. Another accident the week leading up to the Grand Prix of Benelux meant that Mills again missed the chance to race, and when he finally did arrive at the Grand Prix of Spain, it seemed he might have his first real chance to actually race a GP. It wasn't to be though as he missed out on qualification—down on confidence and not having enough time on the bike meant that Mills would be a spectator once again. We decided to sit down with the former AMA National moto winner at that race and ask him what is happening.

Racer X: Ryan, what is going on? You just can't take a trick at the moment.
Ryan Mills: I haven't had much riding and stuff, no excuse, but I couldn't put it together today. It's a new track and it was muddy and one lined. It's a new experience for me and I am having a great time. It's fun, me and my trainer and my mechanic, my team, we are doing our best. The bikes are awesome, so it's up to me to get my head on straight. I am here for a long time, so I need to get it together. My riding is good, I just have to put it together, but it is very different.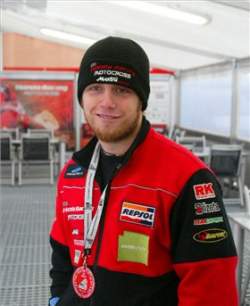 Martin Honda's Ryan Mills
photo: Steve Bruhn
How difficult is this fast lap qualification thing. Americans always seem to struggle with it.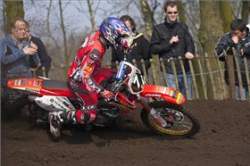 Mills hopes to turn his season around in Portugal
photo: Mario Marini
I came over to do the Bercy Supercross the last couple of years and I was also horrible at the timed training. I have to work on that for sure. These guys are good at what they do here. They put their laps together and they get the good time in. I need to put it together in one of these practices and once I get into the race I will be okay. It's a big learning experience for me. Once I get my head on straight everyone better look out because here I come.
Did the mud worry you, are you used to muddy tracks?

I am from the East Coast, so for me the mud wasn't that big a deal. I just rode kind of tight and didn't ride like myself. Usually when it is muddy I ride great. I mean I have won a moto in America at
Red Bud
, and then at
Steel City
I podiumed behind Ricky (Carmichael) and James (Stewart) in a mud race, so I am quick enough, no doubt about that. I have the speed, just got to get my head out of my butt.
How is your confidence, how can you pick it back up and get some momentum going?

I have been at this level for a while now. I still get the butterflies, but it's more about my head. I need to get time on the bike and get my confidence level going. We go to Portugal next week and I will go there and give it my 110 percent.