5 Minutes With ... Ryan Hughes
What a difference a couple of weeks make. Thirteen days ago, we rang up Ryan Hughes for our Suzuki Between the Motos to see how his WORCS season was going. Hughes had won three races in a row and was talking about the peace and balance in his whole program. But then at this past weekend's round, Hughes had "one of the worst days of my life" and it ended with an argument with his longtime mechanic Jonathan Hoody, followed by a lot of harsh, unfounded accusations popping up online. So we decided to pick up the phone again and find out the real story on one of the sport's most passionate racers.
Racer X: Ryno, I've been reading online that there's a little trouble in paradise, so we decided to cut to the chase and call you directly. What the hell happened at the WORCS race this weekend?
Ryan Hughes: We'll start from the beginning. The parade lap, coming down this really tricky section they put in, I got stuck on a log and couldn't move. Kurt Caselli was behind me and people got bottled up, so I put my bike against the bank, killed the bike, and moved this 200-pound log out of the way so we could all get through. So we get through, came back, and (series organizer) Shaun Reddish's wife was there, and I told her that when I walked it, that stuff wasn't there. I'm concerned about my lead, so of course I'm going to voice my opinion.
And then as the parade lap went on, I had this bitchin' line I had set up for hours on this waterfall that I knew I could make 100 times, but that one time I tried it and I fell. So I got up, started my bike, went about another 40 feet and got into all of these rocky sections they had, and I was cruising around and my front end just went away before I could even put my feet down. Turns out I put a hole in my tank! So on the starting line I was okay—a little stressed because we didn't have another tank. I was then yelling to the WORCS people that they had to fix that stuff. People took that out of context, saying I was in a fight with somebody, but I was 40 feet away from the person I was talking to—that's why I was yelling. So I'm not sure how it got to be that I could be in a fight with anybody…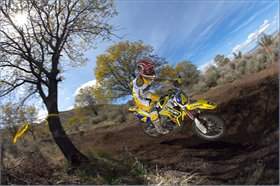 Ryno had a day he'd rather forget at Honey Lake

photo: Jeff Kardas

I can understand your worries on the line, because you're winning that series. In AMA motocross and supercross, there's no "two-minute" rule anymore. They give you time to fix something, especially when it's something that occurs in such a way that it can be fixed.
Exactly. So, I was stressing a bit about not having a tank, the gas was coming out, and my mechanic was saying I had to make a couple pit stops, so yeah, my emotions are getting a little bit on the edge there. So they come back with a tank that has a twist top, no Quick-Fill. So I start and I get into third-place and just have one of the worst races of my life. I stalled a few times, couldn't get it started, crashed, chain derailed—just did not have a good feeling on the bike for some reason. The day before I felt unbelievable too. So all of that was 100 percent my fault, and I learned a lot riding those conditions that I was using the wrong technique. So a good thing came out of it.
As for what I hear about flipping my crew off every time I came by, that is a complete lie. And flipping off a WORCS official is a complete lie. I did not even talk to any officials after the race started.
I was just going to say, 'This doesn't sound like the Ryno we talked to just last week,' where you're really working on the positives and finding the balance.
Yeah, so two laps from the end, after my chain derailed, I come by the pits and my mechanic has a board saying "-5," and I misread that and thought he was saying that he was behind me. So when I came by I put my hand in the air in disgust. I was just so pissed off that now someone else was catching me because I was riding so bad. It was in disgust of myself, but people took that the wrong way too. I wasn't even looking at my mechanic, I was looking at the board, but people took it the wrong way. I'm a very vocal person and I speak my mind. So I put my hand in the air and my mechanic thought I flipped him off, but that was not the case. Myself and my mechanic have a relationship that when I'm going 60 mph, that's my way of saying "I'm pissed."
You and Hoodie are almost like brothers; I know my brother and I had a fight or two at the races.
Yes, but the reason myself and Hoodie got into a big argument was somebody from the WORCS organization came over to Hoodie and said he heard from someone else that I threw my bike because I couldn't get over this log after I crashed, picked my bike up and threw it down again and broke the tank. After the person who told Hoodie that saw the video of me setting my bike along the bank and hitting the kill switch, he felt really bad and shouldn't have opened his mouth before he knew the correct scenario. No matter, Hoodie got really mad at me about throwing my bike down, and I had no idea what he was talking about. So right after the race, with the emotions and how close we are, it just blew up. No punches were thrown at all; there was some grabbing and pushing, but end of story. And he told me he quit, and that's it—what's happening between myself and Hoodie is our business and nobody else's. And all of this stuff about Suzuki firing me is 1000 percent not true. Mike Webb is 100 percent on my side. Me grabbing his wife's arm is another just complete lie.
The version I saw online, which was a third-hand account, had you grabbing Mike's wife's arm.
[Laughs] Yes, what blows me away is how untrue half of these rumors are. I just have no idea where these rumors come from. Did I blow up? yes, I did blow up. But when I do race a motorcycle, that's a totally different side than what I am in everyday life. Yes, I made a mistake, but nothing close to what people are saying out there on the internet.
Hey, haven't you figured out yet that anyone with a keyboard and an opinion can make up a headline and post it.
Yes, and that's fine. People can think what they want, but I know who I am and I know what I'm about. It's not about making people feel bad or making them sad. Everyone who has talked to me face-to-face can say that I'm a pretty calm, easy-going person. But when I put that helmet on everything changes. But that's what kept me in this sport for 24 years; that's what kept me going after all of these injuries and ups and downs and retirement and loss of championships. That's me.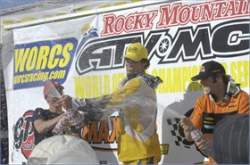 Ryno is still in control of the WORCS series

photo: Kinney Jones

To look on the bright side, ironically, in a day that you say is one of your worst days ever, you extended your points lead, didn't you?
Yeah, and that's the thing: I try and look at this whole day as a good day. One thing is I padded my lead, and that's one reason I rode a little cautious. I didn't want to have anything happen that has happened to Caselli, like breaking levers off. And when I heard he was getting lapped, that really made me focus on just beating him. And I learned a lot of how to handle by emotions and frustration in myself from riding so back and not living up to the expectations I put on myself. So that's life, and everyone makes mistakes. I may have struck out, but I'll come back and hit a homerun next time.
Who is going to be your new mechanic?
That's not decided yet. It's still up in the air. Myself and Hoodie, like I said, we were very close and for something like this to happen, that's life, and emotions got the best of us. It just got blown out of proportion, like a lot of things do, but we're working on it to see if we can put something together, or if it's better to see if it's time to walk different directions in our lives, but time will tell. No matter what happens, I really appreciate everything he has done for me. He is a very kind person, has a great head on his shoulders, and if we don't work it out, he will be a great asset to anyone's team or organization.
As we were posting this interview, we received this apology from Ryan Hughes:
To All The People Attending the WORCS Races,
I am writing this is a formal apology to all those in attendance at the WORCS Race in Honey Lake. I made a big mistake in the way I portrayed myself, letting my emotions get the best of me. I am a very emotional person and I wear my heart on my sleeve. Sometimes my emotions get away from me and get the best of me before I can even stop them. I am very passionate about my racing. I go to every race to try to win and I never even start my bike without giving it one hundred percent. This is my struggle in trying to be the best person that I can and it is one of my goals every day, however I fail often. I know my reactions hurt myself and others as well. I am deeply sorry if I offended anyone. I am also very sorry if I made Suzuki, any of my sponsors, my mechanic and anyone else who has so generously supported me for all these years look bad. I know I haven't been the best role model for the kids at the races and it hurts me to know that I have left a bad impression with not only them, but their parents as well. I can honestly say that I will try hard to keep my emotions to myself and I will still give you one hundred percent every lap that I ride a motorcycle. This race was one of the best and worst days of my career. I learned a lot about dealing with situations, my emotions and it was a humbling experience. I even learned a lot on the motorcycle on a track that I had problems with all day. I am very sincere in my apology and I hope that you can find it in your heart to forgive me.
Sincerely,
Ryan Hughes