5 Minutes With ... Martin Davalos
Quito, Ecuador, can't really be considered the epicenter of global motocross. However, the small nation must be doing something right if it can export a determined, hard working and talented rider such as native son Martin Davalos. Having just turned 20 years old, the Red Bull KTM rider was really beginning to hit full stride in the 2007 AMA Amp'd Mobile Supercross Series — placing fifth and sixth at Houston and San Diego, respectively — before the West series came to an abrupt stop to begin the East Region swing. Now in his second year on the AMA Pro Racing tour, Davalos, who has been working and training with close friend Davi Millsaps at the Millsaps Training Facility in Georgia, has been gaining speed and confidence and will certainly be contender come May 2, 2007 and the season-opening Hangtown Motocross Classic. Hoping to snag a podium finish at the remaining two supercross races, a feat he is more than capable of, Martin Davalos reviewed his past, present and future in motocross in the following interview.
Racer X: Martin, what are you up to today?
Martin Davalos: Right now I am actually in California doing testing and getting our outdoor bikes ready. We still have a little bit more testing to do here and there, and we also have the Seattle Supercross coming up.
How is your outdoor testing going?
It has been going really good. The bikes are fast and good. We're working on the rear shock right now and it's all getting there. We'll do another day or two of testing and then it will be a good time to go back to Georgia and train for the outdoors and the Seattle race.
As part of the West Region, you guys have been off since San Diego, which was way back on February 17. How has the break been for you?
It's been pretty good. I went home to Ecuador for two weeks and rode some outdoor motocross. KTM sent a bike down there for me, so I was able to ride a lot. I also spent time with my family. That was good for me because it's hard for them to come visit me in America with work and school and my brother and sister having a lot going on.
Is motocross a big sport in Ecuador?
Well, motocross is getting way bigger now. It's not really big, but it's at a pretty good level. Kids are coming up and they're also coming up to do the Mini Olympics and to try and qualify for Loretta Lynn's. I raced down there during the two weeks I was at home and I could tell that things had really progressed. The little kids were going fast. Also, there is the Latin American Championship this year and it has three dates. There is one date in Ecuador and two dates in Brazil. It's a really cool series. Last year the championship was in Ecuador and I ended up winning it.
Do you receive a lot of attention back home in Ecuador?
For sure. For me, to go there, is really cool. I get put in a lot of commercials and in the newspapers. I guess I'm kind of a hero. A lot of people across the nation are aware of the fact that I am racing in America and I get a lot of e-mails from people saying "good job."
Just how did you end up coming to America to race?
We met Davi Millsaps and his mom, Colleen, at the (FIM Junior) World Cup in Spain a few years ago. They talked about me coming to America and spending some time here. So we went home and I kept taking with Davi. Eventually, I spent two weeks with him here in America and raced the Mini Olympics and Loretta Lynn's in the 80cc class. I went back home after that because my parents were concerned about me continuing in school. Then we received an e-mail from Colleen telling us they had opened the Millsaps Training Facilities. My parents supported the idea of coming here, so I did and continued to do home school.
So, I'd assume that you and Davi are good friends…
Yes, we're really good friends. I've been here almost thee years now and we've always been really good friends. They're a great family and they treat me like one of their family. Actually, everyone in America has treated me like an American! I thought it would be weird to be here coming from Ecuador, but everyone—the media and the fans and just everyone—has made it feel like home.
You were outside the top 10 in three of the first five rounds of the West Region Supercross Series.
Yes, it was a rough start for me. I just didn't put some stuff together. But I have been working on it and I really want to prove myself in Seattle and Las Vegas. I want to prove that I can do good, man. I've been working hard.
But then again at San Francisco, you were fighting for second before Chris Gosselaar slid out in front of you. I was really impressed with how well and how hard you were riding there.
Yeah, for sure. I thought San Francisco was going to be my night. It was frustrating, you know? I was very close to Chris when the crash happened. I was going fast all night and everything was going great. I thought I was going to get on the podium, for sure. But after that race, my confidence got better and I got fifth in Houston and sixth in San Diego.
How do you feel about the approaching the last two races?
With Seattle, you never really know. Everyone tells me it's muddy there because it rains a lot. I don't know… I'm not sure about the mud. I will do my best, though, and try to get up on the podium. Vegas is a really important race with all the East Coast guys there Hopefully, it all works out and I get in the top five.
What's your plan of attack for the 2007 AMA 250F National Championship?
My plan is to be consistent, for sure. I want to finish races. I don't want to be fifth in be race and then be 20th in the other. I want to get podiums, for sure.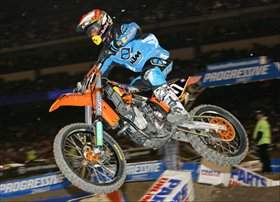 Davalos is currently 11th in points

I know it's a little bit early, but do you have sort of idea of whom you may race for in 2008?
To be honest, I don't know yet. The [Red Bull KTM] team is great. Everybody works hard. I wish I could stay with them. My plan right now is to focus on the outdoors and be up there and prove myself to everyone. I'm just going to do my best.
What are your future plans in the sport?
I don't really know. To be honest, I'll probably go home after my racing career is over. Now, though, I want to focus on racing. I have a couple of years left in this sport and I want to give it my all.
Good luck in Seattle, Martin.
Thank you very much and thanks for the call. I'll see you in Seattle.