Welcome to the Shift Number Cruncher. We have a quick one for you this week, but we think you guys will get a kick out of this it because while one racer who owns the number is popular, we found a really old-school match for it that I'm sure not very many of you remember. I've wanted to run this number for a while, anyway - the owner of it has kind of always been in the shadow of a rider who has a number that is really close to his, and he hasn't enjoyed as much play as he deserves. So without further ado, here we roll with #801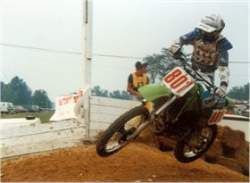 Eddie Warren
photo: Racer X archives
There are some really interesting things about this shot. With us being in the middle of the Loretta Lynn's swing, I was stoked when DC found this shot of
Eddie Warren
carrying the mail at Loretta's. Eddie is actually performing a couple rule-breakers as he rides over the tunnel jump just after the finish line. Nowadays all of the participants must run two-digit numbers, and under no circumstances may the riders run red numbers.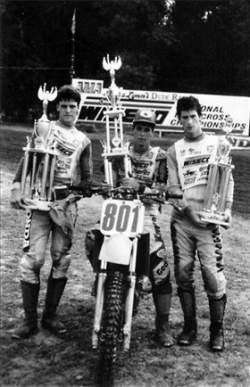 Eddie Warren (center) and Timmy Coombs on the right
photo: Racer X Archives
Here we have another picture of the madman himself,
Timmy Coombs
, as he stands to Eddie Warren's left. A lot of folks forget how fast the eldest Coombs sibling was. Back in the day, Timmy could certainly get it done.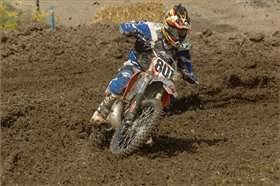 Guy Giroux
photo: Allison Kennedy
Our boy Danny Brault up in Canada came through once again with a tough one. He told us all about one of Canada's most versatile (and colorful) motorcycle racers,
Guy Giroux
, and how he has competed in CMRC Canadian Nationals, the Montreal Supercross, and various off-road events around the globe with #801. Here he is railing a rut in the MX1 class at the Ste-Julie, Quebec, national in 2005.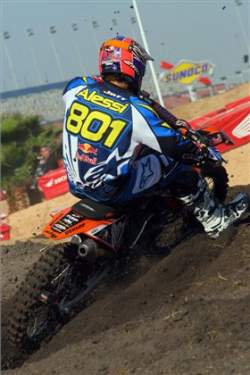 photo: Matt Ware
Ah, the fabulous Alessi brothers. It's safe to call them the most popular and controversial band of motocross brothers in the history of the sport. And while Mike has pretty much always carried the flag for Team Alessi,
Jeff
has done his fair share of damage on the track. It's been a tough go for Jeff since he made the jump to the pro ranks, as he suffered a terrible injury, breaking both of his feet. Jeff worked hard and came into the 2007 East Region Lites series with some fire and has put in some great rides. And at the St. Louis round, I saw him do something I've never seen him do when he beat his older brother Mike heads-up in a heat race. Hey man, I sympathize with having a brother that gets more attention, so I was proud to dedicate this week's Shift Number Cruncher to
Jeff Alessi
.
801 photos:
I know there are some guys out there that have done some damage aboard numberless machines. If you have some photos, send them to me in an e-mail to andy@mxsports.com and I'll see if I can talk Bad Billy into throwing you into the Redux.