Jeremy's New Stock Car Deal
Around 2:30 this afternoon another ripple spread across the growing pool of NASCAR/motocross crossover. JR Motorsports celebrated their latest expansion in spectacular fashion, as not only did today's festivities include a US Navy christening ceremony, but the official word was given that seven-time AMA Supercross Champion Jeremy McGrath would be their newest team member. "Showtime" will drive a 10-race schedule for JR Motorsports and it is harder to tell who is more excited. Jeremy himself, or the growing NASCAR race team.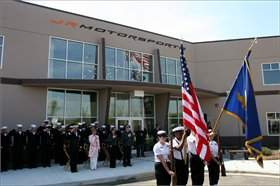 The U.S. Navy is a big part of JR Motorsports
photo: Matt Ware
With the bright North Carolina sun shining over a vast assortment of media personnel, Admiral Joe Kilkenny first spoke on behalf of the U.S. Navy after the invocation. In what was a very big deal here on Tobacco Road, every major NASCAR media entity was present, and while the primary focus was on the continued partnership between JR Motorsports and the U.S. Navy, there was a huge amount of attention drawn towards McGrath.
After the christening and opening announcements, the media guests were invited on a tour of the race shop where they would meet with the different team members of the JMS organization. In different spots in the race shop there was the Navy-sponsored Busch Team, the Hooter's Pro Cup team, and the Late Model team, which McGrath is now a member. No doubt drawing some synergy from
Ricky Carmichael
's recent NASCAR announcements and participation, the NASCAR media engulfed Jeremy with microphones and cameras. Jeremy looked right at home answering all of the questions, some of which had to feel fairly mundane as they were coming from media that is not well versed with our sport of motocross. One particular member of the media asked him, "What do you think about Mike Metzger's interest in NASCAR and how is it similar to yours? I mean, aren't you both kind of wild guys?" To which Jeremy replied with a smile, "Yeah, we're both wild, but in different ways," being neither disrespectful or ignoring the talent of his two-wheeled comrade.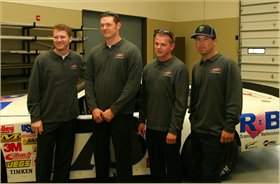 Dale Earnhardt Jr. (left) poses with his team.
photo: Matt Ware
While a large swarm of media surrounded Jeremy and his Late Model Teammates, Dale Jr. himself was just strolling around. He took particular notice of the buzz surrounding his late model team and walked over to take part in the questions. When asked of McGrath, NASCAR's most popular driver had this to say, "I am very proud to have an association with Jeremy. We're just buddies that met a few years back (think Bud Light Yamaha team) and we have kept in touch."
Jr. added, "He gave me a call and said he was interested in driving some cars so we had him out for a test. I can tell he is serious about this deal, and I like his approach to the whole situation. I want people on my teams that want to succeed and it's clear Jeremy does."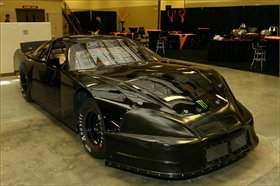 MC's new ride
photo: Matt Ware
Even though Jeremy is past his prime in motorcycle racing, the mark he left on all things motocross was abundantly clear as every person in attendance today, especially the way his new teammates seemed to almost be in awe of their association with the King of Supercross. When asked about his motives for racing NASCAR and his thoughts of it being a natural progression, Jeremy said, "We're all fans of racing. I like racing in every aspect and I really want to succeed at this. I am not going to come out here and say, 'Hey, I'm gonna be a Nextel Cup driver' or anything like that. I know how far away that is and I just want to focus on this chance."
He also commented on how stressful it was to perform his first test with the team a little over six weeks ago. "It was probably one of the coolest things I have done in my life, but having Dale Earnhardt Jr. watching me drive for the first time was extremely nerve-racking."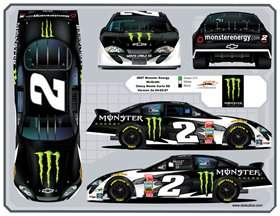 Illustration courtesy of www.sbstudios.com
Tomorrow afternoon Jeremy will have another chance to test his nerves as he is slated to drive in another test session at a nearby short track. Just sixth months removed from a very serious neck injury, Jeremy McGrath has his race face on and this opportunity is very much the real deal. How much of a real deal? At his first session he wasn't that much slower than Jr. himself!
Stay tuned to
www.racerxill.com
for more updates tomorrow afternoon.