5 Minutes With ... Andrew Short
Coming into the Indy Supercross unannounced, it was a very pleasant surprise to see the #29 Factory Honda CRF450R sitting beneath the Honda awning. It was the first race of the 2007 season for Andrew Short, who was out since September 2006 with a knee injury. Short was able to score a very respectable eight-place finish in Indy, and then followed that up the following week in Dallas with a fifth-place finish. He even pulled the Progressive Direct Holeshot and led two laps! We decided to talk to Andrew on Monday for this "5 Minutes with…" interview, presented by Ready Racing.
Racer X: Andrew, what's going on?
Andrew Short: Oh, not too much. I'm just heading home from riding right now.
Wow, the day after Easter and you're out riding?
Well, you're at work, aren't you?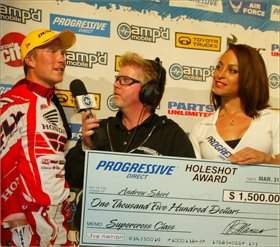 In only his second race of 2007, Andrew Short managed to pull the Progressive Direct holeshot!

[Laughs] Valid point! Anyways, let's get right to it. That was a heck of a ride you had in Dallas.
Yeah, I was happy with it. Everyone else has been racing for 13 weeks and they're pretty worn out, but for me, I need to be racing. I've been practicing a lot. To take these two weeks off was hard. I wish I could keep racing and keep improving, because that's where I'm becoming more comfortable—out on the racetrack.
How much of a difference was it going into Indy and going into Dallas?
It was huge. The first race there was a lot of emotion, excitement and nervousness. Add everything else that is associated with racing, it was pretty nerve-racking. I calmed down a lot more in Dallas and it seemed to go a lot better. Although I was a little leery of the mud and ruts when I first showed up and walked the track.
Those conditions were probably very similar to those in which you injured your knee last year at the Steel City National.
Yeah, exactly! I didn't even crash; I just got cross-rutted and my bike went one way and my body went another. So mud in general definitely hasn't been my friend, but I'm improving in it and I feel that I'm getting better.
You came back to racing under the radar and pretty much just showed up at Indianapolis. How long before did you know that you were racing, or was it a last-minute decision?
I knew for awhile. It was a goal of mine, but I didn't want to tell anyone that I was definitely coming back, because if I wasn't prepared I didn't want to rush it. I also didn't want any false expectations for myself or for the team.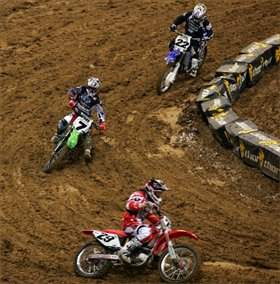 Short leads Stewart and Reed in Dallas

What was your personal expectations for your first race back?
I really didn't really care so much about my results. An eighth-place is okay, but I was disappointed in how I felt. Before that race, I felt really prepared at the test track. I knew I wasn't going to be perfect, but I thought I would ride a little better than I did, in terms of staying comfortable on the bike and flowing. From the time the gate dropped in the main till the checkered flag fell, I was pretty much in survival mode, and it's not a very fun way to ride or race a dirt bike, so that's what I was disappointed in.
So, what was going through you head when you were leading the Dallas main event?
Umm, it wasn't that bad. I just didn't want to get in Bubba or Chad's way. I'm not even close to their level right now. I know if I tried to pin it for a couple laps, I'd hit the wall and go back really quick. So I just tried to stay consistent and not make any mistakes in front of those guys. But once Millsaps passed me, I didn't want him to pull away, so I kind of settled down and rode pretty strong and consistent and learned a lot. It was a big improvement for me, and I think the next race in Detroit I'll keep improving in terms of being comfortable on the bike.
In our Monday Conversation following Dallas, James Stewart told Steve Bruhn that he saw you swap pretty bad and he thought you were going to crash. Do you remember that?
[Laughs] Yeah, everyone keeps asking about that. It was on the start straight—there were some braking bumps—and it didn't seem that bad on the bike, but everyone said they saw the tank-slapper. It's funny how that works. On the bike it feels a lot different. It didn't scare me that bad. Other times I've been a lot more scared than that.
So how's the factory Honda 450?
It's a lot of fun. I'm still getting used to it, obviously, but it's similar to the 250F I was on last year—just a lot more power. The power is real rideable and progressive, and it's pretty much a dream come true. Looking at it, it's a work of art, and it's pretty amazing to ride.
Were you able to practice on it at all prior to Indy?
No. I was pretty nervous, because you only have two practice sessions, and you're supposed to be qualifying in those, putting in your fastest lap, and I didn't want to be moving around my bars or brake levers. So I knew I didn't have time to mess around, but my mechanic did a good job setting up all the bikes pretty much identical, and he's been doing it for awhile, so he got it right.
How was the team morale under the Honda tent after Dallas?
I think they're just real happy to have all of the team at the races. We're all improving and we only have one way to go—and that's up. They invested in a lot of young riders, and with the experience we're getting, our results are improving and as the races go on things are only going to get better.
There are only a few supercrosses left, so are you concentrating and testing for those, or are you already focused on the AMA Toyota Motocross Nationals?
Everyone is outdoor testing, and if you aren't you're going to fall behind. But I rode supercross today, and later on this week I'll start outdoor testing again. We're just going back and forth right now. But right now my focus is on the outdoors. I don't really have much to gain in the supercross series, other than some experience. But man, after sitting at home, it's just so exciting to go out and race. I definitely want to be prepared for these last three races and improve my results. After the race when I'm headed home on the plane, I'm thinking back about what I could've done better.
Lastly, tell us about the Leatt-Brace.
I've actually been wearing it since I started riding. I was off the bike for quite some time, and I had a new bike with the 450, so there were a lot of new things thrown my way. So I decided to wear it from the get-go. I think it's a good thing for the sport, and for myself, in terms of being safer, mentally.
Andrew, it's really good seeing you back. Before we let you go, do you want to thank some people?
Yeah, there are so many people who support me. Obviously Honda, Fly Racing, Spy, Alpinestars, One Industries, and my trainer, Michael Johnson. I also want to thank my family and everyone else who surround me—especially all the guys on the team!