Monday Conversation III: Antonio Cairoli
Antonio Cairoli lost last year's World MX2 championship due to a couple of errors in the opening rounds of the championship. Having won the title in 2005 he came under fire from young French sensation Christophe Pourcel. It was a championship for the ages with two talented riders chasing their dreams around the toughest circuits in the world. This time around, the Yamaha rider dominated the proceedings at Valkenswaard in Holland. We sat down with the likeable Italian after the race and this is what he told us.

MXLarge.com: You looked really good in the races, no mistakes and really riding well. Tell us about the change from last year?

Cairoli: I just think to not make mistake because I lost the championship last year because of small mistakes. In Spain in the first moto I made big mistake and lost many points. Last year I was world champion and thought about that a lot. This year it is like 2004 when I came into the Grand Prix. I am relaxed more, enjoy the racing and don't push too hard. My head is free and I enjoy the races better.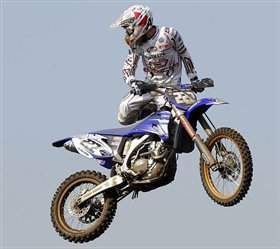 Antonio Cairoli does a Nac-Nac on his way to winning the first round of the MXGP World Championship in the MX2 class

Pourcel looked really quick on Saturday, did you watch his heat race?

I didn't see anything from him. I just thought about my own race, no risk and a good race. I am not interested in anyone else, just myself.
What about the track, did you enjoy riding the new layout?

The track was very hard, many bumps. I prefer the old track, more lines and more fun. Now it was harder physically. My condition is okay, but it can be better. Now I am good, I feel good on the bike, finish the race easy, but I want my best during the season, not now

When the pre-season started in Mantova people were saying that you were riding so well, in fact some people said your speed was crazy. Do you like Mantova?

Mantova, I like that track. When I was younger I also went fast on 80cc, so I have always liked it. I also like the new round in Spain, I like Portugal… I don't like Germany so much, but when I get there this year I just try and get as many points as possible.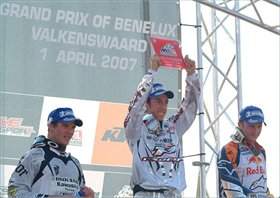 Cairoli is off to a great start in 2007

Tommy Searle looked strong at times on the weekend. Did he impress you and who else is going to be tough for the championship?

Tommy has a good style and he is young, so I think he can do better. I just think now it is Pourcel and (Tyla) Rattray who are going to be quickest for the championship.