5 Minutes With ... Ryan Morais
Ryan Morais and his charge towards the 2007 AMA East Region Supercross Series has turned into an old-fashioned cliffhanger. Thus far in 2007, Ryan has posted rock-steady 4-2-5-2-4 results in the five main events he has competed in. But, and as we all know, Ryan has yet to WIN a main event in what has evolved into a very calamitous East Region Lites hootenanny. The oven turned the heat up even more last Saturday night in Indianapolis when Ryan Dungey won the 250F main, Darcy Lange hit the dirt, and Ben Townley raced to second. Meanwhile, Morais took advantage of the entire beautiful mess by riding home to fourth overall, thus leaving Race Town USA with a 10-point lead in the series. So can he hang on? Can the little know Californian pull off the biggest championship upset since, well, who knows when? Today, the day before the Dallas Supercross, we went looking for the Boost Mobile Yamaha of Troy throttle man. And we found him sitting in the Ontario Airport.
Racer X: Okay Ryan, all of us think Ben Townley is both a great dude and a great racer, but we can't help but be intrigued by your story. You're not even listed in the 2007 AMA Supercross Media Guide, yet you have a 10-point lead heading into the penultimate round of the series tomorrow night at Dallas. What's going through your melon right now?
Ryan Morais: I'm relaxed. I'm just going to take tomorrow night like I have every race so far this season. I'm just taking it all race by race. I just want to keep finishing in the same places I have so far this season. I'm just going to stay relaxed and take it easy and take it from there. I'm just going to be there. I've been injured a lot in the past and due to that, I've really focused on staying consistent. I'm not going to go out there and do something stupid and get hurt. Whatever happens, happens.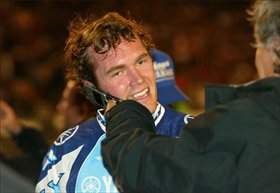 Morais phones home after his podium finish at the Orlando SX

Even though you missed the first few rounds, you placed ninth in the 2006 AMA West Region Supercross Series. How did you feel about things going in 2007?
Uhm… I knew I was in a better position than I ever have been before. My plan was to try and get in the top five in every race and to try and make the podium as much as I could. To be honest, I never expected to be in the hunt for the championship, though. I really didn't.
You've been hurt a lot in the past, haven't you?
Oh man… I have such a long list of injuries. I broke my wrist once really badly and it took three surgeries to get it right again. I've had my spleen and appendix taken out. I broke my collarbone, had it plated and then crashed while it was healing. At the same time it got infected and that caused problems. Last September, I had a bad injury when I crashed and broke both arms. Man, a lot of things have kept me down.
Good thing your dad drives the Asterisk Medical truck, huh?
Yeah, he is doing this year and likes it a lot. My parents love to travel, so it's good for them.
Do you like having your parents at the races?
Yeah, I do. They gave me my space and it works out really well.
Why do you think the East Region title chase has been so wild this year?
Maybe because there was so much hype coming in. Maybe more hype than ever before. It seems like there are bigger names riding in the East Region this year. It's been real tough because everyone wants to win. Everyone has been hanging it out because they want to get their first win. There are a lot of fast guys in the class and everyone wants to win.
How has the Boost Mobile Yamaha of Troy team been feeling about your season thus far?
The team has been great. I think everyone on the team has been surprised that we have been doing so well. Jason Lawrence has done real well in the West Region and me and Matt [Goerke] have had good results in the East. The past couple of years have been a little bit tough for Yamaha of Troy, so I think the team is especially happy with the way things have been going.
Do you feel like your 2007 season has helped make your name a bit bigger on the U.S. motocross map?
I think so. Even after to the fourth round — when I had the points lead and had been in the top five in every race — people thought it was a fluke and I wasn't getting that much attention. But my goal was to be in the top five at every race, I was able to do that and people started to realize that I was doing well.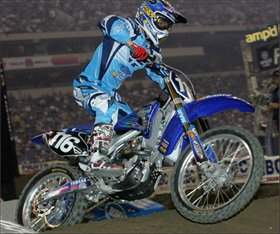 The #116 Yamaha of Troy YZ250F has been the most consistent thus far.

What would it mean to you to pull this thing off?
I mean it would be huge to win it. It would mean fulfilling my lifelong dream. This is what I've always wanted to do: win an AMA Championship. But if things do not go my way, I'm not going to give up. I've come back from a lot of things in my career. It would take a lot more than not winning this championship for me to ever give up. The way I look at this year is that I didn't expect to be battling for a championship, so there is no reason to be negative about anything.
As you've likely been hearing about, Tim Ferry clinched the 1997 125cc East Region Supercross Championship without winning a main event. You have not won a race yet. Does that bother you, or is the title all that really matters to you?
Man, I would love to win a race. I'm just not going to sit here and say, "It doesn't matter if I win a race or not." It's weird. It now seems like I have a better chance at winning the title than winning a race. Hopefully, I'll be able to win a race, wrap both things up and win the championship. Either way, I'm not going to kill myself. I'm just going to try and flow with it.
Okay, Ryan. Journalists are supposed to be objective, but I must admit, your shot at the title makes for a hell of a story and we all wish you the best. In fact, I think a lot of people do.
Thanks a lot, Eric. And thanks for calling. I appreciate it.