Welcome to the Shift Number Cruncher. This is a special number to me. It reminded me how I got my number. When my family started racing my parents decided they would give me and my two brothers racing numbers based off the years we were born. I was 77, Clint was 79, and Casey was 81. And that is exactly where the decision to run 81 came from. Casey called my cell phone to bench race a little, and then asked me what number we were going to run in the Cruncher and I told him he just made up my mind. Sometimes that is just how things happen with this column! In researching the number I ran across some interesting guys and realized it was a pretty heavy number with some rich history. So, here she comes. Enjoy the great #81.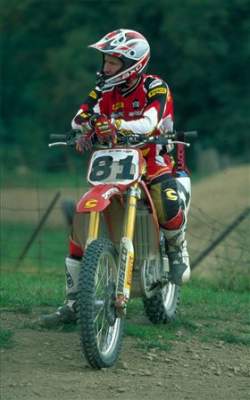 Keith S. Johnson
photo: Langers
This was the coolest story I discovered about the eight-one. New England's
Keith S. Johnson
was the first rider to throw a leg over the ill-fated Cannonade special at a national. After him was Ohio's
Jeff Gibson
's turn to push it back to the pits after DNFs. It's too bad things didn't work out better for the machine as it was a great idea. Unlike the Cannondale, Keith is still getting it done. In fact, Bad Billy just told me he saw him laying wood at Oak Hill in the Vet classes on a Team Green Kawasaki where he took the 30-plus A championship wearing #401.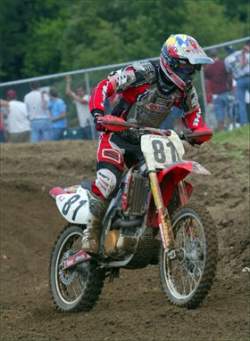 Marco Dube
photo: Steve Bruhn
The second thing I noticed about the history of #81 was that it had a strong connection to our posse up north in Canada. Here is
Marco Dube
chopping wood at the 2004
Red Bud
National. Joining Marco in the #81 Canadian brethren was Bill Wallin in 1992 and Carl Vaillaincourt in 1989. How about them apples, eh?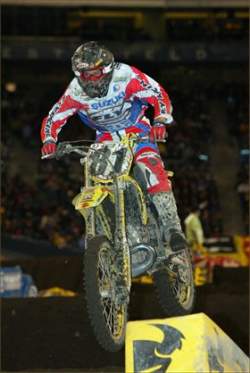 photo: Steve Bruhn
Tommy "The Sleepwalker" Hofmaster
hails form the Midwest and has enjoyed a great career racing the arenacross series. He rode for Paul Lindsey's PPG Motoworld team in 2005 and moonlighted at some supercross races. Here, he slithers through the mud at the 2005 Seattle supercross.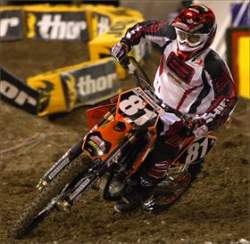 photo: Steve Bruhn
Here we have California's
Michael Sleeter
. It's hard to say what is cooler about this cat. He is a test rider for
Transworld MX
and KTM, he has pulled holeshots and ran at the front of the Lites class at SX races, and he got to roll round with a gang of half-naked girls in the Shift catalog photo shoot. Mike ran the eight-one in 2006, which also makes him especially cool this week.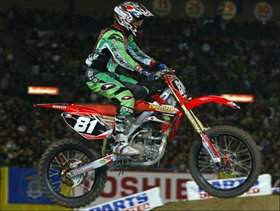 photo: Steve Bruhn
The current holder of the 81 is the famous
Adam Chatfield
. Born and raised in England, Chatfield is moderately famous for being a contender in the Lites class a lot of people remember him for claiming
Mike Alessi
's voodoo, 007, jet bike Supermini back in the amateur days at Loretta Lynn's.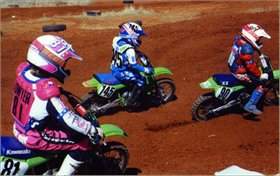 Casey Bowyer (81)
photo: J.W. Patton
This is the Bowyer brother you've probably never heard of. DC gave me a chance a couple years ago and since then some of you have come to know me a little, and if you have the SPEED channel or drink Jack Daniel's you have heard of Clint. Ah, but my youngest brother
Casey
had the juice to be better known in the motocross world than both of us. At the time of his violent demise he was kicking both our asses at the practice track and jumping things I wouldn't even look at. Shortly after this picture was taken Casey couldn't shut her down after the end of a whooped out, 4th gear straight away, and whiskey throttled it off a 10-foot berm directly into the side of a 30-foot tall metal building. After performing a perfect Wile E. Coyote and leaving a spit-blood stain about 25 feet up, he slowly slid down to the ground. Like the twisted and smashed KX60 he laid beside, his riding days were very, very much over. Today he's a Sales Manager at a Chevrolet dealership outside of Kansas City, owns a house near a golf course and drives whatever he wants off the lot.
Here he battles with Oklahoma's Johnny Marley and J.W. Patton at the legendary 59th and Douglas.
81 photos:
How many #81 guys can you think of? If any come to mind send me an e-mail at andy@mxsports.com and I'll see if I can talk Bad Billy into throwing you into the Redux.