5 Minutes With ... Tyla Rattray
In 2001, a 15-year-old named Tyla Rattray, from Durban, South Africa saw himself in Europe competing in the 125cc Dutch National Championship. That same year, the rider also entered eight Grands Prix, qualifying for five of them. On year later, he placed seventh overall in the 125c World Championship Series. By the end of 2004, Rattray had placed a fighting second overall to MX2 World Champion Ben Townley. Although haunted by injuries the last two seasons, Rattray managed to win four GPs in each season, which brings us to 2007. The lead rider in the powerful KTM factory outfit, Rattray hopes to duplicate the success of two South Africans who won World Motocross Championships, namely Greg Albertyn and Grant Langston. Just a few days prior to the 2007 World Championship season opener in Holland, we hooked-up with Rattray and gave him the once-over about his career and his hopes and expectations this year.

Racer X: Tyla, upon reflecting upon your 2006 MX2 World Championship season, what was your overall impression of it?
Tyla Rattray: My goal was too win the MX2 World Championship in 2006 and I was not able to do that, so I was pretty disappointed. The highlights of the season were winning four Grand Prixs. The lows were getting injuries while I was leading the championship.
Is 2007 your year to win the World Champion?
I really hope so. After coming in second in 2004, I'm not really happy with anything other than being a champion. In '05, I had a big knee injury that kept me out most the season but I still won nearly all the GPs I raced in. And last year I led the championship again, but made some stupid mistakes and ended up with some injuries that ruined my title hopes. My bike is really good this year and I have a really good team behind me in factory KTM. I am also healthy and fit and I have a 10-time World Champion—Stefan Everts—helping me out, so I would like to think I have a chance.

Do you feel pressure to win it?
There is some pressure, for sure. But I don't let it get to me. I'm just going to go out there be smart and enjoy myself. I want to be smart, be consistent and avoid injury.
Now being so involved with KTM, has Everts already been able to help you?
Sure, he has been helping a lot already. We spent three weeks together in the off-season doing intense training together. He comes to the track most days when I am training. He has also been helping out a lot with advice on things. He's gone from being a racer, but motocross is still in his blood and he can't keep away. He still rides quite a lot and is at the tracks all the time. He will be missed when the GPs start and he's not on the start line.
How do you feel about the KTM factory team you race for?
The team is working really good. They really want to win badly and will do whatever it takes to win, so when you have a team like that behind you, it really helps.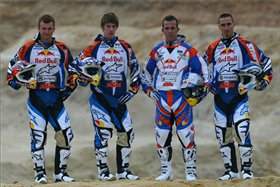 The 2007 KTM squad

You have been based in Europe since you were 15. Has it felt like you have been on the Grand Prix circuit for a long time?
Yes, it has been a while now. It's tough to be away from home all the time, but as time goes by you get more used to it and it gets easier.

How did the international warm-up season go?
I did four big races coming into this Grand Prix season. I won three of them and got a second in the other — and that after a fall at the start. So, yes, the pre-season has been going great.
How did you approach the warm-up season?
I just did my own thing. I concentrated on riding good and getting good starts. I didn't take any risks and just had fun racing again.
Which riders looked strong?
Of all the guys that I raced in some of the internationals, I would probably have to say that Antonio Cairoli looked the strongest of all of them.
Which riders do you expect to have to fight the hardest for the 2007 MX2 World Championship?
Christophe Pourcel and Cairoli.
Why these two riders?
Probably because they have already proven themselves.

What do think of the tracks on the 2007 circuit?
Over the last two years the tracks have been getting better, especially with they way they rip them up more with the rotorvater. Generally, I like the rough tracks with big jumps and I don't really like the easier tracks.
In your opinion, is Grand Prix motocross healthy?
I think it is. The crowd attendance is usually good at the Grand Prixs, there is live TV, and all the races are very professional. Over the last few years the sport has grown with the crowds, the press and the TV coverage.
Do you follow the results of the riders you have competed against on the Grand Prix circuit that now race in the USA?
Yeah, for sure. I was pumped for Christophe Pourcel to win so early in supercross and I follow Ben Townley's results after every race. He's had a run of bad luck with his injuries and all, but now he's doing really good now and I'm happy for him.
Would you ever want to race in the USA?
I would like to race over there in the future, but we will just have to wait and see if anything comes up.
Do you know many of the American racers?
I know a few, but not too many personally.
What do you think of the American racing scene?
It all seems really big and exciting. I like it a lot.
As far as motocross goes, what's in your future?
Right now all my focus is on racing and trying to win the World Championship. For the distant future, I am really not sure right now.

Good luck this weekend in Valkenswaard, Tyla.
Thank you.