5 Minutes With ... Ryan Morais
There were a lot of dramatic stories coming out of Orlando last weekend. While the race manifested Ricky Carmichael's Supercross retirement, a wild first-lap crash in the Lites and the ensuing "Rocky" style victory of Branden Jessemen, there is also a pretty good story in what's going on with Yamaha of Troy Boost Mobile's Ryan Morais. Ryan quietly and convincingly finished in second place and, more importantly, MoraIs left Orlando with his grip nestled tightly around a six-point series lead with just three rounds remaining. It's been a long and tumultuous road for the Northern California-born racer, and after six injury riddled seasons, it appears he is coming into his own at the right time. He's been the points leader since Round 2 at Atlanta, and now he's 45 laps away from possibly winning a long overdue title.
Racer X: Ryan, how different would the last half-dozen years have been if you wouldn't have broken your wrist way back then in practice at Anaheim 1?
Ryan Morais: Wow, I really can't say. I believe everything happens for a reason, you know? All of those injuries sure were rough, but I learned a lot. All of those hard times made me better overall.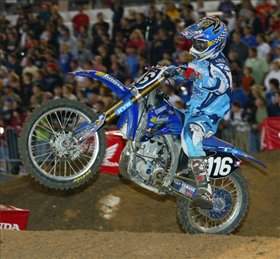 Ryan Morais' consistency has him leading the points in the East

Yamaha of Troy is a team in transition, but has had surprising success in 2007. What has it been like under the YOT awning?
It feels good. I know I have been doing my part to be in shape and as healthy as I can be and the team is working really hard as well. We spent a lot of time testing and developing the bike. I really think that has been the difference. Everyone's effort has been good with all of the testing. All that work made it (the bike) good.
How long is your deal?
One year.
So then it's a good time to be doing good, huh?
[Laughs] Yep!
Are you starting to gain some confidence now? You have a six-point lead in the series after four rounds.
Hey, man, that isn't that much! I am confident but I know how close we all are (in points). Still a long way to go…
Where have you been the last few years?
Injured mostly. Every time things would begin to come together I would get hurt. I never got too down on myself and just tried to keep working. Then this deal came together and I was excited for 2007. Then I broke both of my arms in September. After that I spent a lot of time just thinking. When I came into this season I knew it was going to be really stacked and a lot of guys were going to have bad races. I have made an effort to make sure I didn't go out there and try to kill myself or take chances, and getting tops fives are good enough, you know? I mean, look at Jessemen—he won this weekend and didn't even make the main in St. Louis. Look at Dungey. It goes to show how hard the east coast is this year.
Yeah, speaking of Jessemen. What in the hell happened on that first start?
It was pretty wild. I was right with Townley and Ryan Sipes was just ahead of us. He must have messed up coming up to the face of the triple because he shut it down and doubled. Billy (Laninovich) got it backed down and doubled, but Goerke was already committed and tripled. As he was coming down he landed on Sipes as he was coming up. It was pretty crazy. Sipes' bike flipped right beside me and I think it tagged Townley. Then I looked over and saw Goerke's bike fly across the track and took out Dungey.
Wow. Were you surprised to see Branden get back up and win?
Yeah, I knew he was in the wreck, but so many things were flying around I couldn't tell how badly, but I knew he was in it. After five or six laps in the main I looked over on the triple and saw him leading and was like, "Woah!" Like I said, he didn't even make the main at St. Louis and he hasn't really been putting good rides together. Something must have clicked because he was gone.
Three races to go. What is your plan?
I just want to keep getting top fives. I don't plan on doing anything differently. Right now I just want to get some rest. Flying back and forth from California all these weeks has been wearing me down a little. I am going to take it easy today and then put in some work before I fly out Friday morning.
Right on, thanks Ryan. Anything else?
I want to thank everyone for not giving up on me and supporting me. My mom and dad, and my whole family. My girlfriend, Hannah. My trainer, Michael Johnson, and Boost Mobile Yamaha of Troy. Thanks everybody.