Where Are They Now: Mike Beier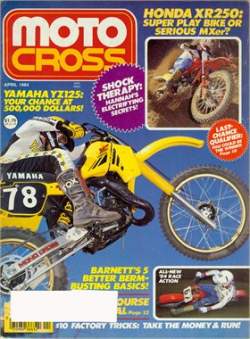 Mike Beier was on the cover of the April 1984 issue of Motocross
Mike Beier didn't follow the career path of the average racer. His dirt bike journey began in a town called Novato, just north of the San Francisco Bay area. Mike's dad bought him a Honda QA 50 to ride with the other kids in the neighborhood who had bikes. When he outgrew that he moved up to a Honda XR 75 and then a Suzuki RM 100. It was about that time that Mike started talking to a couple kids in his Junior High shop class about racing motocross. They raced and eventually talked Mike into giving it a try. When he finally agreed, he beat both of the other kids. In fact, he won both motos in the novice class in his very first race! From that point on, Mike and his dad began racing the Golden State Series and other local events in the area and they were doing well.
By 1980 Mike had garnered support from Yamaha in the form of a support ride. But Yamaha wasn't the only outfit interested in him. Beier was also a talented baseball player and a scout from the Yankees was keeping an eye on him. They wanted him for a AAA farm team and were encouraging him to play some college ball. He decided he wanted to pursue his dreams in motocross.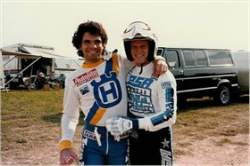 Andy Stacy (left) and Mike Beier
photo: Courtesy of Andy Stacy
In 1984, with Yamaha's support, Beier finished a solid third overall in the final AMA 125 National Championship Series. The riders that beat him, Jeff Ward and Johnny O'Mara, were moving up to the 250 class the following year and it looked like Mike had a shot at the title. He signed with Team Tamm, a Kawasaki support team funded by Bob and Julie Tamm, and was looking good in the preseason. Unfortunately, a knee injury would spoil his chances of winning an AMA title.
He moved back to the Yamaha camp the following year with a support ride. The season in the U.S. went decently but he did make a couple trips to Europe that proved to be successful. Mike won the Veronica Beach race in Holland, a big event on the European calendar, and a few other events. He made enough contacts there to line up a ride in Germany with Farholz Honda to compete in the Hardcross series.
What's Hardcross? Imagine a supercross track where the jumps are made of wood, the floor surface is concrete and whoops are made of telephone poles that have been halved and nailed to the floor. Indoor bicycle racing—the fast kind—is big in Europe, so Hardcross races used the velodrome's banked turns and played out more like a roller derby than a motocross race, but it was exciting, and Mike was good at it. From 1987 through '92 Beier made a living racing that series as well at the occasional supermoto race in Europe. His weekend rivals included "Mad" Mike Jones, Tom Carson and Bobby Moore. He also started working in the R&D Department at Innovation Sports (creators of the CTi knee brace) under the guidance of Jim Castillo.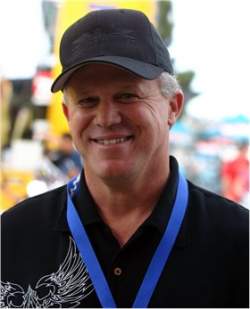 Mike Beier today
photo: Ping
By the end of '92, Mike decided that he was finished racing motorcycles. He went to work for Innovation Sports full-time overseeing production, engineering and building management. He stayed there until 1999 when he got an offer to work for Race Tech. he joined Paul Thede's crew as the general manager and spent the next five years on their racing program.
Last July Mike made his latest career move. One of his former mentors on the race track, Gary Denton, offered him a job at Weekend Warrior running the marketing department. Mike has been loving the job and finds himself more involved in the sport of motocross at Weekend Warrior than he has been for quite a while.
Mike currently lives with his girlfriend and still gets to all of the regional races, keeping him very involved in the sport.