Things To Do In...Daytona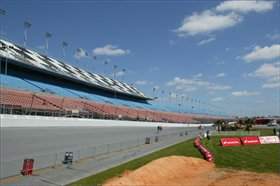 Ahhh, Daytona!

photo: Simon Cudby

For today's feature of things to do in Daytona, we summoned the entire staff of Racer X/Road Racer X for their contributions. It's Bike Week, which means there is ALWAYS something going on. For more information on Bike Week 2007, check out www.bikerbeach.com or www.officialbikeweek.com. But for a few other suggestions, check out our list below.

From CJ: (2nd place – Hess Gas station drag race – 2005)
Go to the Hess gas station every night, where you can watch illegal-drag-race enthusiasts try to intimidate one another; then go out back and have your bike dynoed in the dyno trailer.
Check out the monument to the old beach racers, near 100 North Atlantic Ave.
Check out a road race! The Superbike race goes down Saturday morning, and with all the top factory racers in the class, this season promises to be a good one. The Daytona 200, which will be campaigned by the Lockhart Phillips Formula Xtreme class, is Saturday afternoon.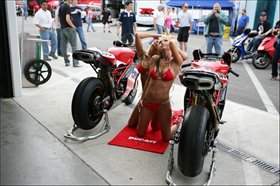 Check out the AMA Superbike race on Saturday morning!

photo: Simon Cudby

From DC: (8th place – 1985 Daytona SX 125cc main event)
Go to Razzle's and count the top road racers as they get punched out by drunken Spring Breakers. "Razzle's: More fun than an Anarchists' Rally in Seattle." Then head over to the Cabbage Patch for potato salad wrestling.
From Ping: (3rd place – 1997 125cc main after leading 13 laps with a broken finger)
Lose a limb in the Atlantic! The Florida coast has more shark bites than any other location in the world with the exception of Australia. In fact, there is an inlet just south of Daytona that is a favorite feeding spot of "The tax collector in the grey suit." Happy swimming!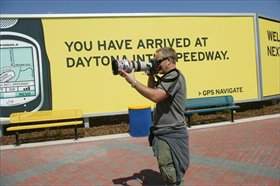 Simon Cudby has arrived

photo: Anonymous

From Simon Cudby: (1st place – 2004 Daytona Go-Kart race)
Go to the Daytona USA facility on Speedway Blvd. and see a bunch of old racecars, plus Kevin Harvick's 2007 race winning car. Or wait five years to see RC's 2012 Daytona 500 winning car!
Go to the Dog Track and bet on dogs that are running your favorite rider's number. Mine's K9.
Other attractions:
Boot Hill Saloon
Check out the infamous Boot Hill Saloon with two locations (Main Street and Ormond Beach. www.boothillsaloon.com
Daytona Internet Cafe
ADDRESS: 326 S. Grandview Ave. Unit 4
PHONE: (386) 248-3212
Just in case you need to check your email: A full service internet cafe with 10 computer stations, laptop stations, wireless access faxing (send/receive), printing, computer repairs, website designing, web cams, internet training, computer maintenance as well as gourmet coffees and snacks.
THE Art of Chrome and Leather IV
DeLand Museum of Art
Date: February 23, 2007 - March 11, 2007
Description: Featuring custom painted motorcyles by Chris Cruz on display - Free admission - 600 N. Woodland Blvd., DeLand
Phone: 386-734-4371
Demo Rides
Date: March 2, 2007 - March 10, 2007
Free manufacturer demo rides from Honda, Kawasaki, Suzuki, Triumph, Buell, Yamaha, Aprilia, Moto-Guzzi, BMW, Harley Davidson, Victory, Boss Hoss & Bourget Bike Works - Riders must hold a valid motorcycle driver license & DOT approved helmet to participate - Daytona International Speedway
Phone : 386-254-2700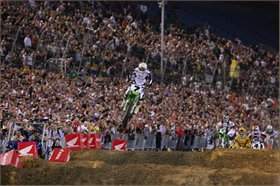 Tomorrow night it's on!
photo: Simon Cudby