Toyota/Racer X Power Rankings
This week's Toyota/Racer X Power Rankings are out, and there was lots of activity in the Top 25, especially from the Lites' East Region of Amp'd Mobile AMA Supercross in St. Louis.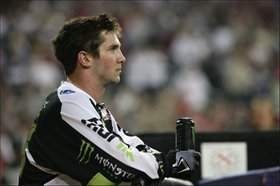 Despite his last lap crash, Darcy Lange moved up five spots in the poll.
photo: Simon Cudby
Ben Townley took a huge leap forward, catapulting 12 spots (from 19th to 7th) after only the second supercross race of his career. Next comes his teammate Darcy Lange, who moved up five spots even after his last-lap crash in St. Louis. Lange finished sixth on Saturday night. And even
Ryan Dungey
moved up after his bid for the win left him on the side of the track trying to restart his bike. All three East Region contenders moved past West runner-up
Jason Lawrence
, who fell three spots to #11.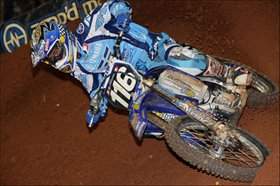 Yamaha of Troy's Ryan Morais debuts at 18th
photo: Simon Cudby
Further down, East Region co-leader
Ryan Morais
has jumped into the Top 25 on the basis of his steady second-place finish at St. Louis, and
Matt Goerke
--his Yamaha of Troy teammate and the man he's tied with--moves up six spots this week. Goerke sits 16th and Morais is 18th. And at the top of the Toyota/Racer X Power Rankings,
James Stewart
is still #1, but only by three points and three first-place votes. St. Louis winner
Ricky Carmichael
tightened things up, and a win this week at Daytona would surely move him into the top spot going into the final Amp'd Mobile Supercross of his career at Daytona International Speedway. All told, 29 members of our panel voted.
| | | | | | |
| --- | --- | --- | --- | --- | --- |
| | | PTS | # | RIDER | SPONSOR |
| 1. | | 712 | 7 | StewartJames (16) | Monster Energy Kawasaki |
| 2. | | 709 | 4 | CarmichaelRicky (13) | Makita Suzuki |
| 3. | | 661 | 22 | ReedChad | San Manuel Band of Mission Indians Yamaha |
| 4. | | 620 | 51 | VillopotoRyan | Monster Energy/Pro Circuit Kawasaki |
| 5. | +1 | 577 | 14 | WindhamKevin | Sobe No Fear/Samsung Mobile Honda |
| 6. | -1 | 576 | 15 | FerryTim | Monster Energy Kawasaki |
| 7. | +12 | 482 | 101 | TownleyBen | Monster Energy Pro Circuit Kawasaki |
| 8. | +2 | 465 | 62 | DungeyRyan | Makita Suzuki |
| 9. | -2 | 453 | 9 | TedescoIvan | Makita Suzuki |
| 10. | +5 | 444 | 105 | LangeDarcy | Monster Energy Pro Circuit Kawasaki |
| 11. | -3 | 430 | 338 | LawrenceJason | Yamaha of Troy Yamaha |
| 12. | -1 | 418 | 12 | VuilleminDavid | MDK Motorsports Honda |
| 13. | -4 | 376 | 11 | PrestonTravis | Sobe No Fear/Samsung Mobile Honda |
| 14. | -2 | 350 | 26 | ByrneMichael | Rockstar Suzuki |
| 15. | -2 | 271 | 24 | GrantJosh | Sobe No Fear/Samsung Mobile Honda |
| 16. | +6 | 263 | 33 | GoerkeMatt | Yamaha of Troy Yamaha |
| 17. | | 234 | 13 | VossHeath | Privateer Honda |
| 18. | new | 227 | 116 | MoraisRyan | Yamaha of Troy Yamaha |
| 19. | -3 | 226 | 58 | HillJoshua | Factory Yamaha |
| 20. | -6 | 200 | 27 | WeyNicholas | MDK Motorsports Honda |
| 21. | -1 | 171 | 37 | CarpenterPaul | Cernic's Kawasaki |
| 22. | -4 | 139 | 102 | GosselaarChristopher | Monster Energy/Pro Circuit Kawasaki |
| 23. | new | 93 | 25 | RamseyNathan | San Manuel Band of Mission Indians Yamaha |
| 24. | -3 | 90 | 377 | PourcelChristophe | Monster Energy/Pro Circuit Kawasaki |
| 25. | -2 | 70 | 73 | WeimerJake | Sobe No Fear/Samsung Mobile Honda |
Total number of votes 29
Linda Ardehali, Vince Arimitsu, John Ayers, Jason Berry, John Bodnar, Chris Bond, Andy Bowyer, Erv Braun, Paul Buckley, Dave Castillo, David Clabaugh, Davey Coombs, Steve Cox, Simon Cudby, Jeff Emig, Mike Farber, Jason Fleming, Steve Giberson, Jason Hooper, Frank Hoppen, Steven Hudson, Chris Hultner, David Izer, Eric Johnson, Jeff Kardas, Jim Kimball, Scotty LaLonde, Stephan Legrand, Mario Marini, Nick McCabe, David Pingree, Dave Prater, Pat Schutte, Alan Selk, BJ Smith, Bryan Stealey, Denny Stephenson, Carl Stone, Michael Stusiak, Jean Turner, Billy Ursic, Scott Wallenberg, Matt Ware, Jason Weigandt, Billy Wood, Brad Zimmerman