Welcome to the Shift Number Cruncher. Not a lot of speculation as to what number we chose to go with this time around: The biggest number of the week was one we haven't seen in a while.
In fact, the last time the number was popularized was when it was used in the 2005 Motocross des Nations when a short, red haired, Suzuki rider ran over top of the world's best for an easy win.
From there the number endured a pretty impressive run of bad luck. Injuries and mechanical failures plagued the unique number until it finally arrived in a place it has seen a lot of over the years: Last week, New Zealand's Ben Townley put it together and landed the #101 on the top of the box. So we dug into the number and found some other guys that have worn it. And at a glance, it looks like Ben is in some pretty good company!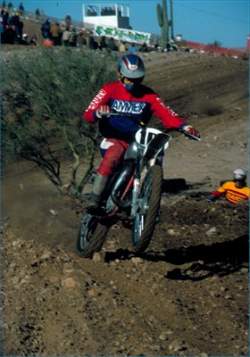 Gary Jones
photo: Dick Miller Archives
Gary Jones
is a three-time AMA Motocross Champion ('72 – '74). As an American motocross pioneer, he wasn't afraid to ride a different path. In fact, he once went so far as to climb aboard a U.S-Mexico machine he and his father helped build, the AMMEX. It was in the days after his factory days—Yamaha, then Honda, then Can-Am—came to end following some serious knee injuries. He tried a comeback on Jones-Islo, and then the AMMEX, where he wore the #101.
Also, check out that sick looking cone pipe and those Jones Bars: Our friend, Chuck Hansen from Brundage, Alabama told me those are the bars from Jones Racing (Gary, Dewayne, and their Dad). But hold the phone! Also check out the taters on that track—especially the one that Gary is just about to throw back to the man in the Maico jersey has nothing but his pearly whites to knock it down with. Those guys were so tough he probably caught that rock in his teeth and spat it out in the grass so he wouldn't hit it the next lap.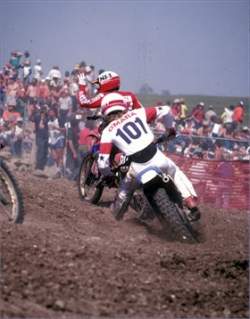 Johnny O'Mara
photo: Dick Miller Archives
Does it get any cooler than this shot of "The O'Show"
Johnny O'Mara
on his Mugen Honda? Just look at that style as he navigates that tricky off camber. Look at those elbows and gator covered left leg stuck out at attention as he notches that little groove. This was 1980, the year O'Mara would win the Valvoline 125cc USGP at Mid-Ohio in the mud (though he had a double-digit number that day). Johnny would wear the one zero one again in 1993 when he briefly considered a 125 National MX comeback with Honda of Troy.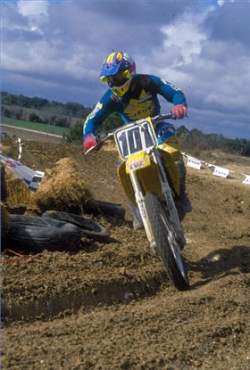 Mark Barnett
photo: Davey Coombs
Check out this picture DC snapped of
Mark "The Bomber" Barnett
making a brief comeback in the 1989 Florida Winter-Am's aboard a Tuf Racing Suzuki. Barnett, a three-time AMA 125 Motocross and the '81 AMA Supercross Champion, considered a comeback, then passed…. What is it about Tuf Racing bringing the old guys out of retirement? Over the years they have brought back guys like Ron Lechien, Todd DeHoop, Keith Bowen, Ron Tichenor. Good stuff for the old school!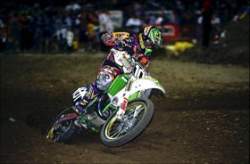 Mickael Pichon
photo: Courtesy of Moto Verte
In 1995 a French racer came to America riding a Pro Circuit Kawasaki wearing number 101. He had high hopes of winning the East Coast Supercross Championships and cementing himself as a fixture in American motocross and supercross. Wow, sound familiar? While the similarities end right there, history is certainly in the current number 101's corner.
Mickael Pichon
won nine east coast supercross main events and two championships in 1995 and 1996.
!!!TMX FLASH TRIVIA!!! What number was Pichon wearing when he won his very first AMA Supercross? The first five winners to respond here will earn a TMX Prize Package!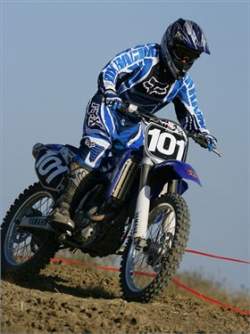 Mike Farber
photo: Simon Cudby
He might not jump the triple or be able to last 30-plus-2, but Racer X Brand Manager
Mike "Fubar" Farber
can rail a corner with the best of them. He constantly reminds us that he is the only in-house employee that has a Gate Pic.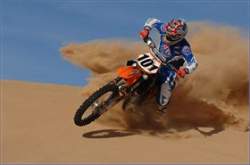 David Pingree
photo: Carl Stone
Speaking of Gate Pics, there is a lot you can say about Racer X assistant editor
David Pingree
: Witty, wicked fast on a dirtbike, proud father, and nowhere near as nice a guy as Ben Townley should suffice.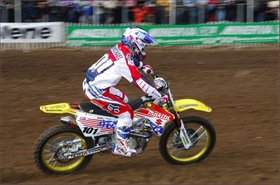 photo: Simon Cudby
This is just a gorgeous shot. I have always loved the special MXDN gear color ways and special bike graphics. I have to say this combination looks pretty much awesome. Nobody could touch RC on this great day in 2005, but there was a man that certainly kept him honest riding a KTM wearing number 21. That man hailed from New Zealand and his name was
Ben Townley
!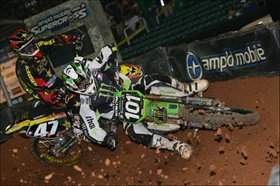 Ben Townley
photo: Simon Cudby
When Townley stayed about 5 seconds behind the infallible Carmichael at Ernee, France that day, for most of the entire moto it really raised some eyebrows. Townley's speed grabbed everyone's attention, including The GOAT's. In fact, Ricky liked Ben so much that he allowed him to come to Florida, train and ride alongside him and share Aldon Baker's expertise. Ben has taken some big licks since his arrival, as injuries and a blown machine have not deterred his winning determination as evident of his gutty victory in St. Louis last weekend. Ben is one of the most humble racers I have met in a long time and he is a true student to the sport.
Other stuff on #101:
Ron Pomeroy (Jim's brother) Waukegan, IL raced with it on a L.O.P Racing Yamaha. California's Shawn Perolio raced with it during his rookie season in 1996. Depeche Mode produced a live album titled, "101." There are 101 dalmatians in 101 Dalmatians, though I've never actually counted them up. 101 is the emergency telephone number in Argentina. Highway 101 is one of the most beautiful drives in the country as it spans from California to Washington and goes right past Castillo Ranch.
OK, folks, now it's your turn. Show us any other #101's you have out there and we'll get you in on the redux. Send them to me at andy@mxsports.com.