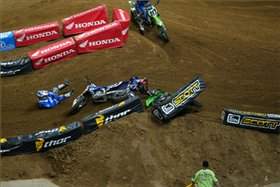 The aftermath
After one of the most dramatic races in recent memory there are two big things to talk about. One being
Ricky Carmichael
's second victory of the 2007 Amp'd Mobile AMA Supercross Series (and third in WSX) and the other being the big fuss between
Chad Reed
and
James Stewart
(or, more to the point, the take out). A lot of people are already going to be put off by that sentence because of the words "take out." Some will argue that the move Chad put on James, which took them both to the ground, was not a take out. Well, those folks need to be enlightened because
Chad Reed
seemed to be aiming for those wheels of Stewart's, he just didn't mean to take himself down while doing so. For further validation you only need to listen to Chad's post-race interview where he said, "James always has to touch me when he passes me," and "If I had to do it again, I will."
Be that as it may, when is such aggressive racing warranted? Is it ever warranted? I think it is. Instances like the ones that occurred Saturday night are what help make a motorsport great. Rivalries spawn over aggressive racing, which typically spawn crashes and ensuing personal confrontation. It's ugly, it is unprofessional, but it is all part of the game. In this instance I believe the St. Louis crowd stood witness to a simple case of frustration from Reed. When James made his move in that right-hander he jumped to the inside of Chad pretty aggressively. But he still left Chad about a foot of distance. Perhaps Reed was put off about such an aggressive move so early in the race, or maybe it was a culmination of several other similar instances, but it clearly rattled him. The move Chad countered with was not just a pass attempt; he didn't follow the usual racing line around the corner. Instead, he darted inside and sped to the apex of the turn, right where James's wheels would be when his met in the same spot. The bottom line is, the contact was too significant and both riders lost their chance to win the race. But that's supercross, whether you agree or not.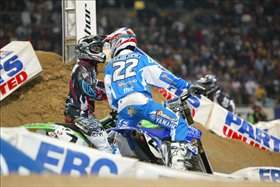 Tempers were flaring after the main event
Meanwhile,
Ricky Carmichael
had to be wearing an ear-to-ear smile. Few gave him a chance to win in 2007, what with him being a stock car driver racing supercross part-time, but he has still managed to win races. He had fast lap times and was the only rider to triple-triple through a rhythm section every lap of the main event—he wasn't wearing any skirt last Saturday night, folks! Seeing RC win after first witnessing the opening ceremonies tribute will put a lump in anybody's throat. Way to go GOAT.