Kawasaki/Racer X Race Report: St. Louis
Round nine of the 2007 Amp'd Mobile AMA Supercross season may end up a permanent fixture in motocross lore. A very loud and wildly enthusiastic crowd of around 50,000 strong stood witness to one of the most intense and dramatic nights of supercross racing in the sports rich history. Two main events, two incredible displays of supercross competition. There were a variety of elements that allowed this astonishing evening to occur: A brilliant track design and track surface that allowed great racing action; the last appearance of Ricky Carmichael at this venue; and a barking dog pound of Lites competitors left the Edwards Jones Dome breathless. When the final checkered flag flew on the night, Ben Townley and Ricky Carmichael emerged victorious.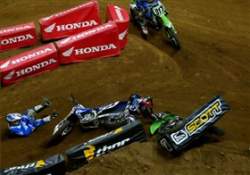 Oops! Reed squared off a turn and went wide into Stewart, knocking them both over.
Anytime a night of racing begins with somebody crashing during the opening ceremonies you know that there is blood on the moon. If Travis Preston's crash on the Amp'd Mobile introduction podium wasn't wild, the 15 laps of mayhem in the Lites main event certainly was. Ben Townley pulled the holeshot while an all out war broke out behind him between Darcy Lange and young Ryan Dungey. Even though Townley was laying down blazing fast laps out front, Lange and Dungey somehow slowly crept up to his rear wheel. Just when it appeared that Dungey was ready to make a move for the lead he overcooked a corner and fell back a distant third. The mistake happened in a tricky section which featured a triple jump after a whoop section, and the triple have become frighteningly cupped out. The very next lap, running by himself, Dungey would go over the bars in the same spot, apparently from hitting a tuff block that Lange had punted onto the track. As Dungey watched his points lead disappear as he tried to get out from under the tuff block and start his bike, the two Monster Energy/Pro Circuit/Kawasaki riders went to town on each other banging bars in every corner and taking turns leading. A thundering roar erupted from the crowd as Lange made a move past Townley as they came to the white flag. Not a butt was in its seat as the two Kawasaki riders approached the dreaded whoop/triple section. Townley made an impossible cut underneath Lange in the proceeding corner and the two charged down the whoops bar to bar. Something had to give, and unfortunately for Lange it was him.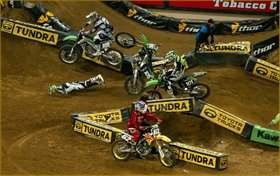 Not good: Lange goes for it on the last lap and this was the result.
The Canadian gave the triple a valiant shot, but he hit the evil lip and endoed violently. He was able to remount and salvage his series with a sixth place finish, while Ben took a very hard-earned win.
Oh the drama. These last races of Ricky Carmichael's career are so special in themselves that what happens in the 20 main event really doesn't matter. But what happened in this 20 lap main event was simply mindblowing! Chad Reed grabbed the Progressive Direct Holeshot, with Eric Sorby and James Stewart close by. Although it seemed like all eyes were peeled on Carmichael's red number plate. You could almost feel a collective sigh from the crowd with the vision of his midpack start. Then it got wild early and often. James wasted no time going on the attack and drew alongside Reed. Stewart made a blockpass on the Australian, and it appeared the race was all but over. This false reality lasted about 15 feet. As soon as James cleared Chad's front wheel, Reed countered by shooting to the apex of the corner and making significant contact knocking both riders to the ground. Explosion. The St. Louis fans went absolutely berserk with the possibility of getting to see Ricky win in his last appearance. Nearly the entire pack sailed by as Reed and Stewart got up from their collision, and after Sorby got to lead a few laps, RC got around and clicked off 17 rather uneventful laps and took the win. Stewart was way back, but he was able to catch and repass Reed for second place. Stewart stopped after the finishline and motioned for Reed with both arms spread apart in a "What was that?" demeanor. The two exchanged heated words, their helmets twitching and shaking in obvious displays of furious conversation. Stewart went to ride off and Reed took what appeared to be a swing. It missed its mark and the two rode over to their respective entourage and race teams where the fireworks ended.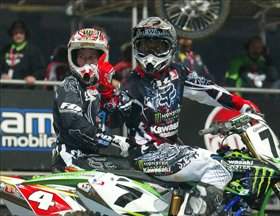 Things were a little heated after the main event.
Professional supercross is absolutely on fire ladies and gentlemen. With the series moving to Daytona next week, there are more than a few scores that need to be settled. But for now this one needs to sink in. This one was big. Tune into SPEED tomorrow. You don't want to miss this!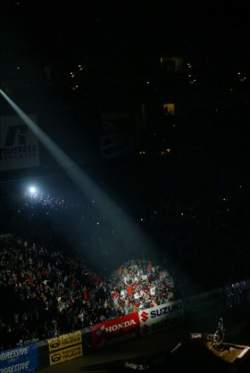 Two more for RC