5 Minutes With ... Derek Sorenson
One of the highlights of the 2007 Amp'd Mobile AMA Supercross series to date has been the emergence of the Cernic's Kawasaki in the Supercross class. Although the basic team has been around for a while under the ownership of Billy Whitley; with title sponsor Jeff Cernic, they have now really stepped it up in the premier division. Bringing on longtime mechanic and technician Derek Sorensen from Red Bull KTM to manage riders Jeff Gibson and Paul Carpenter, the team continues to make strides competing against the factory squads.
Racer X: Derek, how did this team manager gig develop from what you were doing at KTM the last couple years?
Derek Sorenson: Well, Jim, I've known Billy [Whitley] for a few years now; my brother [Darin] used to work for him back in the Primal Impulse days, and we've always remained acquaintances. I think it was last year at San Diego when we were talking and I just jokingly brought it up about us working together; where he said, "Well, that might be something that I'm thinking about anyways," and it just developed from there.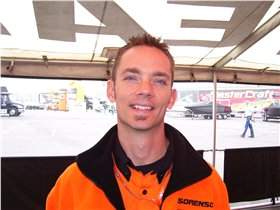 Derek Sorenson worked for the Red Bull KTM squad last year

photo: Mike Farber

In your past, you worked as a rider mechanic before becoming more involved with engine development. Now, as team manager, what all do you do?
I'm actually pretty much a jack of all trades these days. During the week, and even on the weekend, it's like being more of a crew chief working with the two mechanics that we have and dealing with issues. It's drawing from my previous experience and from what our mechanics know in handling stuff. Then, on the flipside, it's also lots of e-mails, working with sponsors, and setting up all the logistics of the team - making sure that everybody's get everything they need to do their job.
When this 2007 deal was all coming about, was it always slated to be an official factory Kawasaki-supported team, or did it evolve into that?
Well, we were in the middle of a two-year contract with Kawasaki, so regardless, it would have been a Kawasaki-supported team. Then, with the fact that Billy and Jeff had known each other for years and had talked about doing something together, the whole timing issue was perfect. Now that Jeff has a Kawasaki dealership back east, it was just a perfect time for everyone to come together.
Being a part of Kawasaki's official race effort, how much help do you get from the factory team?
From the factory team itself, not so much. But everybody over there from [Monster Energy Kawasaki team manager] Mike Fisher right on down to the mechanics, suspension, and motor guys, help us. If we ever have questions they're always really, really helpful, and they've come to our aid a couple times. Realistically, we're quite separate. We don't get any special parts or special treatment. We get to use the supercross track one or two days per week, depending on if James is in town. As I said, it's somewhat separate, but they're quite supportive.
As far as working with the brass at Kawasaki, what are their expectations for the team's results?
Originally, I think from Kawasaki's standpoint was that they weren't sure what to expect. It's an existing program, but since we had so many changes with personnel and with the class now that we're competing in, nobody was really too sure what to expect. Billy and I had both always expected that, with the people we hired, that we should be top-ten almost every weekend. Both Paul and Jeff are capable of it; and we were really hoping to make a run for the privateer honors. That's exactly where we expect to be.
With that said, your guys are doing great and have gotten a lot of coverage.
It's starting to flow, and the guys are really starting to ride well. Jeff and Paul have both taken top-tens. The class is a little more competitive than last year - just getting into the top ten isn't as easy as it used to be. A lot of it has to do with the start, which typically has been how the Lites class is. There are so many fast guys, your start really has a lot to do with it, and with the short lap times that we've had on the tracks so far, there's not a lot of places to pass. It's tough. But here, the whole atmosphere is really good; everyone is happy. It's nice to start getting some results and show what we're capable of. The guys are getting much more confident, and they realize that they should be up there with the rest of those guys.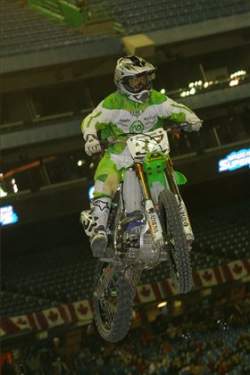 photo: Steve Bruhn

With the early success the team has had, where do you see the team going from here? Do you have any thoughts about maybe additional riders or Lites riders?
I think with the current form, it's a small team, so it's easier. There aren't so many people to cater to, and it makes everybody's life simpler. As far as a future format, I really think that a two-man 450 team is the right place for us. I think the Lites are saturated with teams now, and it's very difficult to get four guys that can get top-tens with reasonable budgets. The 450 class gets more coverage on TV, so in theory there's more of a market for it. I don't think we have much of an interest in Lites now, but circumstances can change at any time; anything can be done for the right reason. For a blueprint of our team for the future, I look at teams like Factory Connection and MDK—in a short time, they've developed really successful 450 teams. Right now, our little goal is to get both riders into the evening introductions. I think that would raise awareness for our team considerably.
Fast-forwarding to the AMA Toyota Motocross Championships, do you foresee any changes or doing anything differently?
That's a tricky question, because we don't have any solid outdoor plans yet. My intention would be to go and do the outdoor series, and if we do, absolutely, I expect both guys to be in the top ten or better. I'm definitely working on making it so that the program can continue all summer long, but as of now, we're considered supercross-only.
Who all deserves some credit for making this team a success?
Kawasaki and Cernic's, of course, along with Moose, Silkolene, Pirelli, Athena, TAG, Bell, Spy, Cycra, Pro Circuit, N-Style, American Racing, Motion Pro, EBC, Alpinestars, Sunline/661, Ogio, Hinson, Etnies, Uni, RK/Excel, Lightspeed, and VP.