Rev-Up: Spirit of St. Louis
Hello, everyone, and welcome to the Rev Up. As the Amp'd Mobile AMA Supercross series takes the cross flags on the 2007 series, things are really heating up. Each passing week has seen strong attendance and heart pounding racing action; eight races into the season has produced three different winners in each class. That may not sound like a lot, but remember how talented these guys truly are!

RC's part time effort has been spectacular, Chad Reed is riding as hard as he can, and the phenomenal James Stewart has been racing literally above the track—the stuff he jumps is mind-boggling. We've had live broadcasts, wham-bam-thank-you ma'am action in the Lites division, and more mainstream media coverage that ever.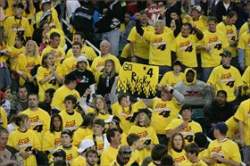 Will RC make his last stop in St. Louis a memorable one?
Ah, but this weekend we are moving to a venue where it could all get so much better. Something wicked this way comes? While the real Spirit of St. Louis was an airplane that Charles Lindbergh flew from New York to Paris in the first trans-Atlantic flight, there is a different spirit of St. Louis that pertains to the races the city produces which have been some of the most random and bazaar races in the sports history. From Jeff Emig snapping Jeremy McGrath's 13 race win streak, to the Kelly Smith/Ernesto Fonseca battle of a few years later, to the downright wacky event of 2006, St. Louis tends to harbor some kooky stuff.
There are several pieces of supercross prime rib to chew on for this weekend. With this weekend marking another GOAT appearance and the open book of possibilities in the Lites division, we could be in for a Midwest dust up of epic proportions. Let's get it up in here for STL. Here comes the Rev Up!
Supercros Lites
Man, it's hard to figure out where to start with this group. Undoubtedly, the big story in Atlanta was Ryan Dungey's breakout performance but there were so many other big events and occurrences. I'd have to say the biggest disappointment was a toss up between factory riders Mike Alessi and Thomas Hahn. Alessi never really showed us what we expected, while Hahn made a huge mistake in his heat race and narrowly avoided the dread LCQ, then was struck in the first turn, bent his brake rotor and finished a dismal 18th. I'd look for both of those boys to ramp it up this time around.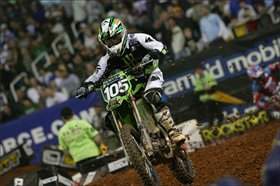 Will Lange bring the pain this weekend?
Then, we have the man that posted the fastest time in the main, Ben Townley. Those Pro Circuit KXF250F machines are, ahem, Monsters for sure. But anytime you have engines that are making that much steam you are going to pop one every now and then. It's the double-edged sword that is just part of big time motorsports racing. All the same, I'd expect to see Big Ben and The Canadian Beast Darcy Lange bringing the pain in a big way this weekend.
On the other hand, it has been a long, long time since we have heard anybody make a Joe Namath-style prediction and claim victory like
Matt Goerke
did on the podium past weekend. I'd like to see him make good on it—his a good kid and Yamaha of Troy works hard. This entire group is going to smolder, just watch!
Supercross
They were a little over a second from having to bring out the hoses last weekend, because if he would have won that main event the ATL would still been on fire. Ricky Carmichael's tenacity on his farewell tour has emboldened him. He has been on a mission to win every race he has entered in these, his final supercross appearances. But hey, man, James Stewart showed up and showed everyone why he is The Future with those were 20 perfect laps.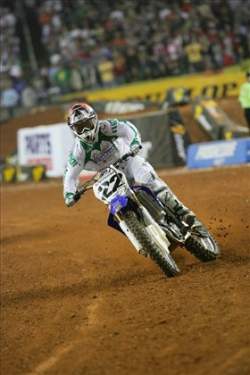 Can Chad repeat last year's performance?
But the man leading the statistic race leading into St. Louis is none other than The Thunder. Since the first gate dropped in STL 12 years ago, a blue curtain has descended over the stadium with six wins for Yamaha.
Chad Reed
has been holding the tune fork flag as of late with three wins in four attempts. This week's course will be soft and rutted and will leave a lot of opportunity for these cats to make some big mistakes. And I wouldn't be surprised to see some feet-off-the-pegs action from these three. Awful big clankers on those boys, and they all want to win really, really bad.
This is a special race for me. I was on the starting line at the 1996 event. I lined up next to Mike Larocco and Jeremy McGrath for my heat race. Talk about knocking knees! I went through 5 sets of handlebars that fateful evening and didn't make the main event in either class. I am just glad to be going back and watching this Saturday night. That's right, my goofy ass will be running around the pits all day Saturday. Come say hi at the Racer X booth, I'll have the high fives warmed up and ready.
Who is ready for some more supercross? The spirit of St. Louis is heading our way. Let's jump on and go for a ride! I have a feeling this one's going to be big.
Thanks for reading, see you next week.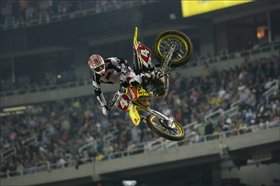 See you in St. Louis!