Between the Motos: Ryan Dungey
Makita Suzuki's supercross rookie Ryan Dungey lined up at Atlanta on Saturday night with some experienced Lites heavy-hitters like the Alessi brothers, Team Honda's Tommy Hahn, Sobe No Fear/Samsung Honda's Ryan Sipes and Laninovich, BooKoo Arenacross Champion Darcy Lange, and MX2 world champion Ben Townley, former 125 East Champ Branden Jesseman… You get the point—the East Region is stacked! Yet the rookie Dungey beat them all to win the opening East round of the Amp'd Mobile AMA Supercross Series. That's quite a notable accomplishment for a rookie.
Fans may have been surprised by Dungey's win, but Suzuki wasn't. The buzz from the yellow tent has been the same for a while: Dungey's a winner. He's also been working hard under the watchful eye of both Roger DeCoster and Ricky Carmichael. So far, the rookie has proven them worthy of that confidence.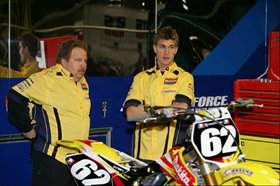 Ryan and his mechanic, Tim McAdams.

photo: Simon Cudby

Racer X

: Ryan, What did you expect before Atlanta?

Ryan Dungey
: I just wanted to put in a good, solid top five. Then I would be happy. The whole season, I just want to be as consistent as I can be. I felt like I did what I needed to do this week, which is get a good start and right a smart race. I feel like I accomplished that.
What happened in the main event?

The start was good. I was in the inside. I got the jump on a bunch of guys, but they started coming in from the outside and I thought I was going to go down. I hit the brakes, and I thought I was going to clip Sipes and highside. It ended up I did a nose wheelie about 20 feet. The front brake was on, man! I tucked inside—I don't know why everybody went up high—and I was in third right there.
The first lap went by and Alessi came in on Townley and they had to single, single there before the finish. I doubled and got by them. But Townley was putting the pressure on for about seven laps or so. I think my lap times were good until then. I settled in to a good comfortable pace that I felt good with. It was good.
How did it feel leading the race?

I was just trying to race the track. I didn't want to worry about those guys behind me. I knew I was a good rider out there and my confidence is up. I felt great out there. Other than that, I just wanted to ride smart and I wasn't worried about those guys.
How much supercross experience do you have now?
I did the one in Vancouver, and a BooKoo Arenacross. Darcy was there too! And then this one. But I spend my time with Ivan and Ricky at the Suzuki test track.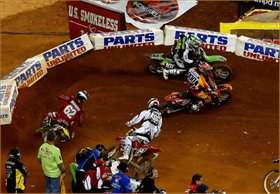 Alessi is about to make a move on Townley, but they keep each other from doubling right after this, and Dungey, #62, will jump right past them.
photo: Steve Bruhn
So you got this good at supercross at the Suzuki test track?

[
Laughs
] That is the track I have been riding a bunch. We tried a few others, switching it up here and there. They built a whole new track and I have been putting in hard laps, working on being consistent, working on what I need to work on.
Is the pressure off now for St Louis?
I really don't feel any pressure. I just want to go out there and do my best and give it 110%. I don't want to leave anything on the table. I would feel guilty after I am done if I didn't. I am not going to get a big head or anything. This race, I won it, and I will go back this week and work hard and hopefully St Louis and the rest of the rounds will go better. I just want consistency.
What do you need to improve?

You can always improve. I think my trainer and I will talk about what to do for now.
Suzuki has been talking like they have a lot of confidence in you and you proved them right tonight. What do they see in you already?

I don't know. Suzuki is just a great team. My mechanic Tim, plus Roger and Ian, everybody at Suzuki—they have been great to be and given 110 percent and nothing less. I don't want to give them nothing less either. I don't know…. I guess they see something in me, but I just have to be thankful that they took me on the team and gave me this opportunity. I can't thank Roger enough.
Good job Ryan, and congrats again.

Thanks.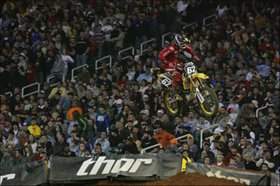 Over 70,000 spectators witnessed Dungey's first win
photo: Simon Cudby