5 Minutes With ... Kevin Windham
February 23, 2007 12:57pm
It took seven races to do it, but last Saturday evening before 60,529 fans in San Diego's cavernous Qualcomm Stadium, Kevin Windham climbed from his Sobe No Fear Honda, took off his helmet, walked over to the victory podium, and assumed his place upon it. For a professional rider who has been at it since Gatorback '94, his third-place result in San Diego was huge, considering the well-documented slump he's been in since Anaheim 1.
Long considered one of the most prodigiously-talented racers in the world, Kevin Windham has also, at times, been his own worst enemy, thinking too far into things and coming up short on the track. But as you are abut to read, he feels like he's back on his "A" game and plans to use the Georgia Dome as yet another stepping stone on the path back to the top. This afternoon, Racer X tracked KW down while he steered his motorhome into the outskirts of Atlanta, Georgia. Here's what he had to say about 2007 and beyond.
Racer X: Kevin, where are you at today?
We're diving to Atlanta and we're about 45 miles outside of town. We started out last night and I slept in the motorhome along the way. My wife, my little girls and I were in California for the first six or seven weeks of the season, so my mom is keeping the girls this weekend and we're kind of doing the adult thing this weekend in Atlanta. I already miss my girls a little bit, but this is a different scenario and it's kind of nice.
You're coming off a podium at San Diego, your results have been improving, and you're back in the Southeast. You have to be feeling good right now…
Yeah, I feel great. My results have been coming around and I feel like I'm back where I should be. I was struggling for a while at the beginning of the season and we all knew that's not where I wanted to be, but I'm coming back and I'm getting there.
Okay, I'm sure everybody and their dog has asked you this question, but why the struggles at the beginning of the season? You've been at this for a while.
Yeah, that's tough. It's a tough question to answer. I was doing what I have always done before each race, week-in and week-out. Things were going good before the season and I had a lot of confidence. I guess it's hard to understand why things went wrong and why things snowballed. I guess it's like when a batter gets in a slump in baseball. He's been hitting baseballs his whole life then he can't get a hit. Being a racer, when you're on the track, you're put on a pedestal with a lot of competition around you. That's nothing new. That's how it was for me. I was struggling. But we've worked hard and I feel like I've come out the other side. I feel strong. I have strong commitments from my team and my trainer and Jeff Spencer is helping me out now, too. It's all coming together. In Atlanta I'm going to concentrate on putting in 20 hard laps. I'm going to take the competition and kind of put it to the side and concentrate on racing the track. I'm going to take a different approach. It's going to me against the track. I feel sharp. I've been practicing four to five days a week and I'm sharp — I just have not been race sharp. That's what we've been working on.
Also, this weekend in Atlanta, there will be a lot more competition. [Davi] Millsaps will be back and of course Ricky Carmichael will be racing. Right now my goals are to race the track regardless of who is on the line. If I do my best, I'm absolutely positive I can find the podium. If I focus on achieving my goals, everything else will fall into place. You know this whole thing has just been one of those things that have snowballed. I mean it seems like the most asked question of 2007 is "What's wrong with Kevin Windham?" I just got off my game. I'll get it right. I have Jeff Spencer working with me now and he's helped me tremendously with mental preparation. It's been nothing major — I've just been in a hole. A lot of times you just need a person who brings fresh, new ideas to things and who can evaluate what's going on.
You're fourth in the points. Despite the rough start to the season, I'd assume you're aware of the fact that you're in a great position to advance up the leader board.
For sure. It would be great to come on strong late in the season. We're not quite at the halfway mark of the season and my best results are in front of me. Considering the way the season started, fourth in points is not that bad at all. I'm progressing now and I'm going to pout myself in a strong position to keep improving. The chance to win the title may be long gone, but I can certainly close the gap on Timmy [Ferry].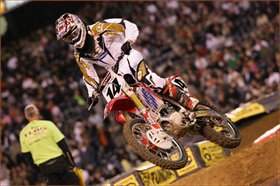 Windham gave the Leatt Brace its first SX podium in San Diego

You're now wearing a Leatt Brace. Tell me about that decision.
Deep down, the Leatt Brace gives me a touch of confidence. Without a doubt, there have been a lot of neck injuries around me. In this community — the motocross community — neck injuries happen a lot. Whether it be at the local or amateur level or even at the professional level — like with my close friend Ernesto Fonseca — neck injuries are a tough thing. All of us involved in this sport know about it. The Leatt Brace provides good protection. When I first put it on, it didn't feel uncomfortable to me at all. There was no restriction in the range of motion of my neck. In fact, we've even closed it [the brace] up a bit recently. I guess I have a long neck and they have continued to work on adjusting the brace for me. I think the Leatt Brace is a really good thing and I appreciate having it around.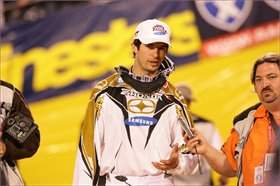 Kevin Windham is feeling confident about the second part of the season

Did you watch the David Bailey video?
To be honest, I was in contact with the Leatt people before David made the video. But, yes, I did recently watch the video. It's abrupt and it's aggressive. He was calling guys out. I don't know… I appreciated David's point and it was well taken. He stepped-up and asked everyone to do something. However, on the flipside, a lot of guys he mentioned in the video are really caught up in racing right now. For the professional racers he mentioned, they have a lot on their plate right now. What may not be good for one guy may be good for me. I'll put it that way. David Bailey's message was clear and needed. All of us involved in motocross has a friend or knows someone who has been hurt. Something has to be done. The Leatt Brace may be a way to nip all this in the bud.
Kevin, you've been racing for 12 years now. Do you still feel good about everything?
Life is great. I'll be approaching 29 at the end of February and I feel really good. Not only do I feel good mentally, but I feel real healthy, too. I feel great and I feel motivated to land a new deal in 2008. I want to keep moving forward. I'm happy and I think you guys are going to see more of me in the years to come.