5 Minutes With ... Broc Hepler
Back on January 25, Team Yamaha's Broc Hepler finished up his lunch and suited up for another testing session at the Yamaha SX test track. Unfortunately, one lap in to the session, Hepler tucked his front end landing from the finish line jump and crashed—hard. Rumors were circulating some online message boards saying that Broc was unconscious for nearly seven minutes! The end result was a concussion, and as TFS first reported last Thursday on his Weekend Window, it has taken the pre-season title favorite out of the East Region SX series altogether. We decided to give our neighbor a call to see if how he's feeling.
Racer X: Broc, first of all, how are you feeling?
Broc Hepler: Oh, I feel fine. It's just that I can't go out and ride.
Well, from what you remember, what happened?
I can't really tell you too much about the wreck, but I was just doing a test day, and it was right after lunch. I just tucked the bars on the landing of the finish line jump and I hit my head pretty good.
Who were you riding with that day?
I think Lawrence was there, along with my mom. Cory Hutter, our suspension guy, was there, and Ray, my mechanic. I think he was actually on the finish line jump because we were going to do some timed laps.
Was that one of your hardest crashes?
I don't know. Nothing else is really hurt. It just happened really quick and I didn't have time to put my hands out and my head took the brunt of the fall.
Before the crash, how were things going as far as your preparation and riding?
Well, back in November is when I decided which coast to run. At that time, I was only on the Yamaha for a week. Once I came back after Christmas, I was feeling awesome. And now that I look back, I wish I was riding the west coast so something like this wouldn't have happened.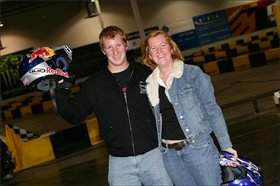 Broc with his mom, Beth.

You mentioned that you were practicing with Jason Lawrence a little bit. He's clearly the second fastest guy on the West Coast, so how would you say you compared to him at the test track?
I think my lap times were a little faster, but he's been riding well. I think he has the potential to go out and beat Villopoto. He definitely improved this year, and I'm proud for him.
Have you been following the supercross series?
Yeah, I was out in California for most of the series so far. I just came home to Pennsylvania this past week.
When did you officially bow out of Atlanta?
Before I went to San Diego I rode at Lake Elsinore a little bit, and I just knew that it wasn't going to happen.
Are you still working with the doctors at the UPMC health center in Pittsburgh?
Yeah. After I rode Saturday morning, I knew I wasn't going to be able to race, so as soon as I got home I booked a flight to Pennsylvania and scheduled some therapy there. We just have to take it one step at a time now.
At least you can rest easy knowing that UPMC is one of the top concussion treatment centers in the United States. Looking ahead, will we see you racing any supercross this season, or will you just wait till the outdoor nationals to come back?
It's hard to say. Even the doctors have no clue how long it will take. Concussions are just very unpredictable. Three people can have the same concussion, but it might take one month for one guy to recover, and three months for another. You just have to take it week by week. UPMC has an ImPACT test, and you just have to keep taking it and see how you feel as you progressively get a higher heart rate during workouts.
(Ed. Note: The ImPACT test (Immediate Postconcussion Assessment and Cognitive Testing) helps to provide a more accurate determination of when an athlete who has had a concussion can safely return to active contact sports. It was developed by UPMC concussion experts.)
Man, it's just a bad deal all around. Everyone thought this was your year for a supercross championship.
Yeah, I'm definitely bummed out right now. I guess the only good thing that could come from it is I'll keep my SX Lites eligibility longer! [Laughs]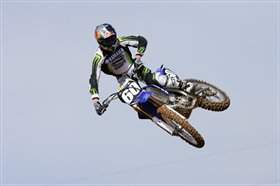 It's unknown when we'll see Broc back on the race track

Yesterday we posted an online poll on our website, and we asked who people thought would win the Lites class this Saturday night in Atlanta. Who is your pick to win?
I'm not really sure… I wasn't keeping track of what anyone was doing. Looking at past results, I would pick Laninovich. If he's healthy, which I think he is, he is my pick early on.
Are you going to the race?
No, I'm not going to Atlanta. But I think the Yamaha truck is still going. Langston is hurt, but there are a lot of teams they can help out, like Star Racing, Motoworld and Yamaha of Troy.
Well, thanks for your time, Broc. Good luck on a speedy recovery.
Thanks!