5 Minutes With ... Ryan Morais
The Dark Horse

Ryan Morais has had more injuries in the past four years than most riders incur in a lifetime. From common motocross injuries, like broken wrists and collar bones, to obscure infections and swollen body parts, Ryan has been through it all. But he has signed with Yamaha of Troy for 2007and is feeling better than ever on his bike. I sat down with him just days before the east coast opener in Atlanta as he was putting in laps at a private supercross track.
Racer X: Ryan, how are things going with the new team?
Ryan Morais: Everything is going great. We've been testing a lot and making things better for me. It's all been going very smoothly.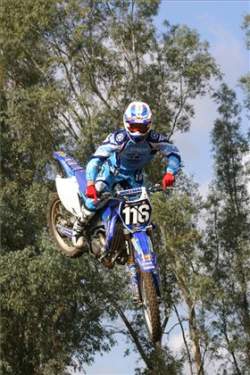 Ryan is flying into the 2007 season way under the radar

Photo: Ping

Injuries have been your biggest competition since you turned pro, haven't they?
Yeah, things were looking good when I was Jeremy's teammate on the Bud Light Yamaha team in 2002. I cased a triple in the qualifier in Anaheim and messed my wrist up. Since then it's kind of been one thing after another and I haven't had a chance to build any momentum.
Are you healthy now?
Yes, and I have been since November. I crashed at the end of the summer at Lake Elsinore and broke both of my arms. Though, since I started riding again I've been on a new program and I've been taking it very seriously and it's been going great.
You ended the SX season with a fifth at the Las Vegas East/West shootout last year. I think a lot of people forgot about that because you were injured all summer, again. But you could really surprise people this weekend.
That is what I'm hoping for. I feel better and stronger on my bike now than I've ever felt before. So, hopefully things pick up where I left off and I can improve from there.
I see you have a new trainer out here. How long have you guys been working together?
I started with MJ [Michael Johnson] as soon as I started riding again from my arms.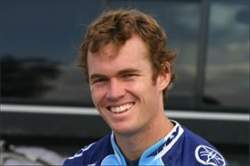 Will he be smiling like this after Atlanta? He thinks so.

Photo: Ping

What are you doing differently this year than you've done in the past to be prepared?
For one, I'm training a lot harder and taking it a lot more seriously. MJ has me doing specific motos when I go to the track and not just riding laps. He worked with Ernesto for a long time before Ernie got hurt, so he has a successful program. I'm trying to make the best of the opportunity this year with Yamaha of Troy. This bike is a big step up from where I've been and I just want to make the best of it. I'm actually spending a lot of money to have MJ here with me, but that's part of what I'm doing differently. Normally, I would try to spend as little as possible and do things on my own. I'm hoping that spending some money on him now will pay off for me down the road.

You have to feel good about your equipment after seeing Jason do so well on the west coast.
We weren't really sure where we were at before the first round. We did a lot of testing and things seemed really good at the test track. But when we watched the first round we knew that we were right in there with the best bikes.
The east coast is looking to be stacked. Who do you see as the toughest competition?
I ride at the Yamaha track a lot and Hepler is really hauling. If he is healthy he is going to be fast.
How closely does Yamaha work with your team?
I think they help with the engine stuff through our guy, Keith. I don't deal with them at all so I don't really know what goes on with them and us.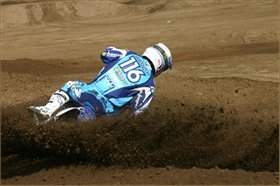 Ryan has been laying down hard laps as part of his new program

Photo: Ping

You and Andrew Short have been close buddies since I first met you. Have you been riding together quite a bit?
Well, he's been rehabing his knee so we've just been training together. MJ is his trainer also, so we do bike rides together and go to the gym and that kind of stuff. Shorty just started riding again, so I'm sure we'll start doing motos together.
You've also been dating his sister, Hannah, for a long time. Does that ever get weird?
[Laughs] No, Shorty's cool with it. We've been together, off and on, for so long that it just seems normal now. It was a little strange the first year we dated, but not anymore.
I heard your parents found a way to make it to all your races.
Yeah, they are driving the Asterisk Medical Unit to all the races. It's great for me because I like having them there and they don't have to buy two tickets every weekend.
Anyone you want to thank?
Yeah, I want to thank my mom and dad and my family. They have supported me for a long time. Also, my girlfriend Hannah, Danny from Z Gallery and Marc Hauser from Richardson's RV have really been a big help to me this year. I couldn't be doing this without their help so I just want them all to know that I really appreciate it.
Good luck this weekend, Mo. I think you are going to surprise a lot of people this year.
Thanks Ping. I hope you're right.