5 Minutes With ... Tucker Hibbert
February 12, 2007 10:11am
Just like Happy Gilmore believed in his heart that he was a hockey player, Tucker Hibbert's first love is motocross. But his bread and butter, like golf was to Happy, is snowmobile racing. Tucker was on top of the snocross game when he decided to give it up and pursue his dream of racing motocross and supercross three years ago. It's been a rough road for the Minnesota native who has ridden for Motosport Outlet and Motoworld Racing the past two seasons. He has logged a handful of top ten finishes in the stadiums but his results still aren't where he wants them to be. This year, Tucker signed with Arctic Cat to compete in select rounds of the snocross series and the Winter X Games. He has also formed his own team to contest the Supercross Lites series and the Canadian national motocross series. So far, Hibbert has won rounds in the snocross series and he is still looking for a place to hang his gold medal from this year's Winter X Games. I found him in Mississippi getting his riding program together at Kevin Windham's house.
Racer X: Congrats on the Winter X Gold medal!
Tucker Hibbert: Thanks Ping. I really needed that one. Last year I had some problems in my heat race and the old format didn't give you a second opportunity to make the main if you had a problem in your heat. So, obviously, it was kind of tough trying to line my deal up this year when I didn't even make the main event at X games last year.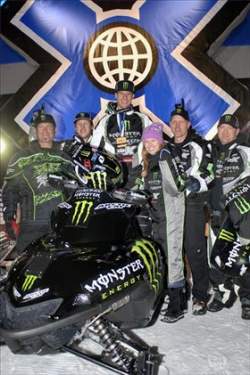 The Hibbert crew celebrates

photo: Herman Dahlgren

When I talked to you in Aspen just before your qualifier, things seemed pretty tense in and around your team semi. The X Games is certainly the biggest event you guys have in the snowmobile racing world, isn't it?
Oh, definitely. The X Games give us so much coverage and the track is always insane. It's like supercross for us. The national series struggles a little bit because you can't predict the weather and they need snow to have a race. They are really easy tracks, too. They won't have many big jumps or technical sections. Sometimes, the tracks are just a few turns and some bumps. So, the biggest goal for us this year in the snowmobile season was to win in Aspen. It feels awesome to get it done.
How did the race go down?
I got an okay start. I just kind of worked my way to the front and built a little lead. It went super-smooth this year. It was definitely a bummer about Blair (Morgan). He had some problems in his heat and then struggled again in the LCQ and he didn't make it in. I know how he feels!
He had won at X Games before, hadn't he?
Yeah, he's won it three times.
So, what is your plan for the rest of the year?
I actually put together my own team for this year. Monster Energy has been one of my main sponsors and those guys really stepped up to help me out. Also, Motor City Powersports and Yamaha have been awesome and helped me get everything together. I bought a Sprinter van and I'm doing all of the east coast supercross rounds in the Lites class.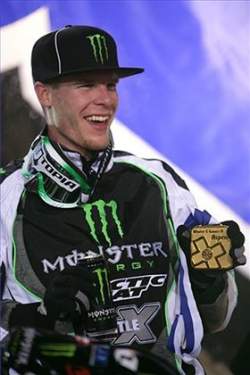 Tucker's new hardware

photo: Tim Davis

Will you race nationals as well?
I'm going to go to as many of them as I can but I am going to race all of the Canadian nationals in the West Region Lites class. That series is part of my deal for this year. Whatever races here in the states don't conflict with those rounds I definitely want to try to make. There just isn't a lot of money at the nationals here. I would have to be in the top five to pay for all of the expenses required to get there in the first place.
Are you done with sleds for the year?
My last race was last weekend so I'm done. I worked out the rounds that I would do ahead of time and that was the last one for me. There are still more rounds in the series but I'm not doing the whole thing. It will be nice to focus on just motorcycles now. It's pretty tough trying to divide my time between two sports like that.
You are based out of Kevin Windham's place in Mississippi again. How is the pre-season riding going?
Things are going good. It rained a little bit last week and I couldn't ride but it's been good. I feel like I'm riding well and I know I will keep getting better and better as the weeks go on. I'm hoping that the snowmobile racing will help me on the bikes. I am so comfortable on the snowmobile when I race but I have been really tense on the bike when I raced in the past. Hopefully, with some racing on the sleds under my belt, I can transfer that relaxed feeling over when the supercross series starts here in a few weeks.
Well, you are a great rider and you've had some top ten finishes in the past. Good luck at the opener; I'll be watching for you up front!
Thanks a lot.