Where Are They Now: Andy Stacy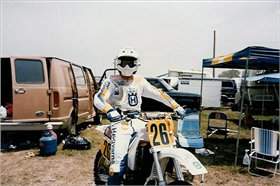 Andy Stacy on a Husky with national #26
When they write the book on motocross they will have to save a chapter for Andy Stacy. Most of you have probably heard of his older brother Frank, of Dunlop tire fame, but Andy owns his own special place in the sport. He has seen motocross from just about every angle imaginable; from professional racer to owning a motorcycle shop, Andy has lived his entire life centered around the throttle and the starting gate. His story is too interesting and too long to be told online in it's entirety, but we talked recently and got caught up on where he is now, and how he came to be there.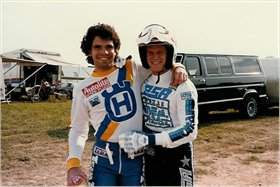 Andy and Mike Beier at Red Bud in '85
Andy Stacy's interest in motocross spawned from watching his father, Walt, race around the greater New York area. Soon, his older brother Frank was competing in the nationals during the mid 1970s and not long after, Andy began racing himself. In 1979, he received his pro license and shoved up to the gate at the 1979 Binghamton National. He would ride well enough on this day to score his first points as a professional. The next couple of years would see Andy hit up nationals like Mt. Morris and
Unadilla
, and he would also travel south to Florida to compete in the ultra-competitive Winter Series against the likes of Bob Hannah and many other greats.
His career reached full song in 1981 as a factory KTM rider. "Yeah, I was a pretty big deal then. I was flying to the races and everything. The thing was, they shipped my bike in a crate so I had to uncrate the bike myself, put it together, race, then tear it down and crate it back up when the weekend was over. I don't know if some of the kids today would have made it back then. But to us, we thought we had hit the bigtime in a big way!"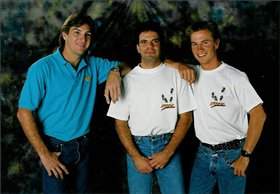 Ron Lechien, Andy Stacy and Ronnie Tichenor
A tremendous effort in the 1981 saw him embark on his first full season in the outdoor nationals. Said effort would ultimately land Stacy in 13th overall in the 250 class, which was good enough to earn him the coveted AMA Rookie of the Year. Some other highlights on the year included his entry in his first supercross races at Atlanta and Daytona. He would qualify and be in the mix in both main events. Andy remained on the professional tour for the remainder of the 1980's, performing well enough to earn AMA National #26 for the 1985 season.
The final ride of his full-time career was ironically the last 500 national the sport would ever see in the 1993 Steel City national. Andy raced a Honda of Troy-sponsored CR500 with Phil Alderton as his mechanic.
Knowing his racing days would soon be behind him, he had begun searching out other career paths. In 1991 he began a working relationship with Tuff Racing founder and owner, Dave Antolak. The relationship pitted him behind the desk as a salesman at the shop and gradually Andy began to spread himself around the shop to the point where was involved with most of the daily operations. 16 years down the road, he would purchase the business from Dave and give life to Tuff Powersports.
This was not an easy task as Dave's previous Tuff Racing business was a pro level dealership, which is a distinction that does not grandfather to new owners. Andy had to put his head down and basically start from ground zero and grow in to the same reputable business standards as the company was when he took over.
Today Tuff Powersports is alive and kicking and remains one of the largest Kawasaki dealerships in the country. Andy is doing a fine job of running the show and while his primary focus is on the business, he hasn't strayed too far from the track. Trust me when I say, Andy Stacy still knows how to get around a track. In addition, every January he and a dozen or so of his buddies get together and take an 18-wheeler and haul south for a big ride week. And aspirations of an appearance in a couple of the Vet classes at Loretta Lynn's aren't too far from thought.
In the meantime, Mr. Stacy will be enjoying his time with wife, Jackie and his two girls, Amera and Syndey.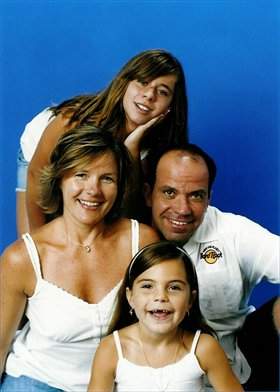 The Stacy family