Last Saturday afternoon, I was sitting on the cooler at the MDK tent with
Nick Wey
and his dad and
David Vuillemin
, MSR's
Dave Casella
and super-wrench
Scotty Adkins
, just bench racing. That's when
Ludo
from One Industries came over and started talking about the Leatt Neck Brace. Again. I made a joke about it, because it's became a personal mission for Ludo to get the word out about the new safety product that could help prevent catastrophic injuries.
A half-hour later, I had another conversation with Ludo, but this one wasn't so funny. I realized that my joke had come off wrong—he doesn't own the company and doesn't make a dime off the sales—and I apologized. Later, I vowed to Ludo to buy one of my own.
Too many recent conversations in supercross and motocross begin and end with injuries. That really struck home on Thursday afternoon when I got a call from David Bailey. I hadn't spoken to David in a few weeks, as the Icon is still in the midst of a low point in his battle with a back injury that's now 20 years long—the anniversary just passed.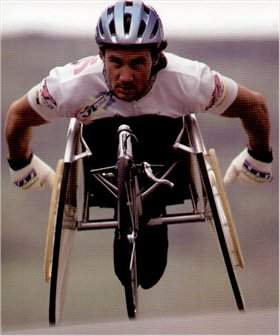 The Icon has a powerful message
Bailey sounded absolutely devastated at first—his close friend and pupil
Ryan Sipes
had crashed violently in Georgia and the whole family and David were beside themselves. He told me how bad he feels every time this happens, and how adamant he was to take charge of the whole safety conversation, because it's not moving fast enough for a guy who's been in a wheelchair since 1987. He wanted to make a video because he had some things he wanted to get off his chest about safety, responsibility, and doing exactly what the advertisement Shift MX said about him: "Take a Stand." He told me his message, and it's powerful—and important.
A few hours later, the Icon was in front of Guy B's camera, taking a stand on the use of the Leatt Brace. He does not know the guys at the company, he does not have an interest, just a hope that more kids—and more top professionals—will use it.
We saw a preview this afternoon on Motodrive, when a link was posted and promptly crashed the site. Now Guy B has compressed the video and posted it on VitalMX.com for the general public. Take 10 minutes and watch this: It comes from the heart of David Bailey.
There is no guarantee that any safety feature will keep you from getting injured riding a motorcycle. Ours can be a dangerous sport. Every person has to make their own decision when it comes to equipment that isn't mandatory, which is why so few riders wear chest protectors now, and only Mike Sleeter has entered a supercross race with the Leatt Brace. Every accident is different—some avoidable, some not. Either way, like Ludo reminded me last Saturday, and like Bailey hammered home today, whether you're just starting your career or just finishing it up, you owe it to yourself to at least investigate these new products more.

Former factory Yamaha rider, Jimmy Button, who suffered a spinal injury back in 2000 weighed in on this topic earlier today on Mototalk:

Everyone out there listening, listen to this. I know alot of you that are in the industry or go to the races see me, and think that I am good now. Well, in many repects you are right, I can walk, feed myself, go to the restroom, etc. Which, all of this is wonderful and I am so thankfull for, however, no one out there, except for the other individuals that are in my shoes, understands how difficult my life is. I am not crying out saying poor me, because I never have, but believe me, you do not want my life. Since my accident in SD on January 22, 2000 I have not had a single day without tremendous pain, that is 2,573 days of continuous pain with no end in sight, at least I hope not for a long time. I will deal with the pain. My point is, everyone should at least try the brace. You cannot ever make everyone do something, but I think that if you can possibly prevent this injury from happening, you should at least give it a shot. No matter how much the brace cost, you should buy it. In fact if you cannot afford the brace, then maybe you should not be buying a $6K + motorcycle to begin with. Like DB, I have been pretty silent on this whole deal, but it is getting worse and worse seeing all of these injuries. Like DB said, when I heard about my friend Ernesto getting hurt by a phone call from Larry Brooks, I got physically sick. You do not want any part of this injury. Let's all get going on making these things mandatory. They are required in every major motorsport out there, but ours. Let's all make a change. I will help doing what I can do, especially with my riders that I represent.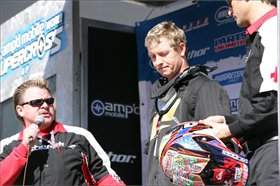 Doc Bodnar and Michael Sleeter at the Anaheim 3 riders meeting
photo: Simon Cudby
Racerhead has been going all over the place this week. My week started in Buellton, CA, where I was working on the track at Castillo Ranch with my brother
Tim
. (If you're in the industry, you DO NOT want to miss the 2007 Racer X Ride Day, which will be April 13—Friday the 13
th
.)
Ping, Weege, Billy and some of the rest of the gang were out at Glamis riding the dunes, and you can see Simon Cudby's Racer X Film from the ride. Michael Farber was there too, closing out the last day of his Fubar On The Road blog. Eric Johnson is in Daytona for some stock car stuff—some kind of big race coming up, I guess.
Now half the gang is on the way to Houston for tomorrow night's round of the Amp'd Mobile Supercross Series, which you can hear via Supercross Live's webcasting team of Jim "Hollywood" Holley and Jason "Weegelicious" Weigandt at www.supercrossonline.com. And watch the laps and results all day long at www.amasupercross.com.
Houston is also showing at noon on Sunday, EST. Check your local times and listings and all that. (And don't forget the Anaheim 3 Lites are on SPEED tomorrow at 6 p.m. EST). And check out TFS' Weekend Window all weekend long right here.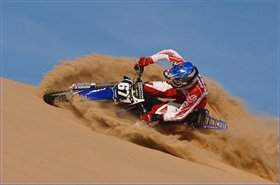 Ping and Andy Bakken (shown here) star in Simon's latest Racer X Film
photo: Carl Stone
Anyway, I've been busy all week working on some business stuff, and here's one big announcement:
Racer X
is proud to add the Toyota AMA Motocross Series' souvenir yearbook to our growing list of event publications. Thanks to the NPG for giving us the chance, and to the gang at
Cycle News
for offering us the opportunity to follow their lead in producing this book—we want to make it just as big and entertaining as the one we do for the Amp'd Mobile Supercross Series or the Red Bull USGP at Laguna Seca.
So I'm sitting out Houston, getting ready for the Indy Trade Show, and will now turn the floor over to Le Weege.
Coming into Anaheim, the fans were looking for two things: competition for James Stewart and competition for Ryan Villopoto. We know that some comp showed up for Bubba in Chad Reed, but for Villopoto, the only hope would be for das Wunderkind to get a bad start and for some of the other contenders to get up front and make him work for it. Hey, with all the fisticuffs going on in the Lites class lately, maybe it would be Ryan's turn in the barrel. One thing about this year's class of West Region 250F riders, they are not afraid to bang.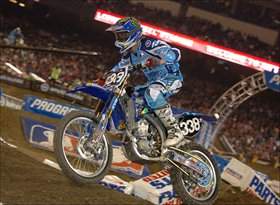 It looked like Jason Lawrence's night, at least for a lap.
photo: Carl Stone
The stars aligned big-time early in the main, as
Jason Lawrence
grabbed a very, very rare good start, and Villopoto got a very rare bad one. Meanwhile,
Josh Hansen
,
Josh Grant
and many others were right there in the hunt, too. With
J-Law
in the early lead and Villopoto around seventh, a real race was about to begin. Then the red flags came out.
What is the deal with red flags this year? Up until this season, the amount of red flags seen at a supercross could be counted on one hand. The red came out when Jimmy Wilson went down in the first turn at Phoenix a few years ago, and last year for James Marshall in San Diego. That's about it.
But this year, the reds are out early and often. David Vuillemin's big crash in Phoenix was the most high-profile of them, but in Anaheim on Saturday there were three reds. Three. If you try to count the amount of times it comes out in practice nowadays, you will pretty much lose count. After a few red flags in practice, another came out in the main event after Lawrence took the lead from Hansen: Jake Weimer had gone down in turn one, but he was able to get up and make it back to the starting line after a patch-up job by the Asterisk crew.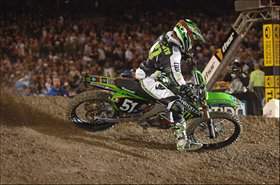 Ryan is now 4-out-of-5 in '07
photo: Carl Stone
And of course, Lawrence got an absolutely horrible start on the restart, Villopoto got the darned holeshot and the race was over. The only thing fun to watch was Lawrence and fellow Yamaha rider
Josh Hill
coming through the pack. This duo can't buy a start, and every week they're forced to pass ten riders or so to get into the top five. And even when Lawrence did buy a start, it turned out to be a lemon, and it wasn't under warranty.
As for all the red flags, we're all for safety. Obviously, something has changed this year in the care and attention needed for riders, and the trigger finger is on that red flag at all times. So let the red flags wave when they have to—the doctors know best.
In the 450 class, James Stewart also ran his '07 record to 4 out of 5, but this time Chad Reed gave him all he wanted. But it still wasn't enough to stop Stewart, who made a classic block pass along the way that earned him the ire of the Anaheim faithful (as Ricky himself might say, "Welcome to the club, James!")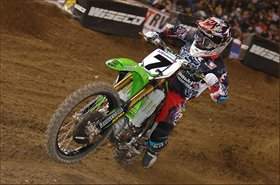 James has only lost once this season—and no times and never at Anaheim.
photo: Carl Stone
So Stewart leaves Anaheim perfect, the first time that's happened since Anaheim went to three races. And Villopoto was perfect too, though
Ivan Tedesco
did likewise in 2004. Are we in for a long summer? Maybe, though not if you're a Monster-drinking, Kawasaki-cheering motocross fan!
RRX Editor CJ checked in from his new place in Paris, where he's living and working this year. He reports that although the World Championship Motocross Series is still nearly two months away—after the MotoGP opener, for a change—the Euros aren't letting the cold stop them from satisfying their dirt bike jones with all manner of wacky events: indoor trials in Barcelona (very cool—when will someone bring that to the States?), ice racing on enduro bikes in France, and—craziest of all—an off-road ride over Mont Blanc, the famously imposing Alpine peak on the border between France and Italy. Better known in the winter months for its ski resorts than its trail riding, Mont Blanc is currently covered in snow, but the Frenchies have an annual tradition of punching through the white stuff on their enduro bikes, and this week's magazines have some crazy photos of the 50 or so riders who took on the '07 edition. One guy even tried it on a KTM 125!
Currently in its 30th year, the event is called Croisiere Blanche (White Cruise) and was started by Philippe Jambert, a journalist for the French weekly Moto Journal. CJ's French still has a (very long) ways to go, so that's about all we know, but here's a link to a video of last year's event.
Looks cool, but we'll stick with stadium supercross for now, thanks.
Some off-road new from the Weege:
The American off-road racing scene is beginning to kick up some dust now, with a variety of series gearing up for a kickoff. The reformatted AMA National Enduro Series started up last weekend in Texas, and defending champion Russell Bobbitt took the win in his first ride with a number-one plate. Mike Lafferty was second in his first ride back since ACL surgery last year. Should be a great showdown season between the old guard, Lafferty, and the new, Bobbitt.

Same thing in the WORCS series out West, which might turn into a big battle between young new champion
Ricky Dietrich
and the most battle-hardened veteran of all,
Ryan Hughes
.
Meanwhile, the GNCC Series is less than a month away, and teams are working super hard all over the country preparing. For example, the Am-Pro Yamaha team is on a grueling new training program designed by Jason Raines, who is still recovering from re-breaking his leg three times. Raines can't ride yet, but he can do everything else, and the notoriously hard trainer has put Barry Hawk and Charlie Mullins on a wild training program down at the Hawkins Ranch in South Carolina. That guarantees they will be in tip-top shape when the series opens in Vero Beach, Florida, the first weekend of March (during Daytona Bike Week). The Yamaha boys know the David Knight machine will be waiting for them there, so they're going to be prepared.
Same for the FMF Suzuki squad. Rodney Smith has all the boys at his house in Northern California, and Glenn Kearney, Jimmy Jarrett and Australian newcomer Josh Strang will be ready as well. Fred Andrews' Monster Energy/Pro Circuit Kawasaki team has been riding down in Alabama getting ready for the season, and that team plans a full assault on the new XC2 Lites (250F) class. Then there are a bunch of new teams, like the Green Demon Motorsports Husqvarna team, Carhartt KTM, KTM/Powersports GrafX, and good old Shane Watts, who is doing his own thing with help from Fun Mart Cycles, Maxxis and KTMHutt.com. Bottom line is, with Juha Salminen back in Europe, the series is wide open, and it's going to be good.

Also, you may have noticed this week that there's a new title sponsor for GNCC Racing, and it's a familiar name for you old-school fans. Can-Am was a force in the motocross market back in the 1970s, winning a 250 National Championship with Gary Jones and an AMA Supercross Championship with Jimmy Ellis, but eventually their parent company, Bombardier, shifted its focus to other industries like trains and planes. Can-Am's motocross line disappeared by the mid 1980's, but the name returned to prominence last year in a new field: ATVs. Bombardier's ATV line is now called Can-Am, and the company is serious about promoting the performance of their four-wheeled machines. Hence, title sponsorship with GNCC racing. For the moment, there's no word of any new two-wheeled machines emerging from the French-Canadian marque anytime soon. But if your bike breaks down at a GNCC this year, it will probably be a Can-Am quad towing you out!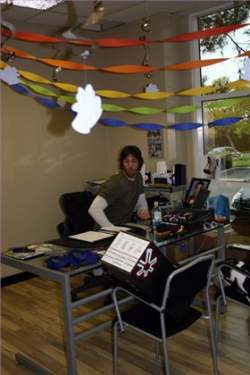 Dave Castillo does his best Blue Steel pose in his new gay-wedding-themed office.
photo: Ping
Now it's
Ping
's turn:
I stopped by Asterisk this week to see Dave Castillo's new place. The company behind the Cell knee braces and the Mobile Medic Unit that has been such a blessing to the sport has just moved into a new facility in Lake Forest. The place is amazing, and the equipment they have in there looks big and shiny and expensive. Can you tell I don't have a lot of technical training in the area of heavy machinery?
Anyhoo, after I got the tour of the production side of things, I got to peek at Dave's office. His co-workers fancied the place up a little with some rainbow decorations, which he left up. Then, when he got married, they decorated for that. Now, according to Castillo, it looks like he had a gay wedding. Nice. He also has some very cool stuff in his office, including a KTM 300 that he rode while filming the stunts in the movie Charlie's Angels: Full Throttle. He also has a new Toyota Prius. And that pretty much moves him into full Hollywood status—I guess Hillary Clinton can count on his vote in the next election as a new recruit to the left side.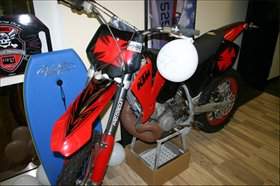 Dave has a bike from the movie Charlie's Angels. He also has a sweet boogie board to do some lunch time sponging.
photo: Ping
On a related note, when I got into my truck and fired it up, I noticed a Native American man standing beside my window wearing a full headdress and face paint with a single tear running down his cheek. Sorry, chief, but you just can't haul bikes around in a Prius.
Want to win one of three autographed Jeremy "Twitch" Stenberg T-shirts or one of two autographed Twitch hats? It's easy! All you have to do is write a haiku poem that somehow involves Twitch and e-mail it to Etnies (etniesmotox@soletechnology.com). Be sure to include your T-shirt size in the e-mail, as well as your full name and address. Ryan will pick five winners, and we'll announce them next week along with their award-winning poems. We can't guarantee that you'll get a T-shirt that actually fits you, but hey, it'll be autographed!
Twitch swag
Don't remember how to write a haiku? (You must have learned in grade school!) It's just a three-line poem with five syllables in the first line, seven in the second, and five again in the third line. And they don't even have to rhyme! (We admit, this is a little goofy, but we're fried from last week's deadline and couldn't think of anything better.) That's all there is to it. So get your creative juices flowing and send your submissions to Etnies. If you need a little Twitch inspiration, check out the new video interview with him over at
etniesmotox.com
. Jeremy has some new sponsors and you can get a preview of his signature shoe that is coming out in the near future.
This week's sign of the apocalypse, from a press release: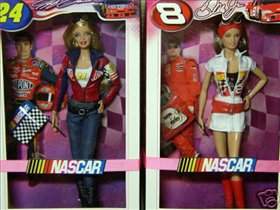 NASCAR Barbies!
"In celebration of the Daytona 500 on February 18th, Mattel is unveiling the
Dale Earnhardt, Jr
. NASCAR® Barbie® Doll and
Jeff Gordon
® NASCAR® Barbie® Doll! Inspired by superstar drivers, the NASCAR® Barbie® dolls rally excitement for a day at the track!"
Yes, NASCAR Barbies. Yes, there are six little ® symbols in those two sentences.
Now comes Eric Johnson, on assignment with the NASCAR folks in Daytona:
Ricky Carmichael is about to pack up his Fox gear bags and begin the Deep South swing of what will be the punctuation mark of his otherworldly racing career—yet he's on the way to Daytona.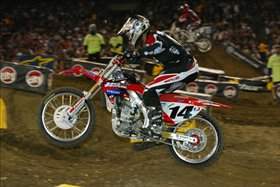 Kevin's making a detour to Daytona soon—for the car race
photo: Steve Bruhn
So too is
Kevin Windham
.
Davi Millsaps
has called for passes and so has
Grant Langston
. So why all this interest in NASCAR and the approaching 500? Well, for Carmichael and Windham, it could be a sort of natural progression in their racing careers.
To that end, I'm in a huge media tent in Daytona Beach typing like a crazy man to try and beat the forklifts and canes that are tearing it down. I arrived here yesterday for Daytona 500 Media Day, and along with the driver I work with—Boris Said of the SoBe/No Fear/Ford Racing Team—we were thrown in the deep end. A fill-on circus of TV cameras, microphones, tape recorders, cameras and notebooks, it began with CNN, NBC, ESPN, Getty Images, NASCAR.com — and on it went for three hours. Our tour de force ended with Said and Formula 1 expatriate Juan Pablo Montoya standing before a battery of TV cameras that numbered in the hundreds. My head is still kind of spinning. Being a part of Racer X for the last 10 years and hounding people with my tape recorder, notebook and camera, it was kind of crazy to stand back and watch hundreds of other people do the same thing.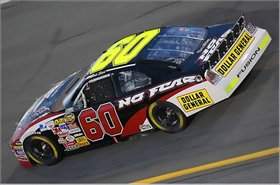 Here's the SoBe/No Fear/Ford that EJ's working with.
photo: Courtesy of www.autostockimages.com
But that's why I'm here: to learn this crazy sport. I'm a motocross guy and will be to the day I die, but I always had a desire to get my head wrapped around the form of motor racing called NASCAR and it really is like starting all over again. Walking the pits and getting to know the teams, media people, NASCAR people, sponsors—everything—is like starting from nothing again, but I guess it's better to try and live and learn.
Last night Boris and I attended the live SPEED broadcast in which drivers, one at a time, walked out on to a stage in the configuration of a large pub, and picked their starting spot of tomorrow night's Bud Shootout (which Boris got into by winning the pole at last July's Pepsi 400 here in Daytona). Before the drawing, I sat in a tent with Said as Mark Martin, Greg Biffle, Jeff Gordon, Jimmie Johnson, Brian Vickers, Dale Jarrett all the other usual suspects came wondering in. Boris is on good terms with all these dudes, so it was interesting to hear the drivers interact with one another. Thus far, that's one of my big takeaways from this journey: how professional and dignified the drivers really are. Some of them take heat for not showing enough personality or delivering boring answers when asked questions (usually the same ones over again), but now I can of see why: So much demand is put on their time and their likeness and the distractions so remarkable in number, I truly don't know how they keep it together. And this is only the first race of what will be 36!
Now I am off to the pits to hook up with Boris and begin a whirlwind of sponsorship appearances around Daytona for Pepsi and SoBe. Then tonight, it's practice for the Shootout (which runs tomorrow night on Fox at 8 P.M. EST). Keep an eye out of car #60. Boris is a good guy for you to root for, because like Clint Bowyer, he grew up racing motocross.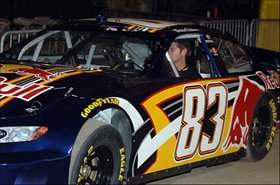 Brian Vickers showed up to Anaheim 3 in his new Red Bull Toyota Camry
photo: Carl Stone
Congrats to Answer Racing and
Tarah Gieger
for hooking up with a multi-year agreement! Tarah is fast and cool, and while
Big E.
may be neither, he does have a great eye for talent. Just kidding, Answer Man.
What do you guys think about this site? Are these the coolest kids in the world?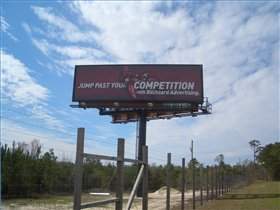 Check out this cool billboard Jim Harrison spotted in Florida!
photo: Jim Harrison
Well, that about covers it. Look for some interesting news next week here as we get ready for the big Indy Trade Show. Thanks for reading Racerhead. See you at the trade show.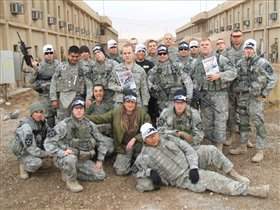 Baker Company 2-12 Infantry 1st Platoon "Jackass". Southeastern Baghdad, FOB Falcon
photo: Sgt. Marc Manilla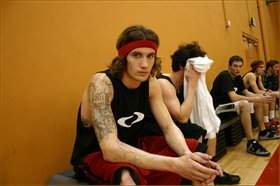 Josh Hansen was ballin' it up at the Oakley celebrity basketball game.
photo: Ping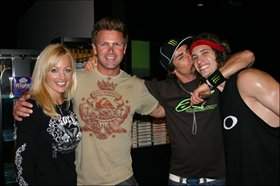 The Louches with John Hopkins and Hansen
photo: Ping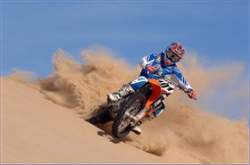 Ping's first time at Glamis
photo: Carl Stone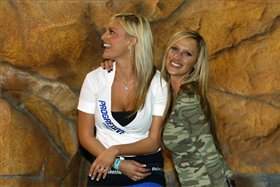 Hi
photo: Steve Bruhn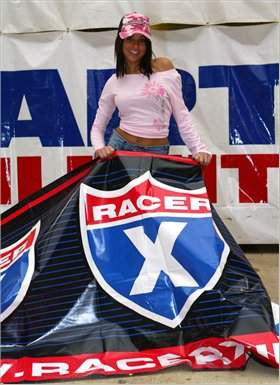 Miss Houston SX 2007
photo: Steve Bruhn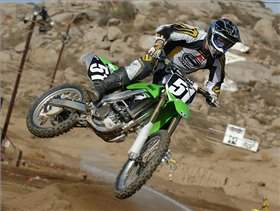 Bad Billy got to put in some laps with Ping at Perris Raceway earlier this week.
photo: Carl Stone