5 Minutes With ... Larry Brooks
Thursday it was San Manuel Mission Tribe/Unbound Energy/ L&M Yamaha team time at Anaheim 3 press day. Larry Brooks, Chad Reed and Nathan Ramsey had a long and interesting media session. Now that the Australian Reed is getting back where he is supposed to be, things are becoming really interesting for him and the series itself. The media had lots of question for Chad and Nathan, while Larry was pretty active as usual, helping coordinate the whole thing along with Live Nation's Denny Hartwig. When the two riders made the usual laps for the cameras on the new course at Angel stadium, we thought it was time to spend five minutes with Larry to check with him how things are going for his new L&M Team.
Racer X: Larry, the new team is a reality of the U.S. scene. In just a few months of hard work you guys are where you wanted to be. How is it going?
Larry Brooks: Yeah, we got everything pretty much finished before the season began; now it's just race time. Actually, now we start working on 2008 with sponsors. Right now our goal is to have all the sponsors done for 2008 by the time the current supercross season is finished. We did a lot of testing, we figured out a lot of things with the motorcycle and both Chad and Nathan are really happy with their bikes. I think Chad is happier than he has been in the last couple of years with his machine and we are pretty proud of that, so then go into the first race (Toronto) and win it was awesome. Then we started on our goal to be on the podium every weekend and obviously Chad got hurt before the first race and we were very scared, but the guy is a warrior, he is a champion. He raced when he shouldn't have raced. I mean, he was broken! I truly wouldn't have believed that he was broken but I saw the X rays, I picked him up out of the dirt, I saw the whole crash. Chad is trying hard, and Nathan is doing a good job during the week and on the weekends—his job is to be the perfect teammate. Chad is doing a good job in chasing the championship. So we are excited. Everything from putting the team together to thinking that we could put a good team together to really make it happen and winning the first race was simply awesome.
Your mission as a team was to put Chad in the position of winning the title. It seems like you guys are right there.
Right now we are doing okay and every weekend you have to makes the changes you need. The model is sort of changing, you could say. But things are working out the way we wanted and we planned. Our dream is truly working out; and it's great for me that it is really going. You also need to be lucky sometimes, but look at the crash Chad had before Anaheim1—that's part of racing and it's something you can't control. At that time I thought my whole life was over! But with everything seeming to work out I am a lucky man right now and happy.
Everyone wants this series to be exciting and counts on Chad for that. What is going to happen from now on, after the great race we saw in San Francisco?
Last weekend Chad didn't win the race but he definitely had the speed to win the race. That's what I saw the last weekend. That was huge that he put some pressure on Bubba and Bubba made a mistake. What we thought was going to happen sort of happened at that race. Part of the plan is to put pressure and to see that that sort of happened the last weekend makes us feel that that part of the plan is true. So we know that that can happen and we'll put that aside and we'll use that on a later date. Right now our goal is to be on the podium, getting the holeshot every weekend and be in the front of the pack and put ourselves in a good position for a good finish at the end of the night. At San Francisco Chad fell down, and it was a stupid mistake. He knows that and then he didn't ride very good until the end. But that was the first time he could try after the injury and he rode above his comfort level. You have to take into consideration that also you have the speed to win the race so for us now the whole racing thing takes on another level. So we're pretty happy, we feel we are in a good situation for the championship and like we talked before the championship is everything right now.
It seems it's going be fun for you guys, but with a lot of pressure.
I love that pressure! When I was racing and I quit, I was missing that type of pressure—the pressure on me to perform. I wasn't a performer anymore, because I did something else. But by being back on that level with Jeremy McGrath, then Langston and Hughes, and now with Chad, it puts you in a position that a lot of people don't like, but I like it, I love this pressure, it's fun to me.
One of the things people notice about you is that you love talking about racing. Being a Team Manager, sometimes you've got to be diplomatic. How do you handle that?
I definitely say too much, but people like being part of it and I like telling people. I am in a great position. I work with great people in the greatest sport in the world. I want to tell people. But I also have to hold myself back. But I sure like to talk about racing and motorcycles. I love it. I have this job because I love it, not because it's a business for me. A lot of managers don't do because they love it, they do it because they get paid for it.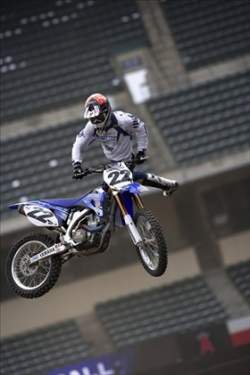 Reed had some fun on press day

How are things going with your partners?
Things are going really good. I feel privileged to have the sponsors that I have. San Manuel, they really stepped up and helped us. Actually, you were in the office the day the deal was secured but I couldn't tell you that day! I told you something just happened. Obviously Unbound, Parts Unlimited and Yamaha are the reason we are here and obviously also my partner Mike Kranyak.
How about the project with the San Manuel people? How are things going, they brought a new content to our sport; they are not here to sell a product like the rest of the entities involved.
Yeah, they are bringing a totally new thing in the sport. They are not here to sell products, rather they are here to deliver a message, to be a good person, to be good to the community. We have lots of things going on with them. We went to a meeting the last week for some charity activity they are doing and the kids were just so excited. Also, Wednesday night we were at San Manuel till 9:00 p.m., we were only supposed to be there for a couple of hours and ended up just hanging out because every time we go there it's like a family reunion. It's a really friendly community. We went out there and we stayed longer than we were supposed and we had discussions about 2008 and so on. They are just so excited. They have never been in an industry that is as mainstream as what supercross is now. They feel that the message is getting across, their name is getting out there, and not just the casino or the businesses they do. The good nature of the San Manuel Band of Mission Indians' message is getting out there. They are selling good will and it's going the way they were hoping.
Last question: can you promise that the championship is not going to be boring?
[Laughs] I truly hope that we can be there every single weekend, I think with Chad being confident like he is now I think things are going go well for him in the championship. We are planning on winning the championship; we are not planning on rolling over and finishing in second place. We've been planning that before the team came together, and the whole goal here is to get Chad Reed win a championship again because he can. And with the little problem that happened before Anaheim 1 when Chad broke a shoulder, I think that only made us stronger because he didn't roll over--he fought till the end and knowing that he did that hard work the whole team is behind him. It's so much easier to work hard when the persons standing next to you are working harder than you. We're here to win.