5 Minutes With ... Davi Millsaps
Sitting on a plastic folding chair beneath the Team Honda awning, Davi Millsaps looked out into the dark, watching the rain, intermittently, streak through the headlight beam of a idling scooter. He was in good spirits, but he was bored. Opening ceremonies for the San Francisco Supercross were 20 minutes off, the bikes were being warmed, and the riders were getting dressed or peddling away on their stationary bicycles. It was all about to start and he wanted to be in on it. But he would have to wait. Still on the mend from breaking his femur during the off-season, Millsaps was at AT&T Park to do publicity work for his benefactor — Team Honda — as well as do scouting work on the riders he would be lining up against come the Atlanta Supercross come Saturday night, February 24. So how is Millsaps, a rider who very well could throw wrench in the gears that is the Carmichael/Stewart/Reed bulldozer, doing? How does he see it all from his view from the stands? We'll let him tell you…
Racer X: Davi, have you been to supercross thus far in 2007?
Davi Millsaps: I didn't go to Vancouver, but I've pretty much been to all of them. I was talking to [Erik] Kehoe and he liked the idea of me being at the races. I think it's good for Honda and good for me to be out here signing stuff and doing stuff with the fans and the PR stuff.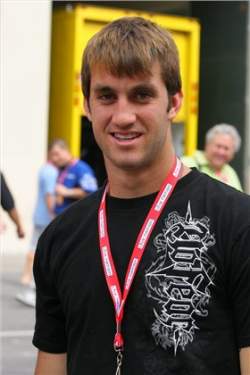 Although he's not racing, Millsaps has still been attending the supercrosses.

photo: Matt Ware

How do you like doing that kind of stuff?
I don't know… It just gets boring, not racing. But I still enjoy being here.
Okay, since you've had the best seat in house in 2007, I'd like to get your take on the season as well as the performance of a few riders…
Okay.
Let's start with James Stewart.
James Stewart… There's only one word you can use when you think James and that's "fast." He's a good rider and he's going to be a tough one to beat. He's really matured over the past couple of years and he keeps getting better and better.
The level he's riding on this season, is it what you expected?
He's ridden at this level since he started. He's just fast and he's a really good rider and it's going to be fun trying to run up there with him.
How has Carmichael looked to you?
RC is a great rider. He's always fast at the track no matter what it is, no matter what the conditions are. You know, he might not be the fastest on the track in practice, but when it comes to the race he shows his real speed and he's a good person to look up to in the sport as far as dedication and hard work. He's put everything into it and it's really good to have someone in the sport like that. I'm happy for him that he's been so successful and I just wish him best from now on.
Do you talk to him much? Are you buddies with him?
No, we had our time one time when we were really close and then something happened between us and whatever. Now, it's cool to be friends with him again. He's a really good and I look up to him and I respect him. I'd love to be good friends with him because he can help me out so much. It's cool to live that close to him and he's such a cool guy.
How about Chad Reed?
Reed's fast, for sure. Right now he's hurt so it's hard to expect a lot out of him. For being hurt he's done pretty good. He's a fast rider and he's going to be a tough competitor this year, next year and for how many years he's in the sport.
How about Kevin Windham?
Hmmm…. I don't know.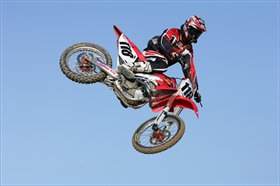 Millsaps is anxious to get on the 450 indoors

photo: Simon Cudby

Does he just need to get his confidence back?
I don't know what it is. He's a really fast rider and he's real smooth and real consistent. But I don't know… I know he has more than what he's been giving in the last couple of rounds. I know he has more than that. He's not using his full potential. He can be great and he can be okay. All I have to say is that he's been a really good rider since he started racing as a pro and stuff like that. There's a beginning and an end to things, and he's getting pretty close to it. Just like Ricky and McGrath and those guys. He's been a good guy to race against. It's been fun.
When you watch these races, are you watching them closely? Are you snake-eyeing what everyone is doing?
Yeah, you have to be. When I come to these races I want to watch them and see what they're doing and how I can learn from that and how I can help myself when I go home. It's good to watch. When I sit there at home and going through the magazines or watching the movies and everything and it's all about those guys and stuff. I just want that to be me one day. I just go home and work hard and hopefully pone day I'll be there.
What have you thought about the Lites class in 2007?
The Lites class is going really fast this year. The East Coast will be good and the West Coast has been really good so far. It's going to be a fun year.
Josh Grant raced you very hard in the East Region last year. What do you think about his season so far?
If Grant can stay up and Grant can ride like Grant did last year, he can win. Right now, I don't know what he's doing, but he needs to focus and start riding like he did last year. He can win, I just don't know hat he's doing.
You'll be back in action at Atlanta…
Yes, that's the plan.
What will your goals be?
My first race back, I'm hoping for a top five. I just want to get me feet wet. After that, I just want to go up and go up and go up. I'm looking forward to the outdoor series and looking forward to running up at the front again. It's going to be a good year. You know, I'm going to set my sites on my goals and whatever happens, happens. I think I can ride right there with those guys, for sure. It's not going to be easy and I'm not going to pull away. The only thing I don't want them to pull away from me. That's my goal. If I can get up there and run 20 laps with those guys, I'll be happy. I'm just looking forward to having a chance at running up at the front.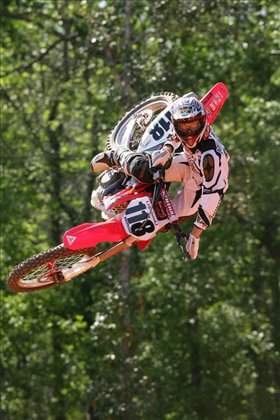 Davi is planning to race the Atlanta SX

photo: Simon Cudby

How have things been with Honda?
They were really happy with my results in the 450 class in the outdoors last year. I couldn't ask for a better team and I couldn't ask for better people behind me. I couldn't have done this without the people who have been behind me my whole life. If it wasn't for them I wouldn't be on Team Honda and if it wasn't for them, I wouldn't be where I am now.
Do you want to mention a few of those people?
My mom. My mechanic Carlos and his wife. All my sponsors: Alpinestars, No Fear, Oakley. All these guys have been behind me since I was a little kid, you know? It's nice to have people behind me 100% and knowing that they're always going to be there for me.
So how eager are you to get back? Is Atlanta going to be like Christmas day for you?
Yeah. Yeah, it will be. It pretty much sucks to come here and not race, but it's kind of nice, too, because you can see what they have and just get ready for it.