Things To Do In...Anaheim
Well, the Anaheim Supercross season is almost over. We've offered two different sets of things to do in Anaheim, so make sure you review those for some of the general surroundings. Here's Anaheim 1 and the link for Anaheim 2's list. What we have this time are a few moto-related get-togethers.
Team Yamaha Autograph Signing
www.sjcyamaha.com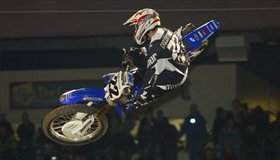 Meet Chad Reed tonight at San Juan Capistrano Yamaha
photo: Steve Bruhn
This Friday night from 6:00-7:00 p.m. Team Yamaha will be signing autographs at San Juan Capistrano Yamaha. Come and meet
Chad Reed
,
Grant Langston
,
Josh Hill
,
Jason Lawrence
,
Kyle Cunningham
and more. Directions
here
.


Red Bull Afterparty
www.jtschmids.com
Red Bull will be hosting a post-Anaheim after party at JT Schmid's Brewery, which is a five-minute walk from Angels Stadium. The party will go from 10 p.m. to 2 a.m. Metal Skool, a top '80's cover band, will be playing. The Red Bull party is open to the public! Here are some directions!

Racer X Supercross Viewing Party
Pole Position Raceway and Racer X Illustrated will be hosting a public supercross viewing party on Sunday, February 4, immediately after that big football game. In addition to non-stop kart racing all day long, there will be special appearances by top riders, some races around the track backwards & more. Think you know motocross trivia? Good! Pole Position Raceway will be asking trivia questions all day long and giving away prizes. Everyone is invited and it will give you an opportunity to check out the cool memorabilia in their collection. Pole Position Raceway has such treasures as Jeremy McGrath's 2004 Honda CR250, Mike Metzger's KX250 used to jump the Caesar's Palace fountains, Jeff Emig's '97 works Kawasaki SR250, Rick Johnson's works '84 Yamaha YZ250, James Stewart's '04 works Kawasaki KX125 and more on display. Pole Position Raceway is located at 1594 E. Bentley Dr., Corona, CA 92883. For more information call 951/817-5032 or visit www.racep2r.com.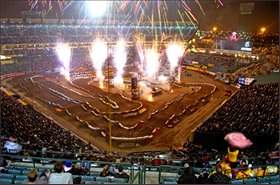 Say goodbye to Anaheim
photo: Steve Bruhn