Privateer Profile: Jason Thomas
The past week is one that Butler Brothers MX's Jason Thomas would probably rather forget. Approximately one week ago, he received a call from the AMA's Steve Whitelock, who notified him that he was disqualified for using illegal fuel at Anaheim 2. And then at San Francisco he failed to qualify after colliding with David Vuillemin. JT$ is one of the hardest-working privateers on the circuit, so we decided to call and see if he wanted to vent. You can show your support for JT by clicking on the links at the bottom of the page.
Racer X: Jason, it's been quite a week for you. Not only are you still feeling the effects of a gas penalty last week, but you've also been in a pretty heated online battle on the message boards this week. So first things first: what was your initial thought when you got that call from Steve Whitelock last week?
Jason Thomas: Initial thought was just disbelief. I knew we were running Pro 4, which there are a lot of different fuels that push the limit much more than we were. Pro 4 is kind of the standard gas that everybody in the series is buying. I really didn't understand how this could happen. I just was wanted to get to the bottom of how it could be out of spec. I didn't know if the test had failed or what had happened. I was just stunned.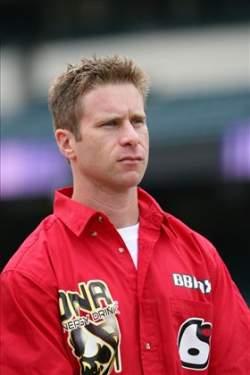 JT$ is looking forward to this weekend

Were Nick Wey and Josh Hill running the same fuel as you?
No, they were not. My fuel was different altogether and had a different problem. My specific gravity was too high, and we're working with VP right now to try and get to the bottom of it. VP fuels has been very helpful in trying to sort this stuff out.
Do you know what was wrong with Wey and Hill's fuel?
I was told that their oxygen was too high. I'm pretty sure that they were both running the same gas and they both had the same problem with oxygen. The rumored numbers I heard seemed a little bit too high to be accurate, but you never know.
So what steps did you and your team take? Were you able to appeal?
We'd like to. That was our first thought, but according to the AMA rulebook we're not afforded an appeal. Basically, the only option we had was to have them retest the third sample. I guess they take three samples, but when we asked them about that, they couldn't even guarantee us that if the third sample passed that we would be reinstated. So we didn't want to spend the money if they couldn't guarantee they could reinstate us.
How much money would you have to put up for that?
I think it's maybe $500 or something. It's not a huge deal, but without them giving us a guarantee, it's kind of a waste of time.
I was looking at the results and they have you at the bottom of the list. What place did you get at Anaheim 2?
I finished 16th, which I wasn't real excited about, but five points is five points, and there is a lot of money that goes a long with making a main event that I'm losing out on. So it was just a bad deal for me all around.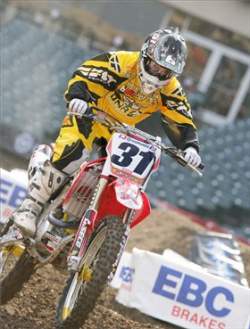 Hailing from Florida, Thomas is looking forward to when the series goes east.

What kind of fuel are you using now?
We ran Pro 4 again this weekend, but we just tested it on Saturday morning at San Francisco to make sure the specific gravity was right and everything was good. We tested it at the AMA truck before the races started.
Moving on, a good finish last weekend in San Fran would've probably helped to soothe the sting of the penalty, but unfortunately, you and David Vuillemin got together in the LCQ and you didn't make the main event.
Yeah, that was a bummer. I was seventh fastest in practice, and I was only like a tenth off of fourth place in practice, which I was really happy with. I felt really good, and I knew I could have a good night. I crashed in the first turn of my heat race, so that put me in the LCQ, unfortunately. I've been in the LCQ the last few weeks, and I didn't want to be there again. I got a good start and was just trying to put consistent laps in and not make mistakes. But Vuillemin put in an amazing last lap. I looked at the lap times and it was really fast. He got on my rear wheel and I didn't even know he was there. He kind of caught me by surprise, and I went into the last corner and was just trying to take my normal line, and when I left off I heard him still on the gas, so I knew he was coming in. At that point I had no other move but to try and ride up in the turn and stay around the outside to where he couldn't get to me. Unfortunately, he already committed to making contact. I don't think he really wanted to knock me down, but at that point it was desperation and he was out of options. It was either run into me and make the move, regardless if we both went down or whatever.
The result of that move was he made the main event, you didn't. But your argument online was that he didn't have to make a move like that because he could've gotten in the main event regardless because he had a provisional start, since he's top-ten in the points.
Yeah, he was in the top ten in World points, and he said he didn't know he was in, and that's probably true. It just kind of sucked that he didn't know the rule. That's pretty important going into the LCQ, so that was just a bad deal. If he knew he was in with a provisional, I don't think he would've made a move like that. I think it was kind of out of character for him. That's not to say he should've laid up and used his provisional, but at the same time, when you're coming down the straightaway and you know that the only way you're getting in is to go in and put it on the line, I just don't know that it was worth it.
That battle on Mototalk just seemed like it spiraled out of control.
Yeah, I was mad and I made a mistake and got involved. It's tough online like that to make your case, because people can just post and run. I would like to sit down and talk face-to-face with some of those guys, because honestly, I don't think they understand what went on exactly. At the same time, DV has a lot of fans on there. He's a regular on that site and I don't blame them for backing him up.
You have a lot of fans on there too, and I'm a Mototalker too, and I think it's really cool how you guys go on there and interact with the fans.
I don't mind going on there. Just a situation like that when I was angry, I shouldn't have got involved because people are going to feed off of that. They knew I was mad and it seemed people just said stuff to make me angrier.

Switching gears, what are your thoughts on the new qualifying format for the Supercross class this year?
I like it. I've had a couple bad runs in heat races and been stuck in the LCQ more than I'd like, but overall, I'm a fan of it. The timed practice is good. It makes the day a lot less stressful for everyone. We get more practice time too. I'm all for it and I was happy about the changes.
You definitely want to put this past week behind you, so what are you looking to do this weekend?
I'm just looking for redemption, more or less. Anaheim isn't one of my favorite tracks. Coming from the East Coast, it's a little tough for me with the hard-pack, but I've been there enough times that I know how to deal with it. I just want to get in the main event without any problems and just have a smooth race. I haven't had a race without drama for a few weekends, so I just want to get out of California with a good finish. I know my speed is there, so it's just a matter of time till it all comes together.
Finally, you have anyone you want to thank?
Yeah, I definitely want to thank DNA Energy Drink, BTOSports.com, Butler Brothers MX, Fly Racing, American Honda, Michelin and the rest of the sponsors.
I've never had a DNA Energy Drink. Is that stuff any good?
Yeah, it's just regional right now. They're based in Florida, but they're going national sometime this year and we're doing everything to push it. It tastes really good.
Jason Thomas' sponsors:

www.seminoletribemotocross.com
ASMF
Alpina
Up Front Mx
Frese
Mx ID Systems