Years from now, the 37,000-something fans who attended the 2007 San Francisco Supercross will grow tenfold. People who weren't anywhere near the race will say they were, just to be part of an incredible night that may be remembered as the last big win for a certain dirt bike rider from Tallahassee, Florida.
To say the 450 main on Saturday night was wild would be an understatement. After last week's yawner at the Big A, where
James Stewart
decimated the field from practice to qualifying to the podium, there was some hope that
Ricky Carmichael
's return would add a little pizzazz back to the tour. And when rain wiped out much of practice and made the track choppy and inconsistent—in other words, motocross—there was an air that maybe something special was about to happen.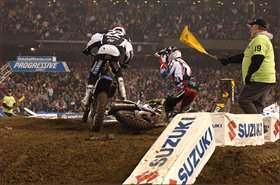 Stewart went over the bars while leading, and almost took out Chad Reed.
Well, it happened all right! In a mistake-filled three-way fight that included a revitalized
Chad Reed
, the San Francisco faithful were treated to an instant classic. On a somewhat gloomy night, they were graced with a month's worth of lead changes and lappers, cartwheels and crashes, and all three of the superstars were given good chances at the win, only to fall or fly off the nasty track.
Stewart got the worst of it when he hit neutral and cartwheeled right in front of Reed, who then literally blasted himself off the track right in front of Carmichael (who himself took a rather frightening trip over the side of the Tuff Blox at the finish line that could have turned out like Stewart's infamousToronto excursion).
How exciting was it? I was watching the race in a seat right in front of Jeremy McGrath and Ryan Hughes, both of whom were cheering and screaming just like any other kid at AT&T Field. Once a motocross fan, always a motocross fan!
And when Ricky crossed the finish line to take the win and end any more talk of a perfect season for #7, it was a special moment for everyone there. With RC about to take even more time off—he won't race again until Atlanta in a month—this very well may have marked his last AMA Supercross win. After a long and well-deserved victory lap, he admitted, through that big smile we're all going to miss, that the other two guys gave it to him, but he was taking it all the same.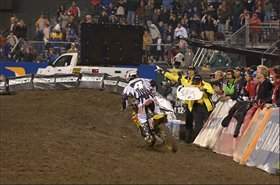 Was this the last SX victory for RC and Goose?
It's hard to put a stamp on just what this means. Has a title contender ever willingly sat out a weekend of championship racing at the highest level of sport, then returned to win in a cameo appearance? I honestly can't think of any comparison here, unless maybe "King" Kenny Roberts pulled it off back in his late glory days, or Nicky Hayden at the Peoria TT.
So
Ricky Carmichael
continues to do the impossible—who would ever bet against him? Well, other than the guys in the box where I watched. Thanks again for the cash, men!