5 Minutes With ... Paul Carpenter
Last weekend we saw a few nice surprises in the Supercross class, one being MDK Motorsports' Nick Wey hitting the podium, the other seeing Cernic's Kawasaki's Paul Carpenter break into the top ten. In fact, his seventh-place finish in the Supercross main event last weekend was the highest of his 450-class career. We talked to Paul today just after he finished putting in some laps at the practice track.
Racer X: Paul, you had to use your two provisional starts at the first two rounds of the Amp'd Mobile AMA supercross series this year. That probably wasn't your ideal start to the new season, is it?
Paul Carpenter: No, definitely not. That's what happened, and that's that. I had a few problems, but I think everything is behind me now.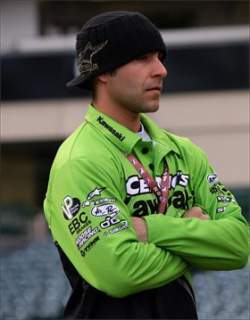 After using both of his provisional starts to get into the main events at Anaheim 1 and Phoenix, Paul Carpenter finished seventh at Anaheim 2.

At Anaheim 1 you were leading the LCQ, and then you just slid out and couldn't get the bike restarted. What happened there?
I didn't really know the track that well. I missed a good part of practice, and I just cut the turn too close and I spun a little bit and my front tire caught the bale. And of course four-strokes are always kind of hard to start, and I was trying to start it in gear. It was just a bad deal.
Did you have it in the back of your mind that you had the provisional start to use?
Absolutely. If you said you didn't, it would be a lie. I definitely knew about it even before I went into the LCQ. I was just trying to get my speed ready for the main event, but unfortunately, I crashed out.
Enough of the bad news, let's talk about this past weekend at Anaheim 2, where you scored a seventh-place. You looked like a totally different rider out there.
Yeah, I just rode like I always do. My main goal is to just make it into the main, and after I do that I just want to ride. I've been riding very well this year, I just need to put myself in a position to be able to ride the full 20 laps.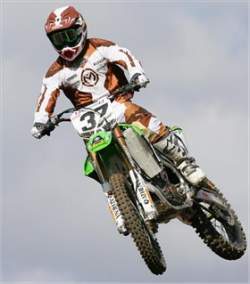 Carpenter is a former Factory Kawasaki and Pro Circuit Kawasaki team rider

Let's talk about your new team this year. The Cernic's Kawasaki squad seems like a solid team, especially with Billy Whitley at the forefront as team manager.
It's one of the best programs I've been at. Between having Derek Sorenson, my mechanic, Chris Road, and Billy Whitley, it's such a tight group of guys and everyone works really hard. They really work a lot harder than I would expect them to. That makes me want to work harder. It's cool because it's fun, but it's serious, and we don't have pressure of a corporation. We just put pressure on ourselves.
That says a lot about the team, because you're a former member of Team Kawasaki, as well as Pro Circuit Kawasaki.
Yeah, I've experienced pressure in the past. Maybe not the pressure of winning a championship, but I definitely know what it's like to be expected to perform on a day-to-day basis.
You're teamed up with Jeff Gibson, and you guys sometimes seem inseparable on the track. You guys are almost running identical lap times at times. Do you guys ride with each during the week a lot?
Yes, we've been working together a lot this year. Jeff has been awesome. I've known him my whole life and we've always been good friends. We've been riding every day in California. We practice alike and do a lot of the same kind of training. And when we're at the races, we just seem to find each other on the track. It's weird!
It has to make the race weekend experience a lot better when you're teamed up with a friend like that.
Oh, for sure. We joke around a lot, and we always have a good time. Jeff is just a good dude. Racing isn't everything for him. He keeps you relaxed, and he reminds me that racing isn't everything—just to go out and have fun.
We mentioned that you're a former factory Kawasaki rider, as well as a former Pro Circuit rider. Do you think you can someday be back in the factory rig?
That's definitely the goal. I definitely don't think that I'm the best 250F rider out there, and looking back, I think I made some bad decisions that kept me in the 250F class for too long. For some reason, some people do better on the 450, some do better on the 250F. My whole life, I've never been a good 250F rider, so I think that's the goal. Every rider's goal is to be a factory 450 rider, so I'm taking it day-to-day and week-to-week.
So you didn't point out of the Lites class, so to speak. You chose to move up.
Yeah, I did. I just wasn't into the Lites class. It would've took a lot of money to eve make me excited about riding that class. I'm just not into it.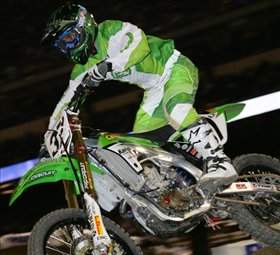 Carpenter is a good pick for your fantasy supercross league

Looking ahead to the rest of the supercross series, what are you hoping to accomplish?
First and foremost, I've just got to be realistic. I think my speed is top-ten, and I'm capable of finishing there. I just want to put in a solid ride every weekend, whether it's twelfth of fifth. I'm not too worried about my results right now. I just want my riding to come together.
Were you surprised at that seventh-place last weekend?
Not really. It didn't even faze me. I was happy, but I'm doing the same thing this week as I did last week, so hopefully I'll stay up there.
You want to thank anyone, Paul?
I want to thank everyone at Cernic's Kawasaki and all of our sponsors for everything. I also really want to thank Billy [Whitley] for giving me this shot on the 450. And I want to thank Jeff Cernic for stepping up to sponsor our team. I'm not sure what transpired there, but out team went from Richmond Racing, when I signed, to Cernic's. So I want to thank them for stepping up.