5 Minutes With ... Andrew Short
Team Honda's Andrew Short is supposed to be enjoying his rookie season on a factory 450. Instead, he's watching from the stands as he rehabs his knee from an ACL reconstruction. Still, Shorty has a plan and he still has a smile on his face. I caught up with him at the Loma Linda Children's Hospital for the Big Air Kids Fair.
Racer X: Shorty, how's the knee healing up?
Andrew Short: Good. On the 20th of this month it will be four months since the surgery. My knee feels really strong at this point; it's just a matter of letting the graft heal in the knee. So, things are good and I'm looking forward to riding soon.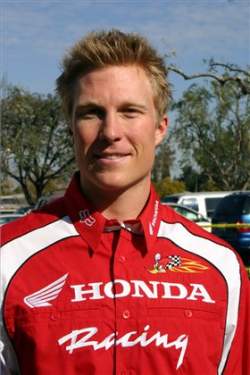 Andrew Short hopes to be back on the racetrack in March

photo: David Pingree

You hurt it at Steel City last summer. What exactly happened?
In the first moto I went off a jump that leads into a corner and I lost my balance. When I landed I stuck my foot out and it landed in some soft dirt; it was really sticky and rutted that day. My foot stuck in the dirt and I heard my knee pop. It wasn't anything cool or dramatic so that was kind of lame. I just pulled in and got it checked out.
I heard that you went to Dr. Steadman, the U.S. Ski Team doctor, to get it fixed.
Yeah, I went back to Colorado, the best state in the world [laughs], and met with him in Vail. His entire facility is focused around knees and ACL injuries in particular. Ernie and Preston both had him work on their knees and they had a lot of success with his protocol. So, I felt comfortable going there.
There are lots of rumors going around that you or Davi Millsaps are going to be dropping down to the Lites class for the east series since you weren't ready for the opener on a 450. Any truth to that?
No, I would love the opportunity to win a championship in the Lites class but it doesn't look like it's going to happen. That was definitely a goal of mine but I just didn't achieve it. I made the decision, along with Honda, to move up to the 450 for this season and we are sticking with that plan. To drop down and race that class you have to be prepared and we aren't. In fact, I won't even be ready to race by the time that series starts. It just wouldn't happen in time.
When will you come back?
The end of March. I don't have a particular race but sometime at the end of March. I'm really looking forward to it but I want to make sure I'm ready. I don't want to wait for the nationals either because I want to be ready to go for that series and I want to get the first-race jitters out of the way at a supercross that doesn't mean anything to me. Plus, that way, I can get a few races under my belt for the supercross series next year.
So, you haven't even been able to ride one of the factory 450s yet, have you?
Nope. I've spent a lot of time on a stock one but that is a lot different. I don't even have a bike in my garage because I know I couldn't handle it. I'd end up riding around my neighborhood on it. But, it's good motivation for me to get healthy.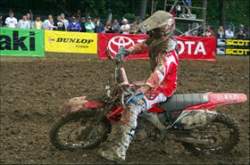 Short tore his knee up soon after this photo was taken at Steel City in 2006

photo: Steve Bruhn

After watching the first couple rounds, where do you think you'd fit in the mix?
I have goals of where I want to be. Last year, Langston and I were pretty close in speed. I like to think I could be right there and get on the podium. Anything more than that is a little unrealistic at this point. I just want to get out there and see what I can do.
What have you been doing to kill time?
I've been going to therapy three times a week and riding a bicycle more than I usually do. I'm trying to build some strength right now since I'm moving to a bigger bike. I've been in the gym quite a bit.
Do you have huge pectorals right now? How much are you benching?
That's top secret. I don't want to embarrass myself.
Well, good luck with all that and get back out there soon.
Thanks Ping.