Things To Do In...Anaheim 2
The Amp'd Mobile Supercross Series returns to Anaheim's Angel Stadium for the second time in three weeks. We've already explained a few things to check out when you were in town for Anaheim 1, but here are a few more "Things To Do In Anaheim" with a nod from local girl Sharon Richards.
Anaheim SX After Party (and Donnie "Lil D" Emler's Birthday Bash)
SharkClub
841 Baker St.
Costa Mesa, CA 92626
714-751-6428
www.upscaleaccess.com
We start at the end this time: The Orange County crowd goes big on these post-race bashes, and with Li'l D celebrating his birthday, well, you don't want to miss it! We heard the Pussycat Dolls will be there…. Just kidding.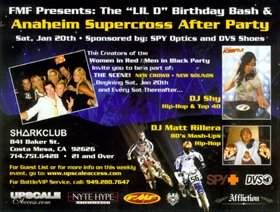 Party!

Discovery Science Children's Museum
2500 N. Main Street
Santa Ana 714-542-2523
DC took Vance to this place last week and the kid loved it—he even made him go look for dinosaur bones in the desert on the way out of Phoenix! This museum is three miles from the stadium, the cost is $13 for adults and $10 for kids, and the smile on their faces will be well worth it.

Also, there's the Bowers Museum, right down the road another half mile (2002 N. Main Street) and it's got mummies and some California history. ($17 for adults/kids under 5 are free) Call 714-567-3600

Shopping
We told you about The Block last time, which is outdoors and fun to visit. But at Anaheim 1 we sent visiting British Grand Prix vets Rob Andrews and Paul Malin to South Coast Plaza, which is a massive mall with every store imaginable. They loved it! It's 11 miles from the stadium, on the 55 South (or west) towards Newport Beach.

If it's higher-end shopping—and you still want to be outdoors—Fashion Island is further west than that, at 17 miles from the stadium. It's got all kinds of great places to eat and hang out, and it's got a beautiful view of Newport Beach and the ocean.
Old Towne Orange
"If you take Chapman Avenue to the east you will enter Old Towne Orange and be transported into yester-year," says Sharon Richards. "Our beautiful downtown area is full of shopping and restaurants. The Plaza (traffic roundabout) is one of very few in So Cal. The Plaza area may look familiar – we've had several movies and commercials filmed here: Gumball Rally, That Thing You Do, Surviving Christmas, and American Wedding to name a few. Shopping? It's antiques galore! You can find everything from hardware to furniture to records to you-name-it! No name brand stores here – all one-of-a-kind shops. We also have stores that sell items from this century, like shoe store, kid's clothing, women's clothing, and a wine & cheese store.
Restaurants
"In a relatively small area, we have quite a few restaurants," says Sharon. You can find a listing for all of these in the phone book:
Felix's Café (Cuban)
Byblos Café (Greek)
The District Lounge (Great neighborhood bar/BBQ restaurant)
Cask & Cleaver (Steakhouse)
Citrus City Grille (California cuisine and a great bar)
Tokyo Café (Sushi - no alcohol)
Filling Station (Old gas station-turned-restaurant)
Zito's Pizza (Italian)
Rocky Mountain Chocolate Factory
Gabby's Mexican Restaurant
Blue Frog Café (sandwiches & desserts)
PJ's Abbey (Old Baptist church-turned-restaurant
Aldo's Italian Restaurant
"And I would be remiss if I did not mention, O'Hara's, a small neighborhood bar – a little slice of Americana!"