Monday Conversation: James Stewart
James Stewart had one of those challenging race weekends at Phoenix that tests a rider's readiness to fight out a whole championship, and he made the best of it and won it. Stewart struggled with bike setup on a fast track, so his settings from the previous week were not working. Interestingly enough, RC had the same issues. In fact, both riders said this race was about bike setup and lines.
Stewart won a full-on battle with RC, and neither of them fell this time. He was caught off-guard on the second start (after the first was red-flagged due to Vuillemin's crash), then had to get aggressive to get to where RC was, and the two went at it for several laps. Stewart watched RC's lines and planned out his response. All went well until the last lap, when he happened to run across Ivan Tedesco, who went straight and ran into Stewart just after they jumped a triple. The two stopped right after the finish and had a quick talk and shook hands.
Racer X: James, two in a row. How does that feel?
James Stewart: It feels good. It feels good knowing I struggled all day long, leading into the main event. It seems like I found the focus that I needed to, to get the job done. I'm super happy on what I accomplished tonight.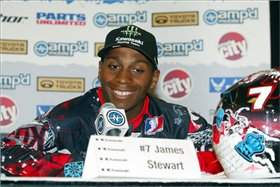 James is very happy with two wins in a row

On that last main-event start, you said in the press conference you got left on the gate?
The second time … like I said, I only get two good starts a night! The third one, I just didn't have it. I was really late off the gate. I could see pipes—I was that late. I found a way to squeeze it on the inside. I think I passed like four people going down the inside of the whoops. That put me into second and the race was on then.
Did you need to plan out where to make your moves in that battle with RC?
There's definitely a lot of planning going on, especially when you're the guy doing the following. I could see some of the lines he was good. I could see some of the lines I was a little bit better at. I had a pass over the finish line, but I didn't want to go. It was too early to go pass. I wanted to see a few more lines to see if he was going to change it up. The lap I said I wanted to get him, I got him. I could tell he was going down the far outside, and he was just leaving too much room on the inside and I got it.
What happened with Ivan at the end? Did he get in your way? Was that some kind of payback for Toronto thing?
What happened is, I passed him in that rhythm section and I jumped the triple and turned and he just straight went into me. I'm not really sweating about it because I know what I got done tonight. I don't have any grudge against anyone. He said it was an accident and I'll just leave it at that. He hit me pretty hard for it to be just an incident.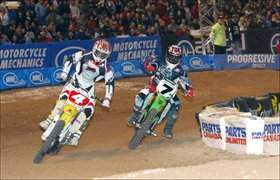 RC put up a fight, but Stewart had him covered.

Did you have words at the finish or was that about, "Okay, it's over?"
It's funny, because I'm sure he would expect me to go up and yell at him. The first thing I did, I told him, "Hey, man, you know I didn't do that [in Toronto] on purpose. It's all right, just let it go." I shook his hand and he said he was sorry and we just rode off. Like I said, I feel it was a little bit more than what it was.
In the press conference, you and RC both mentioned lines and bike setup. What is it about this track that makes line selection so important?
The track is so fast, especially tonight. Last weekend you could see I had the right setup for that track. It was perfect. We came to this track and it was super fast, like an outdoor track. We didn't really get it done and were changing a lot of things. It was my fault too because I didn't want to change a lot. We'll go back and work hard. I have faith in everyone at Kawasaki that we can get the job done, and we will.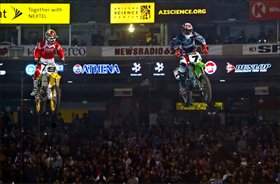 Stewart and Tedesco had a small run-in on the final lap of the main event

Has it sunk in that RC is not racing Anaheim 2?
No, I think it will sink in when we go out for practice and he's not out there. I prepare the same every week, and I will this week. The guy I have to worry about now is Chad. We all know what happens when he gets good. He'll be good and keep me motivated, for sure.
Did you spend the last week in California or Florida?
I went to California. We tested a little bit. We're going to go back to California this week and testing a little more. We have to have some options. Every weekend, you don't know what you're going to get. If we get prepared for all angles, we'll be fine.