Things To Do In...Phoenix
This weekend the Amp'd Mobile World SXGP series takes us to the sunny Phoenix, AZ, which is known in the Navajo language at Hoozdo, meaning "the place is hot." If you're attending this weekend's event and are looking for a few off-the-track things to do, check out the following list of area attractions. (Again, if you have any input or suggestions for your race town, please drop us a line at letters@racerxill.com)
Copper Square
www.coppersquare.com
If you want a place to shop, eat or just hang out before the race, Copper Square is pretty much the place to be. From 3rd Avenue to 7th Street, Fillmore to South Jackson, the place has street fairs, fine dining, cool boutiques and much more. It's also right next to the stadium!
University of Phoenix Stadium
www.azcardinalsstadium.com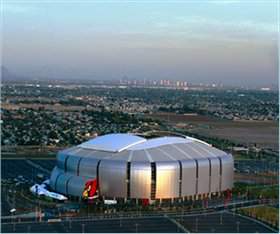 The University of Phoenix Stadium
It's been a busy few weeks for the employees of the new University of Phoenix Stadium, as they have played host to two of the nation's biggest college football games this month. On January 1 they hosted the Tostitos Fiesta Bowl, which saw the Boise State Broncos knockoff the Oklahoma Sooners in one of the most amazing games ever. They then hosted the Tostitos BCS National Championship game, where the Buckeyes of Ohio State got throttled by the Florida Gators. This weekend the stadium is hosting the World of Wheels Autorama, which features hundreds of custom cars and hotrods. You can also take a tour of the stadium, as it is unlike any other in the world with its marvel of design, engineering and technology.
Hiking and biking on Camelback or South Mountain gives you the most pristine views of the city, and at the right spot on South Mountain you get a 360-degree perspective.
Heard Museum of Native Cultures and Art
2301 N Central Ave.
Phoenix, AZ 85004
602-252-8848
www.heard.org

From their website: "The well-regarded Heard Museum specializes in Native American cultural exhibits. It also features works by contemporary Southwestern artists, craft demonstrations, amphitheater performances, a café, and a gift shop. Paintings, drawings, and sculpture figure into the collection, along with domestic objects, textiles, pottery, dolls, and jewelry. Temporary themed exhibitions add to the place's intrigue. One of three branches in the Valley of the Sun." Also check out the Phoenix Science Center: www.azscience.org.
Merc Bar
2501 E Camelback Rd
Camelback Esplanade
Phoenix, AZ 85016
602-508-9449
www.mercbar.com
Per their website: "Boxy leather furniture and wooden accent walls set the scene at this moody bar for Phoenix's beautiful people. Unmistakably chic, it's a place to see and be seen, whether you're a celebrity or an upscale professional. (Have your self-esteem in place if you plan to attend.) The exterior isn't marked, so you may have to scout out the location. Once inside, though, you can sample one of their famous martinis and take in the sophisticated ambiance, all with the benefit of no cover charge."
Desert Botanical Garden
1201 N. Galvin Parkway
Phoenix, AZ 85008
480-941-1225
www.dbg.org
Per their website: "The Desert Botanical Garden has one of the world's finest collections of desert plants. It is one of only 44 botanical gardens accredited by the American Association of Museums. At the Desert Botanical Garden you will find 50 acres of beautiful outdoor exhibits. Home to 139 rare, threatened and endangered plant species from around the world, there is no finer place to enjoy desert beauty than the Desert Botanical Garden. The Garden is located in Papago Park in Central Phoenix."
Fun Time Rentals
www.azfuntimerentals.com
Want to rent a bike for the day and head out to the desert, or maybe just cruise the streets? Fun Time Rentals has Harleys and Hondas for the road, plus Honda dirt bikes and quadcycles (which Pingree will probably be all over come Sunday morning).
Rawhide Western Town and Steakhouse
5700 West North Loop Road
Chandler, AZ 85226
480-502-5600
Per their website: "Rawhide has got to be the best place to take kids from back east that want to be cowboys and cowgirls. At Rawhide you can experience gunfights, stunt shows, stagecoach rides, desert train rides, enjoy the petting ranch, bull riding, gold panning, camel rides, see a working blacksmith, shop in western shops, play games, and go horseback riding."
If you are a golfer, there are some of the best courses in the world here. Difficulty levels range from easy to TPC tour courses. But if you're that good at golf, you already know this!
Team Monster Energy Kawasaki Autograph Signing
Friday night you can head over to Action Motorsports in Anthem, AZ, where Factory Kawasaki and Monster Energy/Pro Circuit Kawasaki will be signing autographs. Check out www.actionmotorsportsaz.com for more information.