5 Minutes With ... Billy Mackenzie
Flamboyant Scottish rider Billy Mackenzie, along with his 2006 MX2 rivals Marc de Reuver and David Philippaerts, is quite possibly the future of the sport. He's fast, he's funny, and he knows how to work the press. With two Japanese Grand Prix victories to his credit, Mackenzie also knows how to win. The 2007 season gives Billy Mac the green light to take his career to the next level, as he's moved from the Dixon Yamaha team to a full factory ride with the Jan de Groot Kawasaki team, and he is about to venture into what is without question the most important year of his racing career. We caught up with Billy in his Scottish castle and asked him about his '07 challenge to the World MX1 Championship.
Racer X: Where do you want to finish in 2007?
Billy Mackenzie: I want to be top-six at the end of the year. I want to win some races, and I want to be on the podium when I can. So if doing that amounts to better things, then I'll be really happy.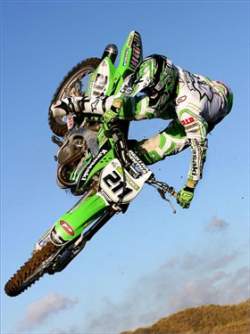 Billy Mack looks comfortable on his new Kawasaki

The Everts era is over; do you feel excited to be part of the new era in MX1?
I haven't really thought about it. I suppose the guys who were in MX1 this year are obviously more excited because it gives them new motivation, but my motivation is just to finally be on a big bike and have fun riding and trying to accomplish my goals. I love the 450, and I've had some very good races on a stock 450 Yamaha, so being on a factory Kawasaki is very exciting. It feels like there's not as much pressure, because I know the bike is amazing, and I'm confident in my ability to ride, so with the two of them together, I feel next year is going be a big year for me.
Have you ridden the new Kawasaki yet. and what is it like?
Yeah, I have been to Japan and Germany already testing the race bike, and it is unbelievable. I have a stock bike at home to abuse also, and even that is awesome. It is such a relief to get on a 450 at last. I loved riding the small bike, but now that I'm on the big one, I wonder why I didn't change sooner! It's also nice just to look different for once. I like looking back through photos of me on the Kawasaki, and sometimes I stop and think, Wow, is that really me?
How important is the '07 season for your career, and why?
It is hugely important. I have to accept the fact that I couldn't win an MX2 title, but I am happy that I managed to at least win a couple GPs and a few races. Some people have never done that. But now my goal is to work towards a title in MX1, and being a big lad, I think I can work at it more clinically than the MX2. In MX2 I really had to push the bike hard sometimes, therefore sometimes making mistakes along the way. Now I have some new power beneath my legs, and I can work more on my technique. Next year is a big step also, because I can either make the step to being known as an actual title contender rather than just a guy who can win races. And then financially I am in a position to set myself up for the future.
If you could take one track and win on it, which one would it be and why?
Just a track? It would probably be the Isle of Wight, if there was another GP there. I have such an amazing memory of that, and the track is the best in the world for me. If the nations were there and I won, that would be awesome. I want to stand on that hill again with five times as many people there.
Is Josh Coppins the favorite to win the MX1 title in '07 in your eyes?
I guess on paper he is. He has been the most consistent rider the last few years behind Stefan, but I think he is going to get a shock at some of the MX2 boys coming up. That class is hungry, and for us wolves that haven't had a title there, we are going to want it in MX1. Me, Phillipaerts, and de Reuver will turn some heads. I raced hard with Josh at the MXdN, as with Phillipaerts, so I think it's more wide open than people think.
Do you have any regrets at this time of your career?
Hmm, this is a hard one. No, I don't think so. The only thing I can think of is moving back to MX2, but I don't regret it for a minute. If I had stayed in MX1, I think I would definitely be better off financially but nowhere near as happy. I needed to prove to myself I was fast enough in MX2, and I did that, so I guess not. No regrets.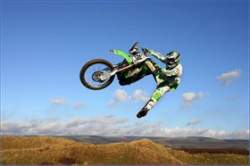 Mackenzie is joining David Phillipaerts and Marc de Reuver in MX1 for 2007

What is your plan for the preseason?
Too much to even list! I'll be in Belgium next week for two weeks of training, then off to Mantova and staying to weeks there between that and Valence. And then there's not much time until the start of the championship, so just a lot of training and testing. I will do all the internationals.
What made you leave Yamaha?
Factory bikes, more money, and the chance to look different. And I like green!
Which GP stands out for you, as far as where you can make your mark in '07?
Hopefully all of them, but if I was to pick some races I feel I can win, then obviously they would be Bellpuig, Japan, and maybe places like Agueda and South Africa. But I want to be up there at every round in the top five or six.