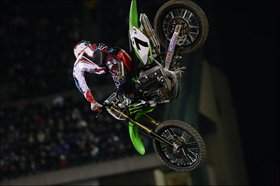 Stewart sailed through A1
photo: Simon Cudby
There has never, ever, been any doubt of
James Stewart
's speed. From when he started winning at Loretta's on PW50s all the way to Anaheim 1—the first race after his 21st birthday—it's been clear that whatever starting gate James lines up on, he will be the fastest rider on it. Through experience, hard work and will,
Ricky Carmichael
has been able to neutralize Stewart's incredible talent enough to beat him for four AMA championships the last two years. But with RC stepping out, the chase is on for someone else to step up and do something no one but the GOAT has ever been able to do consistently: beat
Bubba
.
The bad thing was, many who were positioning themselves to do it didn't even make it through Anaheim in one piece.
Ivan Tedesco
was only deemed able to ride two days before the race. Honda lost
Davi Millsaps
, and
Andrew Short
didn't compete due to injuries.
Grant Langston
crashed out of his return to the 450 class and ended up bruised and 20th.
Kevin Windham
rode in a funk all night. And most importantly,
Chad Reed
, the rider with the best odds of toppling Stewart, wracked himself up good at the Yamaha track a few days before the race.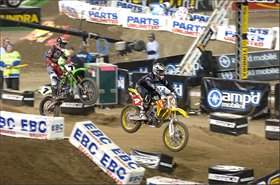 RC led after Stewart fell, but he couldn't maintain Bubba's pace for long.
photo: Carl Stone
So the race to beat
Bubba
fell on either Carmichael, who was trying to win Anaheim 1 for the first time in his career, or Stewart, who has actually beaten himself on plenty of occasions. As it turns out, none of those things were in the cards. While Stewart's first two seasons in the premier class certainly haven't gone as smoothly as his time in the 125 class, there's no doubt the mistakes he has made along the way have only made him smarter, and he acquitted himself as a champion, as a man, and as the obvious heir-apparent most expect him to be.
And he's still really, really fast. There was simply no touching James in practice or in his heat race. In the main, RC summoned up all of his will and experience, but even he admitted that he was riding over the edge to try and match Stewart's speed, and he could not do it for 20 laps. Pushing hard, Ricky's crash just past the halfway point in the main seemed more inevitable than it was unfortunate. "The bottom line is James is better than me," said a gracious Carmichael, who goes out 0-for-8 on career AMA Supercross openers.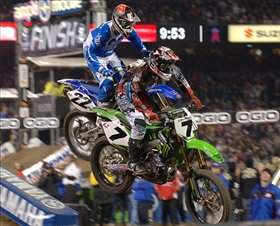 It didn't take long for Stewart to pass an ailing Chad Reed
photo: Carl Stone
Stewart had a fall during the race, too, which means still that this is a long season and nothing is guaranteed. But for now, it looks like the speed that has always been there could be matched by the maturity he needed, too. Proof? During the post-race press conference, I asked James to explain the ridiculous, amazing, next-level "
Bubba
Scrub" he used to stay low and leap past Carmichael in the main. For a second, he flashed his trademark style and said, "Yeah, it was pretty good." But then he paused, composed himself, and served up a dose of humbleness.
And a tip of the visor to Reed, who once again proved himself a gamer by taking the Progressive Direct Holeshot and riding hard despite the extreme pain. It was an amazing ride, but, even Chad will admit this isn't the best way to start the chase to beat
Bubba
.