Where Are They Now: Jeromy Buehl
Jeromy Buehl grew up in a perfect place for a motocross rider: a big farm in rural Ohio. His father bought him a 50cc minibike to putt around the farm on. They never had any intentions of racing until a friend talked them into giving it a try. They followed them to a track called Dirt Country Raceway outside of London, Ohio, and gave the sport a try. They loved it and continued racing for the next several years.
Jeromy joined Kawasaki's Team Green program as a 60cc rider and made his first trip to Loretta Lynn's in 1983. During the course of his amateur career he never won a title there, but he did finish in the top two and three several times. And that was no small feat, considering his competition; riders like Brian Swink, Damon Bradshaw, Jimmy Button, Buddy Antunez, Eric McClear, and Junior Jackson were all lined up with him in his age classes.
In 1989, Buehl raced at Loretta's one last time and then headed off to race the last four motocross nationals of the year. He finished seventh in both motos at Budds Creek, and his riding impressed Suzuki enough to give him a support ride the following year. While Denny Stephenson was winning the 125 East Region supercross series as Suzuki's main guy, Jeromy was quietly finishing on the podium all year long. He ended the season in third place, getting the attention of Mitch Payton at pro Circuit.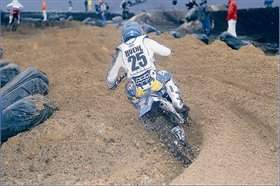 Buehl's strength was indoors
photo: Courtesy of Moto Verte
For the 1991 season, Buehl was signed to the newly formed Team Peak/Honda/Pro Circuit squad. He joined Jeremy McGrath, Steve Lamson, and Brian Swink on what is still regarded as the most powerful team in the class. And the team dominated the racing that year. McGrath and Swink won their respective regions and Buehl backed him up by finishing in second place.
An injury would ruin Jeromy's chances in 1992, and the problematic points system back then certainly hindered his career. After the season opener in Orlando, Jeromy injured his wrist and sat out most of the season. Unfortunately, the points he earned at Orlando bumped him to the 250 class permanently. It made it very difficult for him to find a ride the following year.
Jeromy did ride the entire season in 1993 as a privateer on a Yamaha. He did well, but not well enough to sign a factory contract. After riding the opening rounds in 1994, Buehl hung up his boots. He just had his first child and his priorities were certainly changing. He was also more than a little bitter about the points system and how it cut his career short.
He started up a landscape company, Oak Leaf Landscaping, in Ohio, a company he still runs to this day, but he still had the itch to race, so he decided to hit the arenacross circuit. For the next five years, Jeromy "Top Fuel" Buehl was one of the best riders in the AX world. He finished runner-up three times in the series! At the end of the 2000 season he finally called it quits and focused on his landscaping company.
Today, Jeromy runs Oak Leaf Landscaping. He has three boys, Garrett (8), Grant (6) and Gavin (2). The two older boys ride pretty well, according to Dad. Jeromy still loves riding and has tried a few Supermoto races in the last couple years. He misses the racing industry and is looking for a job within the sport.