5 Minutes With ... Ryan Villopoto
Ryan Villopoto was on hand at the Kawasaki SX kick-off meeting held this morning in Irvine, CA, at the Kawasaki USA base. The 2006 AMA MX Lites champion and MXdN champion with Loretta Lynn's AMA Team USA looked focused and more than ready for the indoor battle starting this weekend at Anaheim's Angel Stadium.
Racer X: Ryan, the last time we saw you on a bike in public was at end of September in the UK at the MXdN. What have you been busy with after that?
Ryan Villopoto: Yeah, it's been a long off-season. Right after the UK, I took a vacation and went home to Washington and then went up to Alaska where one of my cousins lives and kind of hung out with him and relaxed. I pretty much did nothing special, and then I came back down and had to start riding again.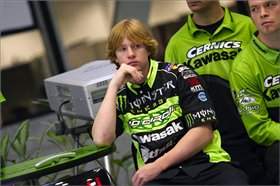 RV is focused on a supercross championship

Tell us about the work on the bike.
We started using the new bike pretty soon from when I started back riding, and it was good, you know? Then I started doing some testing and I got so much better because I was riding on older stuff that I had already tested, and I also started testing new stuff that's working really good. A lot of good stuff we had as far as suspension, but everything is awesome.
It's SX time again, and last year you showed amazing speed and didn't end up so far from the first place. What now?
Well, hopefully, just good starts and then stay up front and being consistent is all you can do to win the title.
Riding technique and training. Anything new there?
Not really. Same stuff there, just trying to get faster.
Are you ridging with your teammates as well recently?
Me and Goose [Chris Gosselaar] have been riding, and I ride with Nick Wey because Randy Lawrence, my trainer, works with both of us, and it's been really good going ride with other guys and in different tracks.
What type of work is Randy doing with you?
He follows my riding program and of course a little bit of the stuff in the gym. Mainly we do just basic stuff. I don't do a lot of work at the gym - I don't want to become a bodybuilder. It's a pretty good program with Randy. It helps me a lot, and let me tell you, I can pretty much eat whatever I want!
Last word on the series that's about to start?
Hopefully, it's to come out on top. That's what I want to do. I did that in the outdoors last year, so hopefully, I can do it also in supercross.
Who will be the guy to go for it other than you?
I think Josh Grant will be the toughest guy out there.